As a young girl growing up in Tennessee, Sara Faradji loved foreign films. French children's movies were her favorites. She even began seeking out American movies with dubbing, hoping to absorb other languages. With such an early interest in foreign languages and cultures, it's no surprise that when she enrolled at Carnegie Mellon, Faradji chose to major in Global Studies, with a minor in Film and Media Studies. And when she heard about the Carnegie Mellon International Film Festival, she immediately joined the planning committee.
After earning her undergraduate degree in 2013, Faradji pursued an MA in Literary and Cultural Studies at CMU. She also continued to find time to work on the festival planning for the fourth consecutive year. She spent months watching stacks of films from around the world to help the committee decide which ones to screen for the 2014 festival. She also got to choose two films to help publicize in terms of marketing, planning, and organization of the screenings. For this year's festival, she selected Sweet Dreams and Trapped.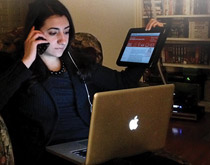 Sweet Dreams is a documentary that follows a group of Rwandan women who open an ice cream shop in their country as it recovers from genocide. Faradji, who has been to Rwanda on a CMU service trip, was moved by a poignant moment in the film. One woman says, "If you bring development to the woman, you bring development to the whole family." Watching women take it upon themselves to advance their lives, their families, and their country amazed and inspired Faradji.
Trapped inspired her in a different way. As an Iranian-American student, she has always been interested in Iranian film and culture. This film follows two young women in their lives at a university and in the bazaar. Because of the many negative headlines often associated with Iran, Faradji was excited to have audiences witness Iranian people and culture without the politics.
In total, 16 award-winning independent films with ties to 21 countries were screened during the two-week annual spring festival. This year's festival theme, "Faces of Work," reflected the late CMU professor and filmmaker Paul Goodman's focus on the challenges and achievements of diverse groups of workers worldwide.
For Faradji, after months of helping with the planning, the festival came and went much too quickly. But she says the inspiration uniquely ingrained in each film will stay with her always.