Sanjay Chakrabarty and his investment team have been fastidiously reviewing balance sheets, fielding conference calls, and consulting with their legal team. Morning becomes afternoon, becomes evening, becomes morning again. Sleep is overrated anyway, especially when this team is trying to close a multimillion dollar deal with Minacs, a global business and technology outsourcing company based in India. More than a few financial pundits have stated that a buyout of such a renowned, privately owned company will never come to fruition. Certainly, the proposed deal's numbers are imposing: In addition to the potential hefty price tag, the change of ownership would impact 21,000 employees across 35 locations worldwide.
Chakrabarty's Singapore-based company, Capital Square Partners (CSP), has already built a reputation for not shying away from deals that require an inordinate amount of due diligence. Founded just last year by the 1995 Tepper School of Business graduate, the investment holding company specializes in international operations, wireless technologies, and private-equity buyouts. Think back-office solutions, mobile technology, and investment opportunities. Chakrabarty serves as managing director.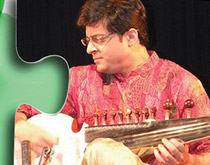 Prior to founding CSP, he was the president and venture partner of India and Southeast Asia investments for Columbia Capital, which is a venture-capital firm that manages approximately $2.5 billion in total capital. Before his investment roles, Chakrabarty was the founder and CEO of MobiApps, a tech startup that built products and services based on a radiofrequency semiconductor for satellite communications. In just seven years, he led the startup all the way from humble beginnings to building a joint venture with the $100 billion TATA group, and ultimately exiting to a New York Stock Exchange listing. Since graduating from CMU, he has also gained professional experience in the telecommunications, technology, and energy sectors as a management consultant with Arthur D. Little, based out of Washington, D.C., and Singapore.
Clearly, Chakrabarty knows what he's doing when it comes to the world of high finance, which is a good thing because after the 2007 financial crisis, no one would dispute that the world of private-equity investments was turned on its head. The days when investors could make deals based on their names, references, and previous track records ended abruptly. Even the biggest of investment houses couldn't swoop in anymore, with the pretext of magical returns.
In the art of the deal, post 2007, "heavy lifting" is now required, says Chakrabarty. "You need to be a bulldog, today. There are ups and downs and constant unknowns that you can never really project beforehand. From an entrepreneurial point of view, a successful buyout process may be the most difficult of all accomplishments."
However, he points out, there are viable opportunities. To prove his point, just last year, he had CSP partner with the European alternate fund manager Partners Group to acquire CSS Corp., a global technology consulting and support company—for $270 million—making it one of the largest all-time investments in India's information-technology sector. CSS employs more than 5,500 technology professionals across 13 locations globally and continues to thrive under its new ownership group. Chakrabarty is on the Board of CSS Corp.
Armed with confidence from that deal, he was ready to tackle his next opportunity: Minacs, owned by Aditya Birla Group, an Indian multinational conglomerate founded in 1857 that has more than 136,000 employees in 33 countries. Aditya grossed $40 billion last year and specializes in metals, textiles, mobile technology, and financial services. Its holding, Minacs, is one of the top 10 leading companies in India's $60 billion back-office outsourcing industry, offering support in analytics, IT services, customer management, and more.
Other private-equity firms had attempted to court the family-owned conglomerate, only to have the deals fall through. Chakrabarty, though, who had teamed up with venture capitalist CX Partners, felt his team could make it happen. "The biggest challenge with this deal was that we were buying a company from a very large Indian conglomerate; yet, it's also a family-controlled business house. When you have that type of situation, a lot depends on relationships of the people involved, which goes beyond the legal commitment. There must be business acumen, for sure, but the sellers must see a real commitment and integrity across the table."
To demonstrate that commitment and integrity, Chakrabarty says it's crucial that there be no glitches in even the smallest details, whether a line in a deed or a late-night conversation. Any mistakes or misrepresentations or even impoliteness can affect the likelihood of a deal getting signed. Hence the late-night, early-morning office hours—checking, double-checking, and checking some more.
Chakrabarty has long understood the importance of conscientiousness and determination. When he was 17 years old, he moved by himself from his home in Calcutta, India, to the United States, leaving behind family, friends, and a childhood sweetheart. The only child of two physicians, he was expected to follow in his parents' footsteps and establish his own medical practice. Instead, though, he wanted to pursue studies in engineering and computer programming in the United States.
Against his parents' wishes, he wound up at Slippery Rock University in western Pennsylvania, with a full scholarship. It was his first time in America and the first time he experienced snow. "I didn't even have the proper coat. My roommate told me, 'Dude, you are going to die,' and gave me his coat. I am 5'9" and he was over six feet. It was pretty long on me," laughs Chakrabarty.
He helped to support himself by taking odd jobs—delivering Domino's pizza in knee-deep snow, tutoring on campus, and even driving an 18-wheeler during the summers, crisscrossing the East Coast to deliver groceries for the Stop and Shop supermarket chain.
After earning his undergraduate degree in software engineering and mathematics in 1991, he landed a front-office job with the Pittsburgh Pirates Major League Baseball team. As director of information systems, he was in charge of Internet technologies, and he assisted the team's general manager to develop a computer-based scouting tool that would capture and compile all of the players' statistics.
Although he carved out a unique niche with the team, Chakrabarty began to realize that he wanted to be more of the deal maker than the numbers cruncher. So he decided he should get his MBA and applied and was accepted into Stanford University. But the Pirates weren't ready to say goodbye to their stats man. He received a call from Douglas Danforth, chair of Westinghouse at the time, which was a part owner of the Pirates. Danforth was also a Carnegie Mellon trustee. By call's end, Danforth had convinced him to consider earning his MBA at Carnegie Mellon while continuing his day job with the Pirates. Chakrabarty, after taking a long look at what CMU offered, realized that the decision was a no-brainer. Ultimately, Stanford's loss was the gain of Carnegie Mellon and the Pirates.
Returning to school, though, wasn't without a startling realization. "I remember my operations research class," recalls Chakrabarty. "At that first class, I thought with a math degree and my background that I didn't have to worry, but after the first three weeks, I realized that I didn't comprehend anything. So I had to get help and focus on my studies."
Eventually, he found his footing and befriended Sugato Bhattacharyya, a professor who taught finance. The two were like-minded and spent time outside the classroom batting around complex business ideas. "He was always very entrepreneurial," says Bhattacharyya. "Even then, you could see he was a person who could recognize opportunities."
After he completed his MBA in 1995, he also wrapped up his job with the Pirates and relocated to Washington, D.C., climbing the ranks at various financial outfits, until he received news that would change his life and his perspective on family. He learned his father had unexpectedly passed away. As an only child, he felt he needed to offer support and solace for his mother, who still lived in Calcutta.
During that time, he regularly traveled the 7,000 miles between India and the United States. The transatlantic commute enabled him to reconnect with his childhood sweetheart, Ritu Sengupta, who had grown up to become a Bollywood actress.
Despite being famous, she never forgot those childhood days with Chakrabarty. "He would drive around my house and try to get my attention when I was young. We met on an art school trip, and he told me that I was pretty."
The two married in 1999. "We both have our careers, but we make it work," says Ritu. The couple has a son and a daughter, and the family somehow finds family time while juggling movie roles and private-equity deals. "Both of our moms are extremely supportive and allow us to run around the world and still have a family," says Chakrabarty.
He doesn't deny that, more often than not, his life could be labeled as strenuous. Any given day begins early and ends late. It must, he says: "Innovation that happens in one corner of the world spreads real-time now. Before you would think of markets as 'American' or 'Asian' in the markets where we work—telecom, technology communications—but everything now is a global market, and you have to think of it in that sense. Not that long ago, that wasn't the case."
He acknowledges that he does have a pressure release—his sarod, a lute-like stringed instrument, used mainly in Indian classical music. He says its deep, weighty, introspective sound helps give him perspective. "My practice and playing is what keeps me sane, I guess. I try to spend a couple of hours over the weekend playing. For me, it's like yoga."
For the potential Minacs deal, Chakrabarty and another CSP partner, Mukesh Sharda, rush to the airport in Singapore to make the last flight to Mumbai. Armed with mobile devices and laptops, they use the downtime to learn the ins and outs of the Minacs deal, work that began more than a year ago. Sharda—who has a strong investment track record in private equity and structured investments, including with Deutsche Bank—feels confident, especially with Chakrabarty at his side.
"One of the top qualities that Sanjay has is his amazing ability to identify deals. He is able to look at sectors and identify which businesses make sense to acquire, but beyond the numbers he can identify ownership who we can work with and how they need to be treated."
For example, the two CSP executives didn't have to travel to Mumbai. They could have met with Aditya Birla Group via a digital conference call or exchange of emails. But Chakrabarty says private-equity deals are a delicate and complicated dance between asset sellers and investors. The sellers must experience the creed of CSP:
 We are an investment holding company, and act as principal investors to invest our own capital in businesses we believe in, which operate in markets we understand in depth, and are either already segment leaders or can achieve leadership. … Our philosophy and values are driven by alignment with professional management, access to deep industry experts, and an investment horizon that focuses on creating value rather than a dependence on any artificial timeline.
"At the end of the day, the personal relationships matter," says Chakrabarty. "We were able to get in front of the selling consortium lead guys and figure out the real reason for them holding back. It ended up being a perception more than a reality."
The deal that few thought would happen did happen earlier this year, for what Chakrabarty says was a very reasonable price tag of $260 million, $10 million less than the CSS deal.
Back in their Singapore office, there was a celebratory buzz through a deluge of phone calls and emails. Sharda says the excitement is palpable: "With Sanjay, I think in the next five years, CSP will transform from what we are right now, which is formidable, into one of Asia's preeminent private-equity firms." The bold forecast is something for Chakrabarty to ponder when he's not playing his sarod.