It's February 2007, and Jack Krawczyk is in a meeting at Banc of America Securities in New York City. He's about to enter his second year with the company, following an early graduation from Carnegie Mellon's Information Systems program. He took the job as an associate in Electronic Trading Systems because it offered an appealing mix of technology and finance, a seemingly perfect combination for the software-skilled, mathematics-minded, economics-savvy Krawczyk. But lately, he hasn't been feeling inspired. He's been working nonstop with his head down, in a mindset that he describes as, "Put in your time, put in your hours, and just do what you're told."
During the meeting, he and the rest of the team brainstorm about creating a complex software layer that will combine currency, equities, debt, and electronic trading into one platform. Suddenly, a managing director walks into the room.
"I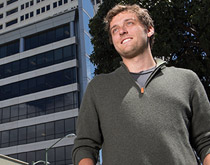 don't care what you guys are doing," he says abruptly. "The world as we know it is about to fall apart." With mortgage delinquency rates rising and mortgage-backed securities losing their value, the executive fears that a full-fledged financial crisis may be imminent. For that reason, he declares that all new projects are now on hold. Banc of America is going to need all hands on deck to ensure that the company's technology infrastructure is ready for the economic storm that may be on the horizon.
The grim news forces Krawczyk to self-reflect. Should he stick with a job he's not passionate about in an industry with a tumultuous forecast? Maybe not. He begins a job search, and, within the month, a posting by Google for a financial services industry specialist catches his attention.
"I had no idea what they meant by a 'financial services industry specialist,'" he says, "but it was Google, so I applied."
After an arduous interview process, he got the job offer and accepted, not because of the free food Google offers employees or the thought of playing foosball during the workday (though those perks are nice touches). He was most impressed by Google's ethos: a focus on critical thinking. In the banking world, he felt that he was merely following directions. At Google, he could sense a culture of self-directed questioning and problem-solving, where importance would be placed on big ideas rather than enervating tasks.
In his new position, associate product marketing manager, he first focused on financial services advertising and later moved to travel, media, and entertainment sectors, but always with the same process: identify a particular company's current and potential consumer market and then use that information to recommend an appropriate advertising product.
In some ways, his responsibilities inching toward advertising was a long time coming. He remembers being intrigued by marketing even as a young boy. His family emigrated from Poland to the United States when he was three years old, which meant that he witnessed a kind of consumer culture shock in his own home. He grew up in a different world than his parents had known. In the Iron Curtain's Poland, "the concept of a brand didn't exist. There were no Nikes or Reeboks. There were just shoes."
Around the third grade, Krawczyk, attuned to the sway of American brand choice, had an argument with his dad about, appropriately, a pair of sneakers. Shawn Kemp, Krawczyk's favorite basketball player, had released a line of signature Reebok Kamikazes. Krawczyk desperately wanted them, but his dad was baffled by their price; they were three times as expensive as a comparable, non-Shawn-Kemp-endorsed shoe. "I just remember trying to explain to my dad why this product commanded a three times premium," he recalls. "And I was never able to really explain it well, which I continue to wrestle with to this day—what is it that makes consumers want to pay a premium for the product?"
At Google, Krawczyk, with a new title—product marketing manager—began exploring that question from the other side of the table. One of his most significant projects was a newly conceived social-networking feature, Google+. Today, the service is a well-known social-media hangout. But in 2010, it was known only as an in-development "social project." Google executives, knowing Facebook was a formidable foe, wanted the company's best people on its launch team. The project's leader, Brett Crosby, happened to meet Krawczyk at a Google shuttle stop.
"He has this relaxed exterior," Crosby remembers. "He used to wear these really big sunglasses, and his hair was like a mop all over the place. But you knew, just in a couple of minutes talking to him, that he was extremely bright." By the close of their conversation, Crosby wanted Krawczyk on the Google+ team.
The plan was to have the social-media site up and running in about three months, but Crosby says the project kept growing in scope and importance, so the launch date kept getting pushed back. It was a stressful, high-stakes period, and as Crosby says, it "was the worst-kept secret in the Valley." With Google employees and other tech companies looking on, the team's normal development process reached an "in the trenches" intensity. But he remembers that Krawczyk handled the stress with ease, tackling the project's risk-taking leap into the world of social media with an invigorating calm. After 18 months, Google+ had a glitch-free, successful launch. Today, with a whopping 540 million monthly active users, it's the second-largest social-networking site in the world, trailing only Facebook.
Krawczyk says he relished the opportunity to help make it happen: "It was the first time I worked on creating something that hadn't existed before. Building hypotheses, working to get them into a prototype, and then testing them with potential users is an intoxicating process."
He was so energized by the project that he began thinking about moving to a start-up, where building from the ground up would be standard and "where coordination could happen in the break room over coffee," rather than through the complex channels of a massive company.
Meanwhile, Marc Leibowitz, a former Google staffer and then-vice president of StumbleUpon, was looking for someone to take the lead on the company's product marketing. StumbleUpon was reestablishing its footing after a two-year stint under eBay's ownership. The site, a curated "discovery engine" that recommends personalized online content based on the interests of its users, desperately needed someone to incorporate advertising without interrupting the user experience.
When Leibowitz met Krawczyk through a mutual friend, he thought he might be the person to find a productive, seamless relationship between ad material and the site's curated content. He offered Krawczyk the chance to form the growing company's approach to advertising as the head of monetization. Although Krawczyk knew that leaving Google's prestige and employee perks might sound insane (especially to his parents), he also knew that building a project from the ground up was exactly what he'd loved about working on Google+. He decided to take the risk and the opportunity, moving from Google to StumbleUpon in January 2011.
While there, he launched a program called Paid Discovery. The program allows advertisers to integrate their Web pages directly into StumbleUpon's site, so that users experience the ads in the same format as the Web content they are browsing, rather than as invasive banner ads or pop-ups. So, for instance, if a user is browsing home-decorating ideas, he or she will unknowingly "stumble upon" a Web site, such as West Elm, an upscale retail store that features contemporary furniture designs and housewares. The integrated ad system is in line with a concept called "native advertising," which strives to create an organic, meaningful relationship between a Web site and its ad material. For Krawczyk, each ad is a challenge to share information: "How do we make advertising something that people aren't annoyed by, but that is an additive experience to the media they're consuming?" Or, in simpler terms, as Krawczyk is inclined to say, "How can I use technology to make advertising 'not suck?'"
In his quest to answer that question, he decided to move companies yet again. He had made major strides at StumbleUpon; Paid Discovery would help the site triple its revenue growth over just two years of use. But he couldn't help being intrigued when approached by his friend Tom Conrad, the chief technological officer at Pandora, a music-streaming Internet radio site. Conrad told him the company was looking to change its approach to advertising. The site was relatively established, with around $400 million in annual revenue, so Krawczyk would have more company resources at his disposal. And the format of Internet radio (Pandora curates music "stations" based on the preferences of its listeners) would present an entirely new set of advertising challenges to explore. Krawczyk again took a professional leap, becoming the director of product management at Pandora in January 2013.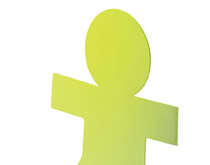 At Pandora, he works to ensure that the ads augment, not detract from, the listeners' relationship with the music. He explains that the effectiveness of advertising comes down to how it makes you feel, a concept called "resonance." For instance, "it's not about the shoe being better," he says, recalling his coveted Shawn Kemp Kamikazes. "You don't buy Shawn Kemp Reebok shoes because they make you a better basketball player; you buy the shoes because for that split second, you feel like ... a pro basketball player."
So, when ads are at their most effective, they promote community. "What I find romantic about advertising," he says, "is that brands are mechanisms for ways that we connect with people. And if I can build software that makes it easier for those brands to connect with people in a special way, then I feel like I'm doing something that's not just helping a company generate revenue, but really making people feel a certain way, or feel more connected to one another."
A component of Krawczyk's work focuses on identifying the demographics of Pandora's listeners and determining the most effective way to advertise to each community. He and his team have developed models that can make inferences about listener traits ranging from their native language to political affiliation to preferred car. For example, people who listen to country music are more likely to drive pickup trucks. The information gathered through a listener's music choices can then be used to cater advertising experiences, In other words, country music fans hear ads for pickup trucks.
Such targeted advertising may sound creepy, a kind of information-age overexposure. But Krawczyk points out it merely creates an advertising experience that is beneficial to both the company and the consumer.
His gospel of intelligent advertising now accounts for more than 80% of Pandora's revenue and also recently caught the attention of Forbes magazine, which named him among its 2014 "30 Under 30" list as a leader in marketing and advertising.
When asked about Krawczyk's position on the elite list, Conrad says, "My first thought was, 'Jack's under 30?!'" He laughs but admits that there is some truth to the joke. "Jack is mature beyond his years," he explains. "Brilliance is not always coupled with maturity," but he says Krawczyk has both. Leibowitz agrees and suggests that the title is also indicative of what's to come in Krawczyk's next decade. "I think Jack is a restless soul," he says, "and he is looking to climb higher and higher peaks. ... I think [the list is] a reward unto itself, but I think there are much, much greater rewards awaiting Jack over the next few years."
Krawczyk—who lives in San Francisco with his wife, Lauren (he proposed under the shadow of the Golden Gate Bridge)—considers the honor both a milestone and a source of momentum, a prompt to look forward to the "bigger aspirations" he's eager to achieve.
Given all of the success and accolades, he remains humble—grateful for what he calls his support system, "my wife, parents, sister, and close friends" and for what he's learned by not getting those Shawn Kemp Reeboks.