One Evening, a few weeks before this issue was headed to the printer, I stayed in my office well past 5pm to edit some stories without the distraction of emails and phone calls. By the time I made it home and had dinner, it was already 11pm. Time to do the dishes, watch the news, and go to bed. Amid the din of water running, dishes clanging, and my dog Duke lapping up a bowl of milk for a bedtime snack, I turned on the kitchen television.
The KDKA-TV news team was reporting about lane closures happening somewhere, a barn fire in a township I never knew existed, and a potential storm still days away. Suffice to say, I wasn't listening closely. Then came a story from KDKA reporter David Highfield: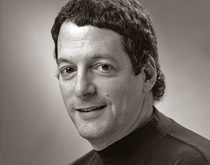 There is a group of people planning on going to the planet Mars, not just to visit, but to actually move there. … If this happens, it is literally a one-way ticket to Mars; there is no plan to bring these people back at any point. Instead, they'll live the rest of their lives on the planet."
Okay, now I was listening closely.
I learned from Highfield that a local physician, who is the father of three school-aged children, had applied for a one-way ticket to Mars through Mars One, which is a private spaceflight project that plans to establish a permanent human colony on the red planet by 2025. The venture, according to the report, is "raising $6 billion to make it a reality."
Highfield introduced viewers to the physician, Todd Hertzberg, who is competing with 200,000 others to be among that first group on the flight to Mars. Experts estimate the trip alone will take up to nine months from takeoff to touchdown. "We're going to live there; we're going to die there; and, hopefully, we're going to have a lasting presence there as humans," said Dr. Hertzberg.
For me—as a husband, a father of two children, and Duke's best friend—I instantly questioned how Dr. Hertzberg could even consider saying a final farewell to family and friends. But as the report continued, Steve Stich, from NASA's Johnson Space Center, made an interesting observation: "If you think back to our ancestors who came to this country from other parts of the world, they came on one way trips …"
I can't disagree. For American ancestors, there was no Twitter, no Skype, no transatlantic flights. Young men and women courageously followed a dream to live in America, even though it meant uprooting their family trees.
In this issue's cover story, Kzysztof Matyjaszewski uprooted his family tree. Although it wasn't as drastic as going to Mars, he and his immediate family left behind his native Poland, when the Iron Curtain existed, and moved to Pittsburgh where Matyjaszewski could continue his research at Carnegie Mellon. His findings have created a revolution in the scientific community, which knows no borders, and as you'll read, touches all of our lives.
Throughout the following pages, there are several other wondrous stories of the sacrifices and the accomplishments of students, faculty members, and alumni who disregarded boundaries to follow their dreams.
I think Dr. Hertzberg would appreciate this issue.