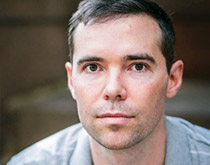 Crossing one of his neighborhood streets in New Haven, Conn., Kam Lasater walks over pavement that is cracked and flooded with water, creating a hazard for pedestrians and drivers. In the past, Lasater (E'03) would have grumbled, but he wouldn't have bothered to call public works—figuring he would just get put on hold and probably have his complaint disappear into some abyss of paperwork.
But today is different. Lasater snaps a picture with his phone and uploads it to SeeClickFix, the Web site and free mobile app he co-created. Then Lasater marks the location on a map and details the problem. Then other SeeClickFix users in the area can comment on Lasater's post and vote on whether they, too, are concerned by this crater.
From here, three things happen. First, SeeClickFix checks its databanks to route the problem to the appropriate civic office. Second, users who have requested updates regarding this street—from neighbors to government officials—are alerted of this problem in their "watch area." Third, hopefully, it gets fixed quickly.
It turns out that many city halls worldwide are thrilled with SeeClickFix, because it gives government officials the opportunity to quickly address neighborhood concerns, most of which they hadn't previously known existed—such as graffiti, potholes, traffic gridlock, even drug dealing. Many civic offices have developed formal partnerships with SeeClickFix.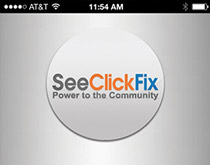 This sort of open communication between citizens and government is exactly what Lasater had in mind back in 2009 when his friend, New Haven resident Ben Berkowitz, came to him frustrated by a graffiti problem in his neighborhood. Realizing firsthand how difficult it was to make a complaint and have it resolved, the two friends and Lasater's brother, Miles, teamed up to create what would become SeeClickFix, providing citizens with a tool to directly improve their communities. The graffiti was eventually cleaned up, and the app was born.
Today, SeeClickFix is partnered with over 170 municipalities, which represent approximately 27 million residents, both in the United States and abroad. In the past year, according to Lasater, 75% of issues reported through SeeClickFix have been resolved quickly. It's a "visceral feeling," he says, knowing you are able to make real and positive changes in your community.
The SeeClickFix founders recently had their Oscar-like moment at the 2013 Financial Times/Citi Ingenuity award ceremony in New York City. This highly competitive award recognizes individuals or groups that have "developed groundbreaking solutions to urban challenges." Submissions from entrepreneurs ardently working to improve their communities came from 44 countries. SeeClickFix was selected as the winner for North America.
As great as that moment was, Lasater—who is SeeClickFix's CSO—says he received another award simply by walking down his street a few days after filing his online complaint about the street crater. He noticed that the Public Works Department had arrived and were making the repairs. It prompted him to utilize SeeClickFix once more—not to register a complaint, though. He wanted to send along his thanks.