Eric Dietz sits in a darkened theater, eyes focused on the 60-piece orchestra. Trumpets brightly run scales, flutes frolic across notes, drums rumble in anticipation. The conductor raises his baton, blanketing the theater in silence. He motions for the first downbeat. And then magic happens. A nearly tangible energy bursts forth, and Dietz's heart leaps. For this isn't just any music—he created it.
As a Music Composition major, Dietz wrote this 8-minute orchestra piece for his senior thesis, a culmination of his rigorous training, which was completed in just 3 1/2 years after a mid-year transfer into the College of Fine Arts' School of Music. CFA faculty members and students alike agree—the composition is an ambitious and successful feat.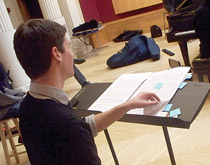 Dietz's musical prowess has also gone beyond the walls of CFA—to Scotch'n'Soda Theatre, a campus organization where the common bond is not one's major or college, but a mutual passion for the arts. Founded in 1938 by three School of Drama students, S'n'S Theatre is the nation's second oldest student-run theater organization. The group originally produced one student-written musical per year, but today's S'n'S Theatre puts on five or more each season, serving as a theatrical outlet for all disciplines. Although the vast majority of recent shows have not been original works, Dietz is part of a growing trend of S'n'Sers who are bringing back the student-written musical.
At Carnival 2013, S'n'S Theatre celebrated its 75th anniversary, in part, by presenting a concert version of Dietz's musical, Sweet Jesus! The piece, which has been in development for two years, captures S'n'S' collaborative spirit, with Shannon Deep (CMU'10, HNZ'11) and Matthew Aument (A'10) teaming up to write the book and orchestrations, respectively. (Dietz wrote the music and lyrics.)
Why do S'n'Sers make the time for something that's not part of their curricula? "People do it because they have to; it's who they are," Dietz explains, commenting that this shared love for the theater is what brought his writing partners together. In fact, after earning his degree, Dietz plans to join his two collaborators in New York City, where the trio hope to workshop the piece, a plausible goal, given that S'n'S alumnus Stephen Schwartz (A'68)—who has written such hit musicals as Godspell, Pippin, and Wicked—has already provided positive feedback.
Back in the darkened theater, Dietz notes how S'n'S is similar to the CMU experience: "Everyone is welcome. You have the chance to take as much as you want and make it your own. Make it yours."
—Courtney Kochuba (DC'07)