William Meaney learns that his father is ill. Although he has only been a CIA agent for two years, he decides to resign in order to earn his MBA. After all, he may need to enter the family business outside of Boston, where he grew up.
His father recovers, but after earning his degree from Tepper in 1986, Meaney realizes that in addition to the lure of seeing the world as a CIA agent, he also enjoys the inner workings of industry.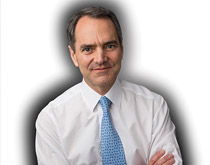 He joins the team at Strategic Planning Associates, a worldwide consulting firm, and his eagerness to work abroad soon lands him in London. From there, it's off to Geneva, then South Africa, then back to Zurich, where he handles the turnarounds for a small pharmaceutical company and then two international airlines. His success doesn't go unnoticed; he is recruited by The Zuellig Group in Hong Kong, becoming the first non-family CEO of this multi-national conglomerate. During his eight-year tenure as CEO, the company's sales triple to $12 billion.
Iron Mountain, a world leader in storage and information management, comes calling. The company, headquartered in Massachusetts, wants to increase its international revenue, and Meaney appears to be a perfect fit. In December 2012, he is named president and CEO, overseeing 17,000 employees at more than 1,000 facilities in 39 countries.
The international executive, who is now a university trustee, finds it ironic that he and his wife, who is Swiss, are raising their two children in his hometown, Boston.
—Elizabeth Shestak (DC'03)
Related Links:
CEO Shares Advice in Success in the Global Market