Emma DeBenedetti, 91 years old, has lived in the United States most of her life, yet she retains a charming accent—not strong enough to be obviously Italian, but just enough to lend her English a warm and musical cadence. Born Emma Falco in Turin, Italy, she now claims residency in Pittsburgh until the temperature drops. Then, she migrates to Florida.
For the past decade, she's made the trip without her husband, Sergio DeBenedetti, who passed away in 1994. They were married for 50 years, so the memory of him never leaves her. And she has made sure his memory remains at Carnegie Mellon, too, where he taught and did research for the physics department for 34 years. The Falco-DeBenedetti Career Development Professorship in Physics is now established in the Mellon College of Science's Physics Department. It was made possible by the DeBenedetti family's $1.25 million donation, one of the most recent gifts to the university's Inspire Innovation campaign.
By all accounts, the campaign has been a tremendous success. On June 30, its end date, the $1 billion goal will have been exceeded by more than $150 million. So far, the campaign's initiatives have led to 29 endowed chairs and professorships, like the one the DeBenedetti family established. Additionally, 215 endowed scholarships and 91 endowed fellowships were established during the campaign. That puts the number of new sources for student and faculty support at 335—and counting.
Another measuring stick of the campaign has been alumni and donor engagement. Although Emma is neither an alumna nor a faculty member of the university, she and her family have been very involved with CMU. Wrapped up in the story of the family's gift is a story that spans continents, oceans, and now nine decades, starting in Turin, Italy.
The ancient Italian city is surrounded on three sides by the highest mountains in Europe—it's a city cupped in the palm of the Alps. Emma Falco's family, whose history in Turin dates back to at least the 1600s, was well respected; her father owned a factory that manufactured electrical meters, cornering the then-cutting-edge market in Italy in the years between the World Wars. All things considered, Emma, her two brothers, and their parents led a happy life in Turin. But that was before 1938.
Following Fascist dictator Benito Mussolini's veer toward anti-Semitism in the fall of that year, the Falcos—Italian Jews—found themselves on the wrong end of new racial laws that restricted the rights of Jewish citizens. She and her brothers could no longer attend public schools, and Emma's father was banned from owning a business. The family had to transfer ownership of the factory to one of the managers.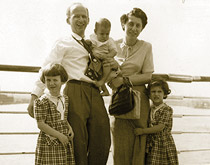 The family left Italy in stages. Emma's older brother, who had studied for two years at a Turin university, was able to obtain a transfer to MIT. Almost two years later, when the rest of the family managed to make it to New York City, Emma's older brother had assumed they were all dead. She was 18.
The factory did not fare as well as the Falcos; Turin was pummeled during the Allied strategic bombing. The new factory owner and his family had taken up residence in the Falcos' summer house in the hills around Turin to avoid the bombing, which was concentrated in the city. During one air raid, the factory was destroyed, and about 75 people who had sought shelter in an underground air raid shelter were killed. The new owner rushed to the site to try to contain the fires. When he returned to his home in the hills, he found the house in rubble. His wife, son, sister, and his wife's parents had been killed.
By then, the Falcos were an ocean away, with limited resources and an uncertain future. Within the close community of Italian Jews who had fled to New York City during the war, Emma met her future husband, another Jewish immigrant who had escaped similar political pressures. His name was Sergio DeBenedetti, a physicist originally from Florence, Italy, where he had earned his doctoral degree.
With the advent of the Racial Laws, the young man had escaped to Paris. There, he worked with the Joliot-Curies (Marie Curie's daughter and her husband) until the Germans invaded France in 1940. Sergio left Paris on a bicycle just ahead of the invading armies. Arriving in Portugal after many adventures, he was able to get an American visa by collecting sponsorships from Nobel laureates Enrico Fermi and Arthur Holly Compton. He arrived in New York on Columbus Day with $80 in his pocket.
Sergio found work as a physicist, which required him to leave New York. After a brief stint in Philadelphia, he ended up in Ohio, training Army Air Corps recruits at Kenyon College and later working on the trigger for the atomic bomb in Dayton, a little-known outpost of the Manhattan Project. He took a weekend off to return to New York to marry Emma. After a few more stops in the Midwest, the couple ended up in Pittsburgh in 1949 when Sergio joined the faculty of Carnegie Mellon (then Carnegie Tech). He was excited to work on the university's new cyclotron—a bigger, better type of particle accelerator.
Sergio and Emma already had two young daughters, Lydia and Vera, when they settled in Pittsburgh. Their son, Gilbert, was born a year later. The volatility of their early lives had been replaced by a tranquil family life and academic surroundings. After 34 years of teaching and research, Sergio retired in 1983. He died as a professor emeritus in 1994.
Emma and their children described Sergio in similar terms: He was curious; he was a problem solver; he was passionate. "Not just physics, but whatever he did, whether it was flying a kite, or painting, or skiing—which he learned at 40—he just threw himself into it with everything," says his daughter, Vera. "My father didn't play with us so much as teach us," adds Gilbert.
The same was true of Sergio as a grandfather. A box of "toys" for his grandson, Abe, included a prism and other gadgets that demonstrated rudimentary scientific concepts. By the time Abe reached high school, he says, his biology classes were superfluous, thanks to his grandfather's lessons. Today, Abe is also a physicist. Abe's sister, Jenya, is an engineer—like both her great-uncles and great-grandfather on her mother's side.
All of the DeBenedetti children are also connected with CMU in one way or another. While taking graduate classes, Lydia met and married Tom Moran (S'74), who was one of the first students of artificial intelligence at the university. Vera (DC'69), driven by a desire to understand the circumstances of her parents' immigration from Italy, studied European history. Gilbert (DC'73,'76, A'80) earned his BA and MS in psychology and later returned to earn his BFA in Music Composition and Music Education. He also married Ellen Glaser (DC'75). Even Emma's younger brother, Enzo (E'57, MS'58), attended CMU after learning that his sister's husband had joined the faculty.
In 2007, Emma created the DeBenedetti Family Fellowship in Physics, donating $100,000. The endowed fellowship supports a graduate student in physics. A short time later, she was approached by Mellon College of Science Dean Fred Gilman, who was once the head of the Physics Department, and by Michael Braxton, a senior gift advisor at CMU. Would she be interested in setting up an endowed chair in the department?
The cost of such a chair is significant, $1.25 million, but Emma had inherited money from her parents, who had thrived despite their initial hardships after leaving Italy. Given the money's history, she felt it shouldn't be used frivolously. "And [the endowed chair] seemed like a nice way to remember my husband," adds Emma.
The Falco-DeBenedetti Career Development Professorship in Physics functions in a unique way. The professorship rotates every three years, and no one who holds the position can hold it for more than two terms Although most chaired positions serve as a reward for a long and fruitful career and are seen as a sort of professional culmination, the Falco-DeBenedetti chair is meant to support untenured physicists whose work shows great promise and to help them further their research. Ideally, this chair creates a pipeline to the higher echelons of the academic arena.
Gilman says that chairs like this are rare and are especially important in attracting and retaining junior faculty. Sergio had a long career, but not all young physicists have the opportunity to establish roots like he did. Rather than jumping from position to position at different universities, this professorship echoes the sentiments of the Inspire Innovation campaign by encouraging promising physicists to make their homes in the department, strengthening and stabilizing the university.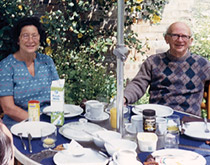 "I didn't know Sergio DeBenedetti personally," says Gilman, who joined the university faculty a year after Sergio's death in 1994, "but I believe that he would be very pleased, as is the university, to have this chair as a continuation of his legacy to inspire and support generations of young faculty."
The family says they didn't think of their fellowship and professorship gifts as part of the capital campaign; it was more about acknowledging the family's ties to the university throughout the years.
Nurturing those ties is actually part of the campaign, too. Building alumni and donor engagement with the university was one of Inspire Innovation's expressly stated goals. A meaningful capital campaign, says Braxton, not only successfully raises a set amount of money—which this campaign exceeded—but also builds an infrastructure of alumni and donors who have a rewarding relationship with the university. Indeed, over the past seven years, participation at alumni events has doubled, and alumni chapters have tripled, including 21 chapters overseas.
"It's a pleasure to work with people when they're at their best. And I think people are at their best when they're being generous," reflects Braxton. Even with the campaign nearing its end, Braxton says alumni and friends of the university continue to give. "Seeing people recognize the importance of their philanthropy, beyond just the campaign, that's what makes my job worthwhile."
 
Shannon Deep (CMU'10, HNZ'11) of New York City has been a regular contributor to this magazine since her senior year at Carnegie Mellon.