Imagine a new, safe, and effective treatment for everything from cancer to age-related macular degeneration—through the use of biomaterials, drug delivery, gene therapy, nanobiotechnology, and cell engineering. Jordan Green doesn't just imagine it, he pursues it daily at work.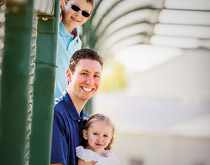 Even growing up, he says, he had a fascination with all things science. It just wasn't quite focused, which is why he found Carnegie Mellon so appealing when it came time to go to college in 1999: "I was just starting this new double major where you can major in one of the traditional engineerings and then do biomedical engineering as a double major. That helped me, because I had broad interests."
One interest quickly developed in his calculus class freshman year, but it had nothing to do with the curriculum. Also in the class was Stephanie Brelsford. The two became more than classmates. Five years later, they married.
Academically, Green found his focus as soon as he stepped into the chemical engineering/biomedical engineering lab of CMU Professor Todd Przybycien. He found himself compelled by the potential in using polymers—long, repeating chains of molecules with unique properties—for gene delivery. "In many ways, my interests have stayed the same since then," he says. He liked the notion that he was using engineering, which he loved, to work on health problems.
In 2003, Green earned his degree in chemical engineering with an additional major in biomedical engineering; four years later he completed his PhD in biological engineering at MIT, followed by an 18-month postdoc there. Next came a faculty appointment at Johns Hopkins. By then, his focus had progressed to developing biodegradable polymers libraries for gene delivery that had the potential to provide new therapies for elusive human diseases. He just wasn't sure what specific research topic to choose. He was looking for the right collaboration—a clinician with whom he had "chemistry."
There's no Match.com for scientists. But suitors are everywhere. "There are clinicians upstairs and downstairs from me and in the building next door. And they're very interested in biomedical engineering. When someone knocked on the door and wanted to talk about something that was different than what I was working on, instead of saying, 'I'm not doing that,' it was, 'Oh, let's sit down and talk,'" he says. "That led to some neat discussions and interesting directions."
One of those discussions involved neurosurgeon Alfredo Quiñones-Hinojosa. "We instantly clicked on both of us being passionate about making a new kind of treatment," Green says. "He's committed to finding a cure for brain cancer because it's something that, even with the best surgery and the best therapy, patients only live about a year and a half. There needs to be new ways to deal with it, especially glioblastoma."
Glioblastomas are the most common and deadliest brain tumors. They grow rapidly and move to new sites. Upon meeting with Green, Quiñones-Hinojosa recalls, "I told him I have a challenge in trying to cure brain cancer because I can't reach out to these migratory cells." That challenge appealed to Green, though he remembers, "I never thought, up until we were in the same room and talking, that I would do anything in brain cancer research."
He had his first research partner. In his collaboration with Quiñones-Hinojosa, Green works on a genetic agent and nanotechnologies that can target brain cancer in new ways and deliver therapies that make cancer cells become apoptotic—self-destructive—while leaving healthy cells alone. He's also looking at brain cancer stem cells and pondering special agents to target and differentiate them so they don't become "a source of infinite renewal."
The work is complex. But they have promising preliminary data, which have led to Green's first million-dollar research project grant from the NIH. "With this new funding, we'll be able to generate new data on treating human brain cancer in mice," Green says. It's a long-term process, but the ultimate goal is to find new technologies that are not just scientifically exciting, but practical—"translatable," as Green calls it.
Other collaborators work with Green as well, including one who is bringing a bioengineering approach to age-related macular degeneration and one that is engineering immune-system responses.
Bob Langer, who was Green's PhD advisor, knows something about what his former student is trying to accomplish. Langer's patents have been licensed or sublicensed to more than 250 pharmaceutical, chemical, biotechnology, and medical device companies. He is the most cited engineer in history. Here's what he has to say about Green: "He is very creative, very driven. He is a superstar."
Just last year, Green was named the Maryland Outstanding Young Engineer by the Maryland Academy of Sciences. And his alma mater, CMU, also recognized his "outstanding professional accomplishment among those who have graduated within the last 10 years" by bestowing upon him the Recent Alumni Award.
Despite the accolades, Green says his proudest works-in-progress are six-year-old Kai, three-year-old Luna, and baby Sid. "He is just as kindhearted as the day I met him," says his wife, Stephanie. "When our first child was born, Jordan managed to be a superdad at night, helping with changings and feedings, while writing his thesis, doing experiments in the lab, and mentoring multiple undergraduates during the day. Often, he will work late into the night and early in the morning to be able to make it to violin lessons or gymnastics with our daughter."
Green's CV is already 25 pages. Amid the peer-reviewed scientific articles, book chapters, grants, inventions, and patents, there's one item that jumps out: Junior FIRST Lego League Instructor, Fullerton Elementary School (2012-present), for his son's first-grade class.

Sally Ann Flecker is an award-winning freelance writer who is a regular contributor to this magazine.