On Mondays through Fridays on his summer "vacation," Braden Kelner (DC'15) wakes up at 8am in Bucks County, a suburb northeast of Philadelphia. He then takes a scenic 15-minute drive before arriving at Trenton Transit in New Jersey. He boards the express train to Manhattan and an hour or so later arrives at Penn Station. Far from his "quaint home," he then walks 30 minutes through the crowded, bustling streets of New York City before arriving at 1211 Avenue if the Americas. In total, the commute can take up to two hours.
Eight hours later, he does it in reverse.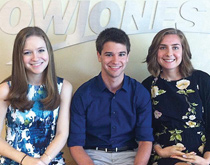 Although some might consider a four-hour daily commute a form of cruel and unusual punishment, Kelner finds it meditative—in the morning, it is a time to prepare himself mentally for the day ahead; in the evening, it is a time to decompress, relax, and leave his work behind. In fact, it's the only consistent part of his work week as he serves as the first-ever intern for Dow Jones Private Equity Analyst, which is the oldest and one of the most credible sources of news and critical analysis of private equity and venture capital activity. In a typical day between the commuting, Kelner writes press releases, copyedits, checks facts for articles before publication, discusses layout design, and builds relationships with investment firms over phone conversations: "One day, I spoke to a man named Thierry in Haiti who was creating a fund for weather-resistant housing in developing countries. Out of all the private equity partners I spoke to, Thierry stood out for the level of commitment he promised to the people he invested in."
His experience in journalism explains his capacity to wear so many hats in the workplace. He has been writing for the Carnegie Mellon student newspaper, The Tartan, since the spring of his freshman year; he also spent a summer writing for the Bucks County Courier Times, a suburban Philadelphia newspaper; and he has worked previously as an intern at Dow Jones streamlining communications strategies and consulting.
Kelner says he thrives off the fast-paced, challenging work of a journalist and plans to make it his career, perhaps playing a role as the industry redefines itself in the digital age. After graduation, he hopes to pursue journalism, striving to eventually work in New York again. Although he found benefits in the commute, he says that he'll probably find a more commuter-friendly living arrangement. Meanwhile, for his senior year at Carnegie Mellon, he is serving as the editor-in-chief of The Tartan.
—Louis Lamanna (DC'14)