The cramped airplane rattled through 20 minutes of turbulence while Mounir Sheikh anxiously awaited landing in Nepal for the first time. He had signed up for a 10-day service trip with Habitat for Humanity to build a house in a rural village called Chitwan. As the plane landed at a small airport made from sun-dried brick, Sheikh immediately took note of how different the area was from his native Qatar, where he was a sophomore at CMU-Q.
As he left the airport, the lush greenery of the area astounded him. Chitwan was beautiful and simple. No time for exploring, though. He and 10 other CMU-Q students got right to work building a house from scratch.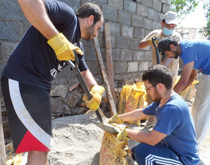 Not having much experience with construction, Sheikh cautiously mixed cement by hand, careful not to waste a drop. Good thing, because in Chitwan, it's no easy task to get materials for construction; every job must be meticulously done.
As Sheikh helped to lay a foundation of rocks and cement, children from the village gathered to watch the college students as if they were celebrities. Despite the language barrier, the youngsters were eager to play with the visitors. While on breaks and despite being tired from the manual labor, Sheikh found the energy to play soccer and cricket with the children.
He also found time to interact with many of the adults because it seemed to him that the entire village was appreciative of the volunteers. Sheikh says he couldn't help but be impressed with the positive attitude and generosity of everyone, even though they lived modestly at best—many not even having easy access to clean water.
After the students built the home, there was a thank-you celebration. Each volunteer received a handmade bracelet and a traditional headdress as a token of the community's appreciation.
For Sheikh, the only keepsake he says he needed came from the woman who would be moving into the completed home. Every time he saw her, she had a big smile on her face. It's a smile he says he will never forget.
After returning to his home in urban Doha, he realized how easy it is to take the comforts of life for granted. He still plans to continue his studies as a business major, but now he also wants to integrate charity work into his life. He has already begun organizing public-service trips for him and his CMU-Q classmates.
—Abigail Nover (A'15)