If you stumbled into last January's International Consumer Electronics Show—not an easy feat, considering the long lines and required IDs—you could be forgiven for thinking you had wandered into the setup for a rock concert. Between the massive digital display screens, booming sound system, and thunderous applause, there's a fine line between this cavernous ballroom and other Las Vegas shows. But the stars here are the innovators rocking the tech world with products we use on a daily basis—and those we'll be using 10 years from now.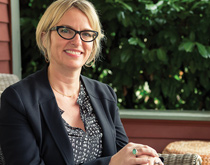 Intel's Carolyn Duran (E'92) watches from the audience as CEO Brian Krzanich delivers the first keynote address. He gives a comprehensive picture of where Intel is headed, introducing products ranging from a three-dimensional printer that can construct models out of sugar to a dual OS platform that allows tablets to switch between Windows and Android. It's impressive. But for Duran, the best moment comes nearly at the conclusion, when Krzanich says, "I'm going to switch gears. I want to talk about another way technology can lead a transformation."
Four metals—tin, tungsten, gold, and tantalum (a lustrous metal used in capacitors)—have prompted Krzanich's shift. For Intel, and every tech company, these minerals are integral product components. But here's the rub: They are often sourced from the violence-plagued Democratic Republic of the Congo (DRC) in Sub-Saharan Africa. The DRC has vast natural resources, but the process of their extraction and export can be deeply corrupt, replete with dangerous working conditions and profit-swiping by the country's notorious militias.
The situation, insidious and invisible as human-rights abuses tend to be, could be easily ignored by producers in the United States. But Intel decided to take a hard look rather than turn away. Nearly six years ago, the company committed to defining a process through which "conflict minerals" could be sourced responsibly. The task is huge, requiring Intel to unspool its supply chain and track the minerals from the mines to the smelters to the factories. But the work the company has put in has already led to a huge step forward. "Tonight," Krzanich says, "I'm excited to announce that every Intel microprocessor we manufacture in 2014 will be conflict-free."
For Duran, the announcement marks a personal milestone. As the director of supply chain ramp and regulations and the conflict minerals program manager at Intel, Duran has a job that is as specific and complicated as her title. And her challenge has just, very publicly, been pronounced achieved.
When she first encountered the conflict-free sourcing initiative, she was intrigued. "You can't help but be passionate about it," she explains. But even though the project had great purpose, it lacked a clear direction. The problem was so massive that finding a point of entry and a path of action had eluded the team. Duran decided to take a practical approach. "If you think about who you would work with when you're dealing with human rights or social responsibility, they're not typically engineers," she points out. But the problem-solving methods engineers learn are perfectly suited to breaking down daunting tasks. You have to identify the "pinch point," she says, that, once targeted, will enable change to happen. Within Intel's supply chain, this point of change turned out to be the smelters, the people who separate the valuable metals from the ore that is mined.
Duran began working with metal industries international regulators, and non-governmental organizations to communicate and enforce Intel's new standards. Much of her job is about persuasion—convincing suppliers to reveal which smelters they use; convincing the smelters to source only from credible mines: specifically that the funds from the mines are not directly nor indirectly funding violence. She and her team must convince foreign governments to enforce the policies on the ground, and the U.S. government to support the policies at home. Perhaps most importantly, they must convince other companies to follow Intel's example. If every company expected the same proof of conflict-free sourcing, demand would skyrocket. The mines and smelters with the best practices would actually make the most money. By finding the critical point in its supply chain, Intel has become a critical point in its own industry, helping to initiate and lead the conflict-free sourcing initiative, which has the potential to change the business practices of companies worldwide.
The public face and private force of the initiative, Duran has enjoyed a high-profile year, a highlight of which was her #2 ranking on Business Insider's list of "22 of the Most Powerful Women Engineers in the World."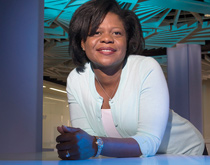 At #6 on the list was another CMU alumna: Merline Saintil (CMU'05), who recently joined Intuit as the head of operations for the CTO Office. Before making the move, she was Head of Global Engineering Operations, Mobile and Emerging Products at Yahoo. She joined Yahoo at a time of renaissance for the company. Since 2012, Yahoo has been making a high-profile shift to a mobile platform. The new focus isn't just a revival; it is a reinvention, in which start-up acquisitions and mobile development are the name of the game. Saintil was at the very front of this transition, mapping the relationships between Yahoo and the young, often small companies that are being incorporated. And now she starts a new journey at Intuit where she says she hopes to help drive operational rigor and excellence to Intuit's technology efforts.
Several decades ago, the full expression of the abilities of Merline Saintil and Carolyn Duran may have been in peril, simply as a result of circumstance. Both came from modest households. Duran grew up in rural Pennsylvania. The teacher of her calculus class, which had no textbook, was also the mayor of a nearby town. Her parents both worked but also lived on the financial edge, largely thanks to the unstable steel industry to which her father sold welding supplies.
Saintil's family had emigrated from Haiti when Saintil was five, settling in South Florida. She spoke only French and Creole upon her arrival, and as her knowledge of English broadened, so too did her understanding of the negative attitudes many held toward Haitian immigrants. She had to be strong both at school and at home, where she was the eldest of five. In taking care of her siblings, she developed a maturity that allowed her to imagine a different life than the one her father, a math professor, and her mother, a clerk, could provide. "I knew that education was my way to a better life," she explains. She made it her mission to get to the top of her class, plowing through the most difficult classes. A high GPA was the first step toward the upward mobility she'd set her sights on.
Similarly, Duran decided to find a steady field. Her calc teacher, the moonlighting mayor, was an amazing mentor, she says. He recognized her affinity for math and science and encouraged her in that direction. When it came time to apply to college, Duran knew she wanted to study some kind of engineering. She scraped together money she'd earned working first at Hardee's and then a grocery store ("less grease") and paid the application fees for three schools, including Carnegie Mellon.
Meanwhile, Saintil's determination had paid off. Only 13 years after she'd arrived in Florida as a French-speaking immigrant, she addressed her classmates at their commencement. She was—just as she had not only hoped but planned to be—their valedictorian. In her speech, Saintil challenged her classmates "to have the courage to make the decisions that will bring fulfillment and happiness."
Twenty years after Saintil delivered that address, she seems to have met that challenge herself, repeatedly tackling high-risk, high-reward opportunities. After spending five years in the field, she decided to go back to school, but didn't let her coursework keep her from continuing to work or from having her daughter, Jasmine.
Saintil explains her ambition as a kind of core belief system, an awareness of the urgency of achievement. "I feel we have one opportunity on this earth to do something impactful and amazing," she says, "and I'm very focused and driven by that." But her drive isn't limited to her career; she serves on CMU's Alumni Board of Directors and on the Strategic Development Board of Watermark, an organization for executive women. In 2014, she also served as an advisor on the first mobile app challenge for high school students sponsored by the U.S. House of Representatives.
Duran shares Saintil's sense of social responsibility. She serves on the Board of Directors for the Portland Habilitation Center Northwest, which helps to train and place workers with disabilities, and has served on university advisory boards and leadership councils, including at Carnegie Mellon. Duran is now at a point in her career where educators and policy makers seek her advice. She has shared her expertise with a Senate subcommittee, on NPR, at The Economist's Innovation Forum—and with her son's class.
But Duran's commitment to sharing her experience—which is really a commitment to pushing the boundaries of engineering—didn't arrive only with her success. In her very first days at Intel, her colleague Tom Marieb noticed that she stood out from the other RCGs—Intel slang for recent college grads—because of her willingness to put her own ideas on the line. Marieb remembers, "She didn't just listen to the older engineers, she questioned. She made us think differently about the problem, made sure that we tried many different things out rather than just assuming. She was not afraid to stand up and put her own opinion in place, which was rare for a young engineer."
That combination of confidence and openness has proven invaluable to Duran. To make lasting change, she says, "you have to be pragmatic." Pulling apart Intel's supply chain to eradicate its problems wouldn't have been a long-term solution, as it could have destroyed relationships with Intel's suppliers. So instead of starting from scratch, Duran learned the system as it stood, developing sensitivity for the motivations of each supplier and the function of each step in the supply chain. She is working for trust, finding methods that allow the chain to remain linked even as the materials being moved are changing. "Tenacity is a word that I use a lot with our team," Duran explains. There is no magic solution to the sourcing of conflict-free minerals. There is only the forging of relationships, the implementation of small changes, and the gradual cooperation of corporate and international entities. Duran approaches the tangle of on-the-ground complexities and political red tape with a calm head: "We don't talk about how things can't happen. We talk about, how are we going to make it happen?"
Over the past several years, Duran's work has taken her around the world. Her husband, Terry Franks (A'94), has charted her progress with their three children, using a globe to show them the far-off places that have become a part of Duran's life—and now, theirs. "When I was a kid, I didn't have the idea that the world was a very big place," Franks says. "But I think they already have that." Duran's efforts toward corporate accountability—forging relationships between U.S. companies and the countries that provide their resources—has also created worldliness within her own family. For her children, the distance between their Portland, Ore., home and a Chinese village is simply the length of a business trip.
Saintil, too, has given her daughter a far different world than she herself grew up in. Her childhood dream has, in many ways, been achieved. But she isn't resting. She doesn't just want to give her child a comfortable life; she also wants to instill the ethics—of hard work, self-discipline, and love of learning—that she learned during a difficult childhood. She and her husband have found a simple way to communicate this lesson to their daughter, reminding her that though she has a fortunate life, none of it, without hard work, is hers yet.
It's a lesson that both Saintil and Duran know well.