On this wintry February day, the outdoor thermometer is registering just below freezing. A fresh layer of powdery snow covers the ground. In his ski gear, Shepard Emerson stands at the top of the mountain in Hunter Mountain, NY. He feels relaxed and focused. It's his turn to bust out of the gate in the U.S. Collegiate Ski and Snowboard Association Giant Slalom Regionals Race.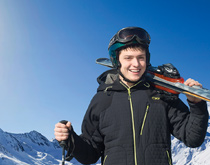 With a thrust of his ski poles, the Carnegie Mellon Ski & Snowboard Club team member launches himself down the mountain. Winning this race would qualify him for Nationals.
His skis leave a flat trail of packed snow at the starting gate. In what seems like a split second, he swooshes to the first set of gates. In an aerodynamic tuck, he's not thinking about next week's classes, especially because he has been working diligently to not fall behind. At this very moment, his only concern is: How can I come into this turn as smoothly as possible and come out with the most speed?" Faster than a computer, he calculates the best angle to approach the gates, the best way to check his shoulder into the poles, and how to come out upright on his 185 cm Giant Slalom skis.
Emerson successfully caroms out of the first major challenge. Instantaneously, he repositions his body to gain as much speed as he can muster. Now he approaches the next set of gates. He must be decisive in his movements, but that's okay because he says he's a decisive kind of guy. Take applying to college, for example. He knew he wanted to study electronics and computer engineering. Carnegie Mellon was not only his first choice, it was the only school that received his application.
As he moves fast through the giant slalom gates, snow sprays his goggles. But he's not flustered. Growing up in Vermont, he's been skiing competitively since he was about four years old. At CMU, throughout the winter, he has continued to ski with the club team at nearby ski resorts nestled in the Allegheny Mountains.
So the snow affecting his vision doesn't distract him. He's just thinking of the next turn.
Before long, he has navigated the course and approaches the finish line. His teammates cheer him on wildly. He crosses it; comes to a snowy, skidding stop; and waits for his official time. As it turns out, he is less than a second behind the winner. The second-place finish is a first for the CMU men's team and a respectable ending to the 2014 ski season, during which the Tartans faced the likes of some formidable athletes in the Allegheny Collegiate Ski Conference, some coming from NCAA Division I schools such as Navy, Penn State, Pitt, and West Virginia.
For the 2015 season, the third-year student says he hopes to have more than a respectable finish. His goal is to qualify for this March's National Championships in the Rockies' Copper Mountain and to take his CMU teammates with him.