A few years ago, Vivienne Ming received an unexpected invitation.
"It was to an event hosted by the Gates Foundation for discussing a national initiative on how to better use data available online," recalls Ming (DC'03,'06), who along with her spouse, Norma Ming (DC'03, '06), cofounded Socos, a San Francisco-based company that uses data to help educators improve life outcomes for students ranging from pre-school through college.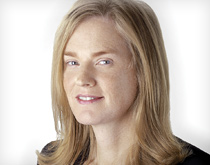 Ming wasn't sure who invited her to the foundation's private event, but she attended anyway: "There were people from the Department of Education, the White House, as well as researchers in the education field. One of the people there, from the DOE, got very excited when he heard about the work I was doing, and he put me in touch with a man named Tom Kalil."
Ming and Kalil talked, and she says he was intrigued by her idea about how to improve education. Today, Kalil is the deputy director for policy in the White House Office of Science and Technology Policy, and he is helping turn Ming's idea into a reality.
Imagine in a Texas border town, a young boy finishing getting dressed for school. Then he adds an unusual accessory: a tiny audio recorder. His immigrant parents, who speak only Spanish, drop him off at kindergarten. The microrecorder stores everything that happens during the English-speaking school day and then, through an algorithm, sends an automated text in Spanish to the student's parents. The text advises them on ways to help their son, based on what took place in school that day.
Ming says to think of it as a mentoring genie that will turn student data into real-time recommendations to parents and teachers on how to improve each student's life outcomes. The genie is part of a pilot program called KinderSight, which is slated to get off the ground later this year as part of an initiative between the White House and Socos.
Ming also puts her data expertise to work as Chief Scientist at Gild, a company that helps its clients make tech hires by using proprietary data analysis to scour the Web to find ideal candidates. Gild uses predictive technology to evaluate the economic field, locate job candidates, and analyze them. Its algorithms process more than 54,000 variables—everything from open source code to tweets—to paint pictures of candidates, measuring their talent and motivation.
Ming—who was named one of 10 Women to Watch in Tech in 2013 by Inc. magazine— says she's simply "maximizing human potential" at both Gild and Socos. It's similar technology, whether she's helping a company identify an ideal candidate to fill a position or she's helping children who might otherwise get lost within the system because they don't have a mentor or know role models who have gone on to college and had successful, meaningful careers. Through KinderSight, she says, "We can change these kids' lives." Maybe, one day, those kids will surface again for one of Gild's clients.
—Janet Jay (DC'07)