Bella Gerlich (HNZ'99) was recently appointed by the governor of Alaska to the state's Advisory Council on Libraries, which guides, develops and evaluates library services throughout the state. Gerlich is professor and dean of libraries at the University of Alaska Fairbanks.
What is your role as dean of libraries?
I'm responsible for strategic planning, budgeting, and developing library services and programs. People might be surprised how much business and management skills go into this role. I'm responsible for an $8 million budget as well as aligning the library's goals and strategies with the university's.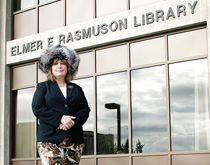 How did your time at Carnegie Mellon shape your career path?
I first started in the Hunt Library as an arts and special collections specialist—helping to develop and implement policies and procedures for the unit. I must have been doing a good job because the department head asked me if I wanted to earn a library degree. At first, I thought, "No! I don't want to be a librarian, just sitting at a desk." But then I learned a librarian does so much more simply by managing the day-to-day operations. I absolutely fell in love with the Heinz program [Master of Public Management]. In every class, I'd take a real-world problem and use my coursework to develop a solution. That's how the READ scale came about.
What is the READ scale?
The READ Scale [Reference Effort Assessment Data] identifies and measures the efforts of a library staff in order to evaluate and help devise more effective processes to facilitate knowledge. It's a six-point sliding scale for recording supplemental qualitative statistics collected when reference librarians assist users. It focuses on recording the effort, skills, knowledge, teaching moment, techniques, and tools utilized by the librarian during a reference transaction. The scale is used by more than 200 libraries worldwide, and I created it while at CMU.
How did you end up in Alaska?
I was working as a librarian for Dominican University [in Oak Park, Illinois] when I received the opportunity to become the dean of libraries at UAF. So off I went.
Do you like it there?
Living in Alaska is fascinating. It definitely gets cold, but at some point, there's no difference between -10 and -40; you just adapt. It's a land of extremes—in the summer there are hours and hours of daylight, followed by hours and hours of darkness in the winter. It's also about a fifth the size of the continental U.S., yet it's the second least populated state. 80% of Alaskans live off-road. That leads to quite a diverse student population.
Will the field of library sciences still be relevant in 2015?
Some people think they can find almost anything online. That may be true, but librarians teach you what is actually credible information. We help point users to resources within our system they might not have known existed by relying solely on an app or database. Nothing can replace human interaction and what librarians bring to the table based on their experience.
—as told to Lisa Kay Davis (DC'09)