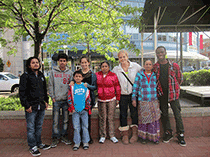 CMU Undergraduates Introduce New International Relations and Politics Journal
In 2010, the Nepali family had been resettled in the United States only a few months when Kimberly Josephson (CMU'13) met them—a mother, father, grandmother, and five children. Josephson, then a freshman majoring in International Relations and Politics (IPR), had joined the student organization FORGE—Facilitating Opportunities for Refugee Growth and Empowerment—along with her best friend, Emily Feenstra (CMU'13), a few months earlier. The two young women began weekly visits to the family's home. They taught them English for navigating the grocery store, helped them sort junk mail from bills and understand offers that were too good to be true, and did homework with the kids.
The family's story goes back generations. In the 19th century, a number of Nepali families migrated to Bhutan, a land-locked country between India and China, where they populated the tiny country's southern half working primarily as farmers. "In the late 20th century, the government of Bhutan became threatened by the growing ethnic Nepali part of the population and revoked all their citizenships," Josephson recounts. "They were pushed out of the country, so they trekked their way through Bhutan and India to Nepal. Nepal wouldn't let them integrate into the country, but at least let them stay in refugee camps."
The Nepali family's sojourn at a refugee camp lasted 18 years. Their first child was six months old when they arrived. Four more followed. The kids went to school there, but the parents weren't even allowed to work. "The restrictions placed on your livelihood were incredible," Josephson says. "We [the international community] stick them in these camps, and, while they ensure a certain degree of safety in the immediate aftermath of destruction and crisis and conflict, they are terrible in terms of allowing the population to be self-sustaining and develop."
Josephson and Feenstra's work with the refugee family became one of the themes of their four years at Carnegie Mellon, as well as a lens through which to see their academic work in International Relations and Politics. A year ago, Kiron Skinner, associate professor of Social and Decision Sciences and director of the Center for International Relations and Politics (CIRP), approached the two with a proposition that they co-edit the second issue of the center's new academic, peer-reviewed journal.
CIRP Journal had its genesis in the work student research associates were doing in CIRP's Research Lab in International Relations. "Students get a panoramic view of international relations working in the lab," Skinner says. They rotate, working, for example, on East Asia for a few months, and then, perhaps, South Asia, and later on, Latin America. "At the center of it is how Washington is affecting those regions of the world. … By the time someone has spent a year in the lab, they can speak with some confidence about most regions of the world and the major issues in national security facing every region of the world."
Skinner believed that a journal would offer students a forum to present their ideas in a systematic fashion, using history, theory, and policy analysis to think through some of the major issues facing the United States and the world. She serves as publisher and editor-in-chief of the journal, and the students themselves provide the intellectual energy as well as a huge time commitment to the project.
The inaugural issue of CIRP Journal was published online last spring. Audrey Williams (A'12, HNZ'13) and Emily Baddock (DC'12, HNZ'13) served as editors, and Katie Stoebe, CIRP's executive director, was the associate editor and in charge of layout and design. "It was fabulous," Skinner says proudly.
She wanted the second issue to tackle a theme, which is where Feenstra and Josephson came in. Skinner suggested they be the guest editors for an issue on the global phenomenon of refugees.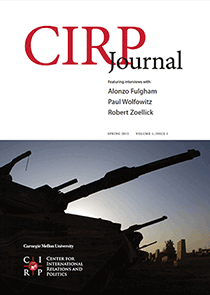 "That's all I needed to say. They found students who were both passionate about understanding the dilemmas of being a refugee and able to bring scholarly analysis to bear on those issues. The second issue of the journal represents the combination of theory and action coming together in student essays," Skinner says. "This is what we as faculty at the university should be doing with our students, not just training them in our courses and our labs, but also providing avenues for them to begin to engage in national conversation about dilemmas facing our nation and the world. And that's what this journal does."
As part of their editorial duties, Feenstra and Josephson conducted five expert interviews, including three high-level interviews in Washington, D.C. They discussed national policy with the State Department's second-in-command at the Bureau of Population, Refugees, and Migration (PRM), and an internal displacement in Colombia with the Senior Associate for the Andes at the Washington Office on Latin America (WOLA). Their third interview was with the Senior Advisor for External Affairs at the United Nations' High Commissioner for Refugees (UNHCR), where they talked about the immediate situations with refugees in Syria and Sudan, as well as the role of the UNHCR in the international community.
The issue was published in late 2013. For Josephson and Feenstra, the deep interest in refugee concerns continues. Josephson just completed an internship in Washington, D.C., with an international development organization, doing research on education in developing countries. She begins a Fulbright English Teaching Assistantship in Argentina in March. Feenstra is working as a business analyst with a management consulting firm and hopes to take part in the firm's public sector work in global health and food security before returning to graduate school.
Meanwhile, the Nepali family continues to acclimate and thrive. The oldest son is in his 20s, working and helping to support the family. One of the young women just began community college. The youngest is 11 now, says Josephson. "He's our little math genius." And she couldn't be prouder.