The minutes drag by at the bus stop. Shan Huang daydreams as she waits. She imagines objects falling in the path of a passing car or the streetlight shifting from vertical to diagonal. Her surroundings are, in her mind's eye, becoming a game.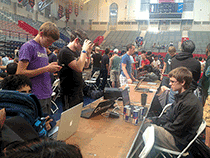 Months later, Huang (CS'14) boards a bus with three classmates, headed from Pittsburgh to Philadelphia. First stop isn't the Liberty Bell, but the University of Pennsylvania, where they'll work steadily for the next 48 hours, probably without seeing the sun.
The campus' engineering building swarms with students. Everyone is setting up makeshift workstations, claiming chairs and tables in every classroom and empty corner. They've brought sleeping bags and pillows, but it's uncertain whether these nests will see any use.
This sea of humanity is the PennApps, billed as the world's largest college hackathon, with more than 1,000 graduate and undergraduate students from dozens of universities competing. For 48 hours, student teams will code furiously in an attempt to come up with a working web or mobile application.
Huang knows what she wants to accomplish over the next two days; she wants to build a game world that uses reality as its landscape, just as she had imagined at the bus stop months before. She and her teammates—Cindy Xu (CS'14), Yuye Zhang (CS'13), and Daniel Lu (CS'14)—quickly start working to create an augmented reality game for Android phones: where the real world, as viewed through the phone's camera, is also the game world. By using real-world surroundings, players can effectively play forever, confronting unique challenges just by pointing the phone's camera somewhere new.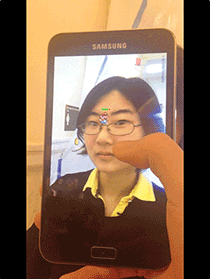 The four students will need to pull an all-nighter to get it running. It's Xu's idea to use Mario, the classic Nintendo hero, as the main character, which brings a nostalgic feel to the game. With that settled, Huang and the team have to make the game detect the edges of everyday objects such as chairs or tables, so Mario can "jump" from place to place. With all the creating, the only time out of the building for the team is for a run to Starbucks.
Their persistence pays off: By demo time, Mario jumped on tables, signs, and even people's heads. Super Duper Mario wins second prize in the competition ($5,000 prize) as well as Best Mobile Hack ($500 from Yahoo and a trip to New York City to visit with the company's senior engineering staff) and Best Hack with Originality, Bold Vision, and Synergy between Two Sectors ($1,000 from KPCB Fellows).