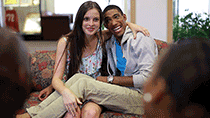 Clarence Williams IV, a third-year directing student, and a bunch of his CMU friends are hanging out together. One of them, Carter Redwood (A'14), has everyone laughing about a mix-up he had with a girl he met over the summer who thought she was his girlfriend.
As Redwood talks, Williams gets an idea. Redwood had been looking for a way to establish himself as an actor, with his graduation months away, and asked Williams to create a video series that would star Redwood and appear on YouTube.
Listening to Redwood talk about his latest antics seems like a comedy in the making. Williams tells Redwood that he will create a sitcom vehicle for him, based on Redwood's life, "a cross between The Fresh Prince of Bel-Air and Saved by the Bell."
He then goes home and starts writing. He is so enthralled in the project that he completes scripts for 10 episodes in a week's time. The show is called Redwood Time; it stars Redwood, playing himself; Williams is the writer, director, and producer.
Starting with the raw material of real life, Williams developed a world and characters in which Redwood, a real charmer and ladies' man, goes comically, but determinedly, through life as a drama student and aspiring Hollywood star.
With a school full of talented drama students, Williams had no problem recruiting talent.
Jamar Thrasher (A'14) becomes the show's executive producer and co-story editor with Redwood. Actors include Harron Atkins (A'15), Veladya Chapman (A'15), Cathryn Dylan (A'15), Wesley T. Jones (A'16), Lailonny Morris (A'15), and Michelle Veintimilla (A'14). And the Redwood Time Theme Song was written & performed by Kai Roberts (CMU'14). Their collective involvement done on their free time, and the professional help of Jordan Beckham, a Pittsburgh-based music-video director, ensured that the final videos were as high quality as their dedication and hard work deserved.
Redwood Time premiered to a full house in the University Center's McConomy Auditorium, though not without some "stressing and scrambling beforehand," says Williams.
When the lights finally dimmed and the opening credits showed up on the big screen, Williams sat back and listened with relief as the audience laughed and even talked back to the characters.
Days later, walking in the halls of the School of Drama, he can't help but smile when he hears some students toss out the phrase "It's Redwood time," when talking about something comical happening in their lives.
Episodes of Redwood Time are available at redwoodtime.com