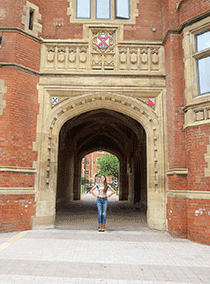 It's summer 2013 in Belfast, Northern Ireland, and Kaytie Nielsen is standing in a coffee shop. The Carnegie Mellon undergraduate is helping her teacher carry drinks. One coffee goes to a short, balding man named Colin; another goes to a taller, bespectacled man named Michael. Nielsen knows nothing about either one of them.
That changes upstairs in the classroom, where she is startled to learn that the two men were once enemies. For the last half of the 20th century, people in Northern Ireland fought over whether the region should be part of the Republic of Ireland or remain in the United Kingdom. Nielsen learned about the conflict during a CMU history course that examined Ireland's history from its Celtic beginnings.
Now, though, she's learning about it firsthand after being just one of six students nationwide chosen for the Fulbright Commission's Queen's University Belfast Summer Institute. The summer fellowship comes from the Fulbright Commission, whose alumni in all of its programs include heads of state, Nobel laureates, and Pulitzer Prize winners. The funding for tuition, travel, and room and board has enabled Nielsen to spend a month delving into Northern Irish history.
Colin and Michael are both former fighters in the Northern Irish conflict, but on opposite sides—Colin with the pro-U.K. Ulster Defence Association and Michael with the pro-independence Provisional Irish Republican Army. From about the late 1960s to 1998, the groups were mortal enemies, both responsible for violence. Each man tells his side of the story. Neither one seems uncomfortable hearing the other's opinions. In fact, they frequently speak together about ending the violence.
"It was incredible to see them talk and work together in the same room," says Nielsen.
Outside of the Belfast classroom, she has a chance to experience the region's culture and history: visiting historical sites, seeing a centuries-old parade—which is now peaceful despite its recent history of violence—and making friends with local students.
Since returning to Pittsburgh this past fall for her sophomore year, Nielsen says she is putting what she learned and observed to good use. As a student in creative writing and directing, she plans to write a play set in the time of the Northern Irish conflict:
"I could learn about it all I wanted, but until I was actually there, I didn't feel comfortable enough to set a story in that place."