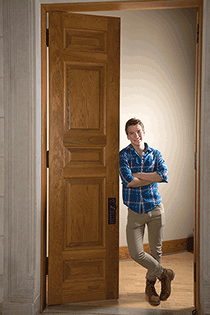 The quote is from Shakespeare's play The Tempest. But it's also the story of the approximately 1,500 students who compete annually for fewer than 100 spots in the Carnegie Mellon School of Drama's incoming class. This year, as the school celebrates its centennial, Benjamin Mathews dreams of embarking past his prologue.
With his future on the line, a young man holds his breath as the woman across from him scans his résumé. His pressed shirt, blue tie, and slick black vest say "cool, calm, and collected" to the untrained eye. He's anything but. And unfortunately for him, her eye is anything but untrained. Benjamin Scott Mathews, one of Carnegie Mellon's bright young engineering students, has safe, scholarly, and studious written all over him. That's the problem.
"Can you take off the vest?" says the woman. Mathews laughs nervously, then does. "The tie, too … and unbutton your shirt a little bit." It's the last audition day for the 2012 freshman acting class, and Barbara Mackenzie-Wood (A'84)—drama professor and acting option coordinator—can tell that Mathews, who's looking to transfer into the drama school's acting program, is a little tense. Maybe loosening his collar will calm him down.
Mathews performs his monologues, and his potential surprises her. He's personable, talented, and eager, and she can tell he loves to act. That's vital. For his college career and beyond, when sleep and confidence are in short supply, passion is what will keep him going. Talent gets a job. Passion sustains careers.
"Our students are so successful because they know they're going to have to work hard when they get out," says design professor Barbara Anderson. "People trust them because of their training. Working hard is what gets you places." Sage advice. Anderson has been on the faculty since 1968, and her late husband, Cletus Anderson, had been a faculty member as well.
But before Mathews can even think about sustaining a career in the entertainment industry, he has to get into the school. Every year, more than 1,500 aspiring directors, designers, producers, technicians, writers, dramaturges, and actors apply for fewer than a hundred slots. To put that in perspective, Princeton University, ranked number one by U.S News and World Report in its National University Rankings, has an acceptance rate of 7.9%. The CMU School of Drama—6.66%.
When you're the oldest degree-granting drama school in the country, you've earned the right to be exclusive. This year, the drama school will count 100 candles on its birthday cake. Its crowning achievement? The thousands of alumni working in every aspect of the industry, and the nearly 150 Oscars, Tonys, and Emmys among them.
Still, it's hard for Mackenzie-Wood to believe that the 18-year-old before her grasps the magnitude of leaving one of the world's best engineering schools—and the job security and six-figure salary its degree all but guarantees—to study theater.
But it wouldn't be a first. David Boevers (A'90) was a physics student in the Mellon College of Science before discovering that his true passion was theater. After freshman year, he transferred into the drama school's design/production program, where he is now an associate professor and one of the school's technical directors.
There's actually a surprising amount of crossover between theater and calculus. Without highly sophisticated technology and equipment, the witches and flying monkeys in Wicked don't fly. If the actors, designers, and directors are the Wizards of Oz, people like Boevers and his students are the men and women behind the curtain.

Mathews, though, isn't interested in technology. He wants to act. "You're sure this is something you want to do?" Mackenzie-Wood asks. "Yes. Absolutely," replies Mathews.
Hooked on theater since performing in the chorus his freshman year of high school, Mathews was cast in every show until he graduated. Now he's up against actors with professional credits, not to mention those from performing-arts high schools.
A lack of experience has never been a deal-breaker. In the '40s and '50s, because of World War II, it was nearly impossible to find enough male actors for the program's classes. The school responded by recruiting former soldiers, many of whom had never seen a play, to fill their acting classes.
That spirit continues today. Creativity and talent are blind to color and tax bracket, and as the country has grown more diverse, so has the school's student body. Faculty travel to cities such as Atlanta and Chicago to recruit students who are talented, but may have had few opportunities to gain experience. Luckily, a century's worth of success brings with it alumni whose donations help students who couldn't otherwise afford the degree.
Not that a résumé heavy with ink automatically makes a good actor or director. It's about the quality of those experiences, and how they shape an artist. Mathews' light-hearted high school musicals shouldn't be shrugged off. Entertainment has to be entertaining.
But a well-told story can do so much more than entertain. It can allow us to see deeply into the human experience and force us to confront truths—both beautiful and ugly—about ourselves. Macbeth's lust for power and Romeo's unshakeable love stick with us long after we leave the theater. When all of the elements align—from the acting and the directing to the writing, dramaturgy, and design—a deftly staged production can change lives.
It's that fiery need to tell that truth that is the lifeblood of both the faculty and every high school theater geek turned Carnegie Mellon drama student. That fire burns in Mathews' heart, too. When Mackenzie-Wood asks him if he's sure he wants to act, he wants to tell her the whole truth. He wants to tell her that he only chose engineering because it was easy for him. That just because he's never pursued acting as his career before doesn't mean he hasn't always wanted to. He wants to tell her—but he doesn't. "Yes. Absolutely," is all she hears. She assumes his audition is nothing more than a rash deed. The other professors who audition him that afternoon agree.
They're wrong. By the time he gets back to his dorm room later that afternoon, his mind's made up. Accepted or not, he can't return to engineering next year. It offers money, security, and a long career, but his heart just isn't in it.
In late March, Mathews learns he's on the waiting list. Considering his initial prospects, it's huge—but not enough. Unless someone books a Broadway show or a Hollywood movie, it's over. He needs a miracle.
He gets one—just not the one he prayed for. Mackenzie-Wood offers to discuss his audition with him. He meets her and Kaf Warman, an associate professor in movement and improvisation. They read off the notes on his audition sheet. With every "earnest" or "eager" comes a "too green" and "inexperienced." He might've been blessed with a Crest smile, but his teeth need to be cut.
Mackenzie-Wood, still skeptical that Mathews truly knows what he's asking to get into, cuts to the chase: "You realize that the gap between what you can make coming out of engineering and drama can be significant." When Mathews replies that he's already decided to drop out to audition for professional shows back home in Baltimore, Md., Mackenzie-Wood gets an idea.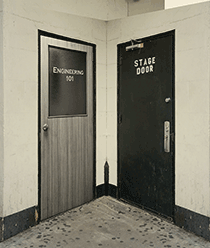 Audition, she suggests, for an internship at Irondale, the Brooklyn-based theater company she and her husband, Jim Niesen, founded 30 years ago. If accepted, Mathews would spend a year working with Irondale's company of veteran actors. But it's unpaid, and even if he interns and re-auditions for the school next spring, there's no guarantee he'll get in.
That night, he tells his parents he's dropping out of the engineering program … to audition for an unpaid internship … at a theater company … in New York. Turns out, Mathews has  open-minded parents. "At least it would be cheaper than a year of tuition," his mother jokes.
Mathews aces the Irondale audition. By August, he's moved into an apartment 10 minutes from the theater. He's cast in a small ensemble role in the upcoming Henry V. Most of the company's members are veterans, and Niesen, the show's director, can be demanding. In one scene, Mathews is supposed to carry a stool onstage, drop it, and exit. Niesen makes Mathews re-walk the stool for over an hour.
As the leaves change and opening night approaches, Mathews has more than one tear-filled walk home along the hardscrabble Brooklyn sidewalks. The actors who would've been his classmates feel his pain. They're all going through the same thing—as they have for the past 100 years. Before any of them won an Oscar or Tony, they had to make it to their second semesters.
Professors set the bar so high that students have to squint to see it. Classes have only four or five students, so there's nowhere to hide. But if you trust the training and don't quit—on yourself most of all—you'll soon have to look down to see that bar. Then the faculty raises it again. By the second, third, thirty-third time you find yourself wandering the campus at dawn, swearing under your breath, "I just can't do it," you remember you already have.
Speech professor and alumnus Natalie Baker-Shirer (A'64) says that's what she loved most about her training: "There have always been only two choices here: either really high standards—or nothing."
That rigor, a Carnegie Mellon staple, blesses and curses every student, not just drama majors or College of Fine Arts students. But as an artist, not only is your heart in the work, your heart is the work. If you do it right, your heart will rumble from the stage, bleed from the canvas, or sing from your violin strings. If you fail, you fail in front of a roomful of fellow artists you respect.
Students have friends, professors, and advisors to soften their falls from grace. Mathews is climbing without a safety net in New York City, known to push even the most resolute dreamers to the brink. But he's tenacious. "He had the fortitude to keep at it," says Niesen.
Mackenzie-Wood witnessed his transformation over the year. By the time he walks into her audition room in late February, armed with a monologue from Romeo and Juliet, he's no longer an aspiring acting student. He's an actor. During that first audition, when Mackenzie-Wood asked Mathews if acting was really what he wanted to do, he left it at "Yes. Absolutely." One year wiser, he finally elaborates. Just as Romeo would rather die by Juliet's side than live a minute without her, Mathews would rather die a penniless actor with a full soul than a rich engineer. He nails the audition—it's in his heart.
He's accepted, but that's just the last line of the prologue. The adventures—and lessons—have only just begun for the now-sophomore actor. He'll wake up early for mandatory yoga and go to bed after a 3am rehearsal. He'll show up late to an acting class—and never let it happen again. He'll play in Playground, the school's annual weeklong, student-driven theater festival, and do the unimaginable—fully produce an entire play in just four days. He'll call both peers and faculty by their first names, learn how to trust his friends, and then discover that no matter how many friends you have, the artist's journey is a solitary one. He'll learn to adapt and then to shine.
It won't be easy. If you thought getting in was hard, you should try graduating. That's why Peter Cooke, head of the School of Drama, attributes the strength of the alumni network to the school's rigorous tradition. "I think the alumni are great supporters of one another because they know what each has been through," he says.
Says Barbara Anderson, "Even if they're distant cousins you never knew, they're still family."
Ultimately, it's not merely the name Carnegie Mellon that opens doors. It's knowing that someone else fought the biting Pittsburgh winters and sought truth in the campus oak trees at dawn. Knowing they, too, risked stable lives to chase their dreams. Knowing they did the impossible: they graduated from the School of Drama. That's what 100 years means.
Learn more about special School of Drama centennial celebrations in Pittsburgh, New York City, and Los Angeles: www.drama.cmu.edu/100