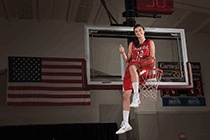 By: Emmitt Zitelli (HNZ'01)
Liza Otto's winning ways.
Liza Otto springs off the gym floor. With outstretched arms, she reaches for the basketball during a heated moment in the Glastonbury Tomahawks' clash with its rival, the Indians of Manchester High. It's not just another girls' basketball game, either. It's for the Central Connecticut Conference's 2012 high school championship.
Otto, one of the Tomahawks, snares the offensive rebound. "Work hard and hustle," her father had told her before the game. "Make sure to use your ball-handling skills. That's what colleges look for."
Don Otto, a former basketball player at the University of Delaware, a Division I program, has known his daughter's skills since serving as coach for her youth league and middle school basketball teams. His daughter, now a senior in high school, is being recruited by several programs—Carnegie Mellon, Emory, NYU, and Tufts to name a few.
Impressing collegiate scouts isn't going through her mind, though, when she sets her feet and puts up a jump shot after her rebound. She simply wants to help her teammates win.
Perhaps Otto's competitiveness comes from regular backyard games with her brothers on the driveway at home when they were younger. Her brothers would put the basketball rim eight feet high and relentlessly dunk on each other and chase after rebounds like it was the NBA finals.
"I'd always try to compete in that, but I admit I had to struggle to keep up," she recalls. "I was just as tall as they were, but they were stronger than me. They really made me work." Nothing to be ashamed of—her three brothers became collegiate athletes, two in basketball, one a diver.
Her hard work pays off when her jump shot goes in against the Indians and the Tomahawks go on to win the championship 58-52. Afterward, Otto decides to bring her work ethic to CMU because, she says, it has everything she wanted: a well-respected architecture school, an up-and-coming basketball program, and an urban location.
During her freshman year at CMU, the humanities and arts student made the Dietrich College Dean's List. She also started all 26 Tartans basketball games and finished third on the team in scoring, with 10.3 points per game, and second on the team in rebounding, with 8.0 boards per game. She also led the team with 76 assists. One of the year's highlights came when she tallied a career-high 22 points in a 65-60 win at Brandeis University—with her family and several high-school friends in attendance.
Her season's performance earned her some impressive individual accolades:
D3hoops.com 2013 Great Lakes Region Rookie of the Year award
All-UAA Second Team honors
As for the team, the Tartans had a 13-13 mark, which ended a string of losing seasons. The team also competed in the ECAC South Championship, marking the first postseason appearance for the program since 1999-2000. This year, Otto and her teammates open conference play on January 11 at Case Western Reserve. The women hope to once again culminate the year in postseason play.