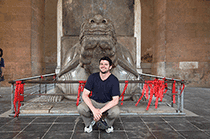 Within the past 24 hours, screenwriter Crosby Selander has flown from the United States to Beijing, China, has met the team of Beijing Film Academy students who will work on his film, and was catapulted into the first day of creative sessions. It seems like a dream come true. Except for one detail: Selander and the academy students have no common language. They discuss Selander's script via a translator, and as they attempt to plan the filming, the frustration becomes palpable.
Selander wonders how he ended up here.
In April 2013, he saw an ad for the Beijing International Screenwriting Film Competition, which called for American screenwriters to write short films involving Beijing and its culture. Seven winners would be flown to China, where they would work with a budget up to $10,000 and collaborate with Beijing Film Academy directing students to film their shorts. The competition would ultimately receive nearly 900 entries submitted by students and alumni from a who's who of schools, including Harvard, Princeton, and Yale.
One of those entries came from Selander: You, Me, Beijing?, which centered on an American boy's move to Beijing after his mother's death and the strong friendship he develops there with a classmate.
A month after the competition's deadline, Selander received a call during dinner; he was one of the seven winners and would leave for China in less than a month. Needless to say, he was thrilled. It was perhaps his most significant professional accomplishment since earning his graduate degree at Carnegie Mellon in 2010. When he made the decision to pursue a master's degree in Dramatic Writing, he felt CMU's program was the perfect place—in part because it allowed him to focus on his passion for screenwriting, which he considers his calling:
"The best films try to encapsulate everything we experience in two hours," he says. "Everything we might experience in a decade or two decades, a film tries to do that in two hours. And I think the task of trying to achieve that is worthy of my time."
And now with this screenwriting success, it's clear to him his time had been well spent.
The days leading up to his flight to Beijing were a whirlwind, and it wasn't until he was on the plane that he fully reflected on what was to come: traveling to a foreign country to work with a film team who didn't speak the same language.
During the meeting between Selander and the Beijing Film Academy students, the language barrier continues to stymie all—until Selander finds a way to break through. He stops dwelling on the particular words they speak or are translated; rather, he grasps the ideas they articulate through their gestures, expressions, and passion.
Armed with this perspective, the trip becomes a "lesson in collaboration," as Selander puts it. He and the film team prep for the film without speaking the same language, yet they understand each other.
In 2014, You, Me, Beijing? will be screened at film festivals around the world.