Nine weeks ago, the 29 men standing with  were strangers. Their only bond back then was their undergraduate fraternity, Pi Kappa Phi, and their desire to participate in a charitable bike ride across the United States. The summer journey, Push America's Journey of Hope, raises funds to support individuals with disabilities.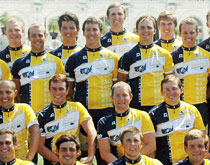 The men are strangers no more, even though they will soon scatter to pursue their futures. For Miller, it's graduate school at Carnegie Mellon's Information Networking Institute. At this moment, though, nobody is thinking about what lies ahead. Instead, they are standing together in a circle. It's 2 am and in a scant four hours the team will begin their final ride together that began on the West Coast and will end in Washington, D.C.
Pushing off sleep, the team begins to pass around a water bottle, a symbol of their journey. As each rider clutches it, he recalls a memorable part of the trip. Miller thinks about what he'll say when the bottle reaches him. He remembers riding with disabled residents of Park City, Utah; on recumbent bikes at the National Ability Center; and pedaling with Journey of Hope's founder, Bruce Rogers, near Denver, Colo. But when the water bottle is finally passed to him, he knows exactly which memory he wants to share.
In Grand Island, Neb., a dance had been planned for when the men rode in. There, Miller met a young woman in a wheelchair who was capable of moving only her head. Throughout the night, Miller and his teammates made sure to take turns dancing with her. At the end of the night, the team took a group picture with her. Just before the camera flashed, she smiled.
The young woman's mother spoke to Miller afterward, telling him that her daughter rarely smiles and that each smile is a "gift." The mother's words gave Miller pause. And when he recounts the story in the circle, the rest of his brothers all remember well the impact they had on the young woman's life, if just for a fleeting moment.
The next morning, most of them are groggy, but they rise for the concluding leg of their ride, which collectively raised more than $675,000 from sponsors. Miller feels particularly drained as he gets on his bike after just a few hours of sleep. But he starts to pedal and thinks of that smile back in Grand Island. As he picks up speed, he smiles, too.
—Paul Carboni (DC'13)