Sopping wet, Chris Lee drags two professionally crafted water-safety signs in from the violent summer storm. The rest of Lee's group watches him enter the gym as they gaze through the glass doors at their project, called the Puriflume, which stands like a giant blue and orange creature in the rain. Someone throws a towel over Lee's shoulders and asks what he was doing out there. "Saving the signs," he says. After working on this project for more than two years, the group is going to have to wait one more day for the grand opening.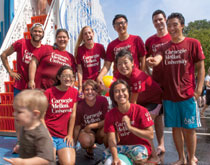 Despite being overwhelmingly rained out for their opening event, the group is in high spirits. Until a few hours ago, they were working in the hot sun to put the finishing touches on Puriflume, a mobile water park where youngsters can frolic down slides and through sprays during hot summer days. The project, with a built-in filtration system, is a prototype that will travel around Pittsburgh showing the potential for spray parks, particularly in low-income areas that can no longer afford to maintain pools. They developed the Puriflume from concept to final project for their Urban Design Build Studio class.
The idea for the project came about when neighborhood leaders from the Leslie Pool Park Collective came to the studio class asking for ideas to save their community's vacant pool. Lee and his classmates eagerly got to work. The class received funding from Ford Motor Co. in a national college competition and worked directly with community advisors such as the mayor's office and the Allegheny County Health Department to nail down the logistics for an actual traveling spray park.
The chance to blend architecture with construction is exactly why Lee chose the Urban Design Build Studio class. "Actually having to deal with problems such as plumbing was eye-opening," Lee says. He appreciated having the opportunity to work with real-life parameters.
A day after the downpour, the sky is bright blue. Lee and the rest of the group are still soaked, though, but from the Puriflume instead of rain. They all received their diplomas a few months earlier, but the members of the studio stuck around to finish this project because to them it was the "real graduation." Judging by the giggles and hollers from the youngsters on hand for Puriflume's debut, the students of the Design Build Studio should all graduate with high honors.
—Olivia London (DC'13)
Related Links:
School of Architecture
PURIFLUME_ construction timelapse (Camera 1) from PURIFLUMEr on Vimeo.
Timelapse of First Prototype of Puriflume (Camera Angle 1) from PURIFLUMer on Vimeo.
Prototype to Dry-Fit (Camera Angle 2) from PURIFLUMer on Vimeo.
Dry-Fit in the Cave (Camera Angle 1) from PURIFLUMer on Vimeo.
UDBS, test film 1. from Alex Greenhut on Vimeo.