Amid the sprawling desert of northeastern Arizona, just miles from the New Mexico border, sits an unincorporated swath of land called Lupton. Other than a giant teepee that attracts a trickle of tourists who brave Route 66, there's not much there. A truck stop. A few tourist shops. A post office. Per capita income hovers around $7,500, and the unemployment rate is consistently above 50%. For the few 100 residents, it's not easy to get around. Houses are as far as 10 miles apart, separated by mountains and connected by unpaved roads. This is Clara Pratte's home on the Navajo Nation.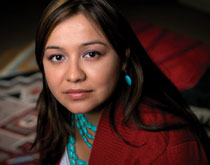 Before dawn on a weekday morning, 10-year-old Clara climbs out of bed. Because there's no running water—there isn't in most houses around here—she bathes in the water her mother hauled for almost two dozen miles in a 750-gallon drum strapped to the back of her pickup truck. There's no electricity in the home, either, so the young girl gets dressed in the glow of the kerosene lantern that hangs in the living room.
Once she is ready for school, her mom drives her to the school bus pickup spot, just off the highway. Once aboard, she makes herself as comfortable as she can. This is no quick trip around the corner. The nearest school is 20 miles away, but it's a 90-minute drive because the bus must crisscross dozens of unpaved miles to pick up all of the students.
Along the way, she can't help but notice when the bus crosses the imaginary line that marks the end of the Indian reservation and the beginning of the United States. Life is different in Gallup, N.M., the working-class town of 12,000 where her school is located. The roads are paved. The buildings don't look like they're about to fall down. Electricity and running water are the norm.
Terms like "socio-economic disparity" and "public policy" are unfamiliar to 10-year-olds, but something seems unfair to the young girl. Our people work just as hard as they do. Why is life so different here? It's a question that resonates throughout Navajo Nation, which extends into the states of Utah, Arizona, and New Mexico, covers more than 27,000 square miles, and has a population of about 250,000—many of whom know about difficult commutes to school. It's widely reported that nearly 70% of Navajo students never graduate high school—almost triple the U.S. average. Education is a primary concern for Clara's parents, especially because neither of them graduated. "I don't want you to be like me, doing odd jobs for the rest of your life," the mother often tells her daughter.
Clara's mom is so serious about the importance of education that when her daughter is about to enter high school, she has her move in with an aunt who lives in Flagstaff, Ariz., which is nearly a three-hour drive away. The new address will enable her to attend significantly better public schools where the commute can be counted in blocks, not miles. The move works out. Four years later, Clara becomes the first in her immediate family to graduate from high school. And though only 5% of Navajo students go on to earn bachelor's degrees in college, she is once again poised to defy the odds. With the help of several scholarships, Pell Grants, and funding assistance from the Navajo tribe, she enrolls in Northern Arizona University in Flagstaff.
Not long into her freshman year, she receives some disturbing news. A thunderstorm washed out the bridge that serves half of Lupton's residents, forcing them to drive 15 miles out of their way just to reach the highway. Months pass without repairs. Lupton's residents eventually give up hope and quietly accept the extra miles. A few weeks later, her uncle suffers a heart attack. Even worse, he lives on the side of town affected by the damaged bridge. During the circuitous route to the hospital, his vital signs become dangerously alarming.
When her family tells her what happened, she is so thankful that he survived, but she is angry, too, knowing that the detour could have cost her uncle his life. She believes that if the bridge's closure affected U.S. residents, instead of Native Americans, it would have been promptly fixed.
Incensed, she writes letters to everyone from tribal officials to state congressmen and even recruits her neighbors to join her in expressing their outrage. "We have rights," she tells them. "We may be poor, but we have rights." After a few weeks, the community's persistence pays off: A repair crew replaces the bridge's wooden planks, reconnecting the other half of Lupton to civilization.
The victory doesn't sway her into pursuing a career in politics or government, though. She is more interested in getting out of poverty. "I was tired of being in debt and destitute," she says. With that in mind, she transfers to the University of Arizona to major in business; there, a policy class changes everything. The course dissects how decades of poor policy decisions have led to underfunded schools, deficient infrastructure, and high unemployment rates, all of which help perpetuate high incarceration rates of minority males.
She realizes those same issues plague Navajo Nation. "It resonated so strongly for me," she says, "because my own tribal people had been marginalized and victims of poor policy decisions, too." The course makes her reevaluate her professional track: "It took me back to the same feeling of activism I had when I rode the school bus. I felt I had a social and moral obligation to help those who don't have a voice, who are disenfranchised."
As a result, after graduating from college in 2001, Pratte, now a grown woman, applies to the country's top policy schools. The School of Public Policy and Management in the Heinz College at Carnegie Mellon, with its "prestigious reputation, accomplished alumni, and small class sizes," wins out. Within the first month on the Pittsburgh campus, she knows she made the correct decision. She finds that her courses tackle more than just policy fare and economics; they begin to answer the questions that plagued her bus rides.
By the time she graduates from the Heinz College in 2004, she's attained more than a few honors, including a Udall Foundation Congressional Internship and a Presidential Management Fellowship. She leaves Pittsburgh having already spent a summer working on Capitol Hill and with a position at the Department of Commerce waiting for her in Washington, D.C.
After a few successful years there, her tribe comes calling. She's hired as an associate at the Navajo Nation's Washington Office. Perhaps the most important office within the Navajo government, it advocates on behalf of the Navajo Nation on all federal policy matters, including the $100 million allocation it receives from the federal government—a total that represents more than half of the tribal nation's budget. It's no easy gig: She has to navigate the politics of Capitol Hill, fighting to protect the allocation that will pay for everything from healthcare to infrastructure investments.
One day, an appropriations bill crosses her desk that really hits home, literally. It's a chance for the Pine Springs school road that runs near Lupton to be paved. The road is in such poor condition that school buses regularly break down. It might seem like an easy sell: Pay for the road's paving and students can attend school consistently. But explaining the problem to politicians proves challenging for Pratte. Because daily traffic is minimal, politicians question whether paving the road is worth the cost. She argues that to the Navajo Nation, paved roads mean more than just reliable transportation to school. "If you don't have roads or infrastructure, you can't have any private-sector development, so you can never break the cycle of poverty," she says.
Two years later, in early 2009, she receives a call from the Small Business Administration, offering her a position as the head of the SBA's Office of Native American Affairs. She'd have to leave the Navajo office—before the outcome of the stalled Pine Springs appropriation is resolved. But the position is too enticing to turn down. Now she'll have the chance to help not just Navajo Nation but, in addition, small-business owners from all 565 federally recognized tribes.
Almost overnight, Pratte's life goes from busy to breakneck. She travels throughout the continent to visit SBA field offices, educating tribal business owners on available government resources, and when she hears about E-200—a six-month entrepreneurial boot camp for small-business owners that has been successful with other minority groups—she adds another priority to her schedule.
She sets up the boot camp and enrolls hundreds of tribal CEOs. One company that attends the boot camp, Sacred Power, manufactures a small renewable-energy unit made up of a windmill, solar panels, and a battery, which can hold enough charge to power an entire household. Given that Navajo terrain is nothing if not windy and sun-baked, the device is perfectly suited to transform the lives of families forever, especially those living far from electric grids.
Within three years of graduating from the boot camp, Sacred Power's business doubles. Today, Sacred Power's revenues total $6.7 million and the company employs more than 40 workers—most of whom are Native Americans. Sacred Power's CEO still hugs Pratte every time he sees her. "There have been a lot of grateful tears shed," she says.
Her success at SBA doesn't go unnoticed. While at a tribal economic summit in Las Vegas, Nev., in 2011, she's tracked down by the newly elected president of the Navajo Nation, Ben Shelly.

"I'd like you to head our Washington, D.C., office," he says to her. That's the same office where she worked as an associate two years earlier. Understandably, she asks when he needs to have an answer.

"I'm calling you home to serve your people. I want a 'yes' or a 'no.' Right now."

How can she say "no" to her people?
She takes over as Navajo Nation's Washington Office executive director in May 2011, returning to the late nights, last-minute flights, and political tightrope-walking the position requires. It also means frequent trips home, where she spends time with her family, but more importantly from a professional perspective, "talk about the issues that they're facing, and see how things have improved—or not."
During one of those trips, she offers to drive her cousin to school. As she turns onto the road, she notices that her tires don't kick up any dust. And there's no rumble of loose rocks bouncing against them. The road is paved. Pratte realizes that the stalled funding for the road that she fought so hard for had finally been approved.
There are other triumphs as well. During her first year in office, she helps push the HEARTH act through Congress and the White House. Now, tribes can lease restricted lands without prior approval from the federal government—speeding up business development, private investment, and home construction on Native lands.
She says her resolve to eliminate the socio-economic disparity of her people, which she first noticed as a 10 year old, still defines her. Her strength and determination are more imperative than ever because she knows her job won't get any easier, given the current era of budget cuts and budget deficits.
Her main responsibility now, she says, is to do everything she can to protect the federal government's Navajo allocations. In her role as the head of the only outward-facing department in the Navajo Nation's government, everything she does in Washington directly affects her nation's 250,000 people. Although the Navajo Nation's $190 million budget doesn't come close to solving all of the nation's needs, it keeps the lights on, the water running, and the roads paved, for the most part. If the money isn't allocated correctly—or if Congress cuts too far into the Navajo funding budget—any gains in the Navajo Nation's infrastructure battle may deteriorate.
It's a tremendous responsibility, she says. But it's also why she accepted the job just a moment after it was offered.

Nicholas Ducassi (A'10), an actor, writer, and filmmaker, has been a regular contributor to this magazine since his senior year.
Related Links:
Navajo Nation Washington Office Director Clara Pratte Receives Udall Award