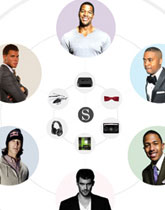 June 12, 2012, starts off like a typical day in the life of Sameer Mehta (DC'09)—lots of hustling and pitching. He's immaculately dressed, zipping around Los Angeles and holding impressive conference calls. No wonder. At the age of 24, he is already a hotshot entrepreneur, pulling off deals that would be the envy of businessmen twice his age.
During his senior year at CMU, he and his classmate, Nadir Hyder (A'09), created a startup, JungleCents, a Web site that sells deeply discounted gift cards from major brands, such as Starbucks, Best Buy, and Petco. The companies viewed the discount much like an advertising expense, so it was a win-win situation, something that attracted the attention of billionaire Mark Cuban. He eventually bought JungleCents for an undisclosed amount (which was incorrectly reported in the media to be $1.5 million).
Now, Mehta has another idea, which is why he is talking on the phone to famed rapper Nas. As soon as he hangs up, he calls his business partner, Hyder, to fill him in. All is going according to plan. Tonight is the launch of his new company, 12Society.
Here's how it works: for a $39 monthly fee, members receive a package of the trendiest items on the market that have a combined retail value of at least $85. The package can include everything from video games to slick headphones to clothing to sporting goods. The hand-picked goodies are selected by a celebrity board that includes (pictured clockwise from top):
Michael Strahan, TV personality and former NFL All-Pro of the New York Giants
Nas, the don of hip hop, who has sold more than 13 million records in the United States alone
Nick Cannon, rapper, actor, comedian, TV host, and husband to Mariah Carey
Kevin Love, NBA All-Star of the Minnesota Timberwolves
Tim Lincecum, MLB All-Star pitcher of the San Francisco Giants
Blake Griffin, NBA All-Star of the Los Angeles Clippers
With these six celebrities on board, the June 12 launch generates immediate excitement. Mehta reports that orders continue to flood in. Next up, he says, is the launch of a women's version of 12Society.
—Molly McCurdy (A'10)
Related Links:
12Society: A Lifestyle Site Curated & Co-founded By Stars Like Nick Cannon, Nas And Tim Lincecum