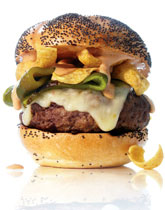 The first time Jeffrey Meckler visited New York City, he didn't leave his hotel room. He was in a city where he didn't want to live and about to interview for an internship he didn't want. It was spring 1989, and he was a Carnegie Mellon senior, preparing to transition to a master's program in the Tepper School of Business. Having grown up in Columbus, Ohio, and not having spent much time outside the Midwest, his impressions of New York City were formed by watching the television series Hill Street Blues and hearing stories of red-light districts and subway muggings.
In addition to the big city's lack of appeal, he already had an attractive internship offer with a robotics company in Cincinnati. But when Meckler told Ed Mosier, head of the Career Opportunity Center, that a recruiter from Bankers Trust had reached out to him, Mosier pointed out that "most b-school grads would kill for this interview," especially because this internship wasn't about fetching coffee—it was about helping the financial firm develop a risk-management system across their various businesses. So Meckler agreed to listen to what the executives at Bankers Trust had to say, even though he viewed himself more as a manufacturing guy than a corporate finance type—someone more taken with engineering and computer science than derivatives and trading.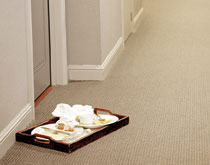 The night before the interview, he didn't dare venture out of his hotel room in lower Manhattan. Instead, he read, watched TV, ordered a hamburger and soft drink from room service, and went to bed early.
The next day, he walked the half-block to Bankers Trust headquarters and listened to what the executives were seeking. The firm was specifically interested in building a risk-management system for the global market, and they had good previous experience with Tepper students and alumni. After hearing the proposal, Meckler said: "You don't want me. Instead of an internship for an MBA student, what you should do is put that money into hiring a sophomore Computer Science major instead."
He proceeded to explain how a computer science student would go about diagraming systems and bringing algorithmic order to the chaos of global risk management. After he sketched out on a notepad how such a task would be structured and passed it back to the interviewers, they took it, glanced at each other, and thanked Meckler for his time. By the time he returned to Pittsburgh, he had an offer waiting for him, at a salary he couldn't refuse.
Meckler didn't disappoint during his summer internship, and the experience added to his impressive academic résumé. After earning his graduate degree in business from Tepper in 1990, he accepted a job offer from the pharmaceutical company Pfizer to help with developing manufacturing IT systems at their plant in Terra Haute, Indiana. In the comfortable Midwest locale, he met his wife, Carolyn, and became one of the company's "get-it-done" young executives. Eventually, he would move through a series of positions with increasing responsibilities and eventually relocate to Pfizer's corporate headquarters in—where else—New York City.
Still slightly intimidated by the "city that never sleeps," he decided that a good way to meet people might be to connect with Carnegie Mellon graduates. He reached out to the N.Y. Metro Chapter of the Carnegie Mellon Alumni Association, which was a loose group of no more than a half-dozen people. Still, he went to one of their events, where he spent most of his time asking them for helpful tips for things like what dry cleaners to use or which restaurants to try.
Happy to chat with friendly faces, he started attending events regularly. Eventually, he began helping with planning, such as bringing in Tepper professors to discuss their research while everyone dined in a restaurant's party room. Soon, more and more alumni began showing up for the get-together. Meckler ended up helping to found the Tepper Alumni New York chapter and later became its president. Meanwhile, at work, he started recruiting Carnegie Mellon students for summer internships and graduates for jobs.
These days, Meckler manages his own personal consulting firm that assists clients with strategic business development. He and his wife have made New York City their permanent home—they can tell you what dry cleaners to use, their favorite restaurants, where in the city you might want to buy a place. And whenever they can, they pass that knowledge along to Tartans who are in New York.
Sometimes they share their city secrets at their home. For the past 10 years, Meckler has hosted a barbeque for prospective students, interns, faculty, and alumni. No matter who shows up, Meckler wears an apron at the grill and chats away with the guests, anyone from a director of the Federal Reserve to a fresh Tepper graduate.
Meckler's backyard barbeques have become a staple for New York City Carnegie Mellon alumni. For his work as an alumni leader, he was recognized this past fall with the Alumni Service Award at the Annual Alumni Awards. But for Meckler, it's not about recognition—he says it's about offering students and alumni some hamburgers and some advice on possibilities they might never see coming.

Bradley A. Porter (DC'08) has been a regular contributor to this magazine since his senior year.
Related Links:
2012 Alumni Award Nominees