Ihor Lys boarded a flight in Pittsburgh with an oversized backpack stuffed with 68 pounds of light fixtures. His destination was Las Vegas, where he hoped to strike it rich—or at least recoup some of the $40,000 in credit card debt he and his business partner, George Mueller, had amassed.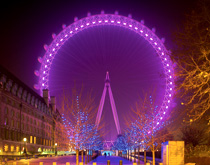 Although the 15 canister-like fixtures made for a hefty carry-on, Lys (a Carnegie Mellon PhD student) and Mueller (E'93) couldn't risk them getting lost or roughed up in baggage claim. On top of the $40,000 in expenses, they had invested more than a year's worth of work creating the lights, from designing the specs to putting them together one by one atop a cramped coffee table in Lys' off-campus Shadyside apartment. In fact, just to be safe, Mueller flew from Boston to Las Vegas with his own jumbo-sized backpack, loaded down with the other 15 lights they built.
What lured them to Las Vegas was the 1997 Lighting Dimensions International (LDI) event, billed as "the leading U.S. tradeshow and conference for live design professionals." Along with Lys and Mueller, about 400 companies would be on hand showing off the latest product lines in light and sound technology.
The product line of Lys and Mueller was in their backpack—light fixtures that used tiny light-emitting diodes (LEDs) and, theoretically, could crank out enough colored light to set aglow a Broadway stage, a hotel lobby, a corporate boardroom, or any other space that needed to attract attention or have some ambiance. Their lights could be programmed to flash or fade from purple to pink to any one of 16.7 million different colors.
It wasn't that LEDs were revolutionary. They had been around since the 1960s, used primarily in appliances and electronics to light up things like tiny red "on" buttons on stoves or numbers in calculators—small things that just needed to glow rather than give off bright light. And it wasn't that people didn't recognize the advantages of LEDs over conventional forms of lighting—super-efficient, never burn out, much more durable than glass. It was just that no one had quite perfected a way to affordably ramp up their output so LEDs could be used for, well, light.
That is, until Lys and Mueller came along.
They had come up with the idea a year earlier, when they exhibited at their first LDI tradeshow in 1996. At that conference, they brought along a signage lighting product that used LEDs. They hoped to find some buyers, but Lys says they were also eager to simply find some "inspiration" by seeing what other companies were working on.
When their signage failed to light up the sales ledger, they walked around, browsing through the different products. They couldn't help but notice that there was a glut of new technologies focused on squeezing out the greatest amount of performance from small, colored lights. Interestingly, those products were using conventional forms of lighting to do it—fluorescents, halogens, or incandescents—not LEDs. A light bulb turned on in their heads when they made that observation.
Both had studied the latest advances in digital technology as engineering students at Carnegie Mellon. With that knowledge, they were confident they could use existing technology to create a more powerful, more practical colored light—a sort of LED on steroids, strong enough to bathe a hotel lobby with a warm blue or light up a dance floor with fiery reds, yellows, and oranges while bouncing to the beat of a sweaty mix.
As soon as they returned home, they started planning for next year's tradeshow. Mueller put together a business plan for their new company, called Color Kinetics, while Lys got to work designing and building prototypes of the LED fixtures they envisioned. Their days were rigorous—Lys finishing up his PhD in electrical engineering and Mueller working fulltime on Color Kinetics in Boston where he had relocated after graduation to help his brother launch an Internet-based financial and business information company. Lys spent evening after evening in his Shadyside apartment with a soldering iron in hand, fine-tuning the circuitry. Mueller, when in town, would join him as the two built, tested, rebuilt, and retested their unique LED lighting system.
When Lys, coming from Pittsburgh, and Mueller, coming from Boston, met up at their booth at LDI '97, they cautiously unpacked their creations and hung them from a white vinyl tent that Mueller had shipped to the show. They held their collective breath as they flipped on the power.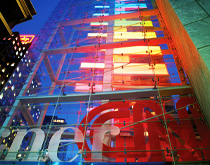 The canisters jumped to life, lighting up the tent like a rainbow—glowing reds, greens, blues, oranges, and yellows, some pulsing like strobe lights, some morphing from color to color like a kaleidoscope. All that was left to do was wait and hope that people would stop by to see what they had built.
Once the conference kicked into gear, visitors started to trickle in to their booth. Then more. And more. Soon, their tent was buzzing with energy. They quickly burned through a small supply of brochures they had printed at Kinko's, so they started churning out more at their booth using a small printer they bought the night before just in case they were a hit. Their LEDs were clearly a hit. So much so that they were awarded LDI's Architectural Lighting Product of the Year.
"We certainly didn't think we would be winning any awards," remembers Lys. "We did all of this kind of on the cheap, so we ended up with essentially an outdoor carnival tent. We were stuck between two unrelated companies in not a great show position, but the response was pretty incredible."
LDI '97 gave them the confirmation they needed that they were really on to something. When they returned from the show that year, they intensified their efforts to fully grow their company. The arrangement remained essentially the same: Mueller would lead the business side of things from Boston (not the least of which was securing all the funding), while Lys, still at Carnegie Mellon, would focus on the technology.
"There wasn't a lot to lose at that point," says Lys. "That's an odd thing to say, but a lot of businesses start out that way. You work really hard and hope for the best. What you're giving up are several months of your life."
Mueller appreciated his partner's efforts. "Ihor has this mind that can go off and do about anything. He doesn't need a team of programmers to fill in where he is weak, because he's a great programmer. He doesn't need a team of analog experts, because he's an analog expert. He doesn't need someone to do chip layout, because he can do chip layout with the best of them. He's so gifted in so many areas of technology that he can think on a level that combines all these different disciplines, and then he can do it by himself."
After Lys earned his PhD in 1998, he joined Mueller at Color Kinetics' headquarters in Boston. Their company grew, racking up patent after patent for pioneering LED technology, including Lys' Powercore, which basically made LEDs more efficient and cost effective by building into the light fixtures themselves all the necessary components to power and manage them. (Conventional LED fixtures required external cables and AC adapters to downshift incoming voltage to a level suitable for the less-voltage-hungry LEDs.)
Soon Color Kinetics technology began shining all around the world in awe-inspiring ways:
Intensifying the dramatic scene of an ancient Mayan temple in Mexico at night with reds, oranges, blues, and greens;


Setting aglow the world's largest observation wheel in London with radiant greens, purples, yellows, and blues that pierce the night sky;


Lighting up the sleek CN Tower in Toronto like a red and white torch.
From 2001 to 2006 the company's sales grew at an annual rate of 31 percent. In 2006 alone, Color Kinetics had sales of approximately $65 million. By 2007, the company, which had gone public in 2004, had more than 15,000 installations to its credit, and its untapped market was valued by some investor analysts to be as high as $100 billion. Philips Electronics was a believer. In June 2007, the traditional lighting giant bought Color Kinetics for $791 million. Mueller decided to part ways around the time of the sale to follow other entrepreneurial pursuits, including the eventual launching of three companies. Lys stayed on as chief scientist, responsible for the overall technology strategy for what is now called Philips Solid-State Lighting Solutions.
In addition to Philips recognizing the ingenuity and impact of Color Kinetics, the Intellectual Property Owners Education Foundation did, too. The organization named Lys the 2008 National Inventor of the Year for his Powercore technology. The award puts Lys in a very select group of contemporary American inventors, and Powercore alongside some of the most important discoveries in recent U.S. history, such as the Jarvik Seven artificial heart, medications that prolong the lives of patients with HIV, and an air and fuel supply system that significantly reduces diesel emissions.
Awards presenter Dean Kamen, inventor of the Segway and other ground-breaking innovations, said that Lys "stood on the shoulders of giants" such as Thomas Edison and improved on the best-known invention of all, the light bulb, by developing a breakthrough technology for increasing the efficiency and lowering the cost of LEDs. For that, said Kamen, Lys is a "technology hero."
What makes LEDs so promising to the future of lighting beyond commercial use is that they are extremely energy efficient. Most of the electrical power used to light up an LED actually goes toward generating light. In contrast, incandescent bulbs squander the lion's share of electricity producing heat. That's because incandescents must fire up a tiny coil of metal inside a bulb, called filament, to a blistering 4,000 degrees Fahrenheit before producing visible light.
Because LEDs are so much more efficient, they could provide dramatic savings for consumers and shrink the world's carbon footprint as well. According to the U.S. Department of Energy, if America adopts LED technology during the next 20 years, energy cost savings could approach $280 billion. The switch would also reduce the country's electricity demands for lighting by 62%, thereby avoiding the need to build 133 new power plants and eliminating 258 million metric tons of carbon emissions from clogging up the atmosphere. Not too shabby for a light that's essentially a tiny semiconductor housed in a small epoxy dome.
Currently, Lys is working on creating high-performing white LED fixtures suitable for everyday use in homes and businesses. Although Philips does have LED-based white light products, they are used for more specific applications such as accenting alcoves and lighting up retail shelves. The price to produce the type of white LEDs with widespread application is still a bit steep. White LEDs cost more than $50 per 1,000 lumens (lumens are units used to measure the amount of light emitted). The same productivity from a 75 watt incandescent light bulb costs only about a buck; a comparable compact fluorescent bulb, less than $5. The challenge is to make LEDs more cost competitive for consumers looking to replace bathroom and living room bulbs.
Meanwhile, commercially, LEDs keep getting chosen to color the world, including at the alma mater of Lys and Mueller. To celebrate the life of inspirational Carnegie Mellon professor Randy Pausch, who lost his fight with pancreatic cancer last year, Carnegie Mellon will light the campus's Randy Pausch Memorial Footbridge in an LED rainbow of colors.
And the lighting revolution that emerged from two backpacks a decade ago still has a presence at the annual LDI conference, too. Philips Color Kinetics' latest products from the patented LEDs were on display at the most recent conference held last fall, once again in Las Vegas. This time the lights were delicately packaged, shipped in protective containers, and carefully arranged according to a predetermined plan. They lit up without a second thought that they might not. The booth had elaborate, curved walls bathed in a rainbow of warm colors, brightly lit professional signage, and a metal rack packed with marketing materials. It was the type of booth that was hard to miss even at a lighting conference. The type of booth that didn't leave anyone wondering if people would stop by.

Mike Ransdell is an award-winning freelance writer based in Boston. He is a frequent contributor to this magazine.