Carnegie Mellon's hands-on, problem-solving approach to education hit the race track this summer as mechanical engineering students Chris D"Eramo, Anthony Fazzini, Scott Israel and Drew Heutchy and the mini-Indy race car they designed and built enjoyed several successful months of hairpin curves and fast-paced straight-aways.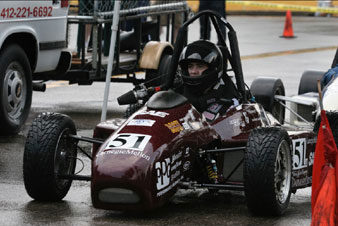 At the 2005 Formula SAE (Society of Automotive Engineers) races at the Silver Dome in Pontiac, Mich., where the rubber meets the road for more than 140 university teams like Cornell, Columbia and the U.S. Naval Academy, Carnegie Mellon dramatically improved upon its 2004 performance by completing all technical and skill events to finish 35th. The results were gratifying for Mechanical Engineering Professor and team faculty advisor John Wiss.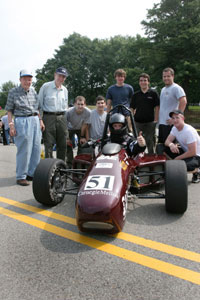 "This significant improvement places us on a growth curve to achieve even better results in the future," said Wiss who has been the team's "crew chief" for the past several years.
In July, Team Carnegie Mellon put its efforts to the test again in the 3rd Annual Caliguiri Collegiate Cup at the Pittsburgh Vintage Grand Prix in Schenley Park, where student teams compete in an autocross and acceleration event, and are judged by an SAE panel on design features like mechanical integrity and safety. Carnegie Mellon weaved and sped its way to a fourth-place finish behind two entries from Penn State and the University of Pittsburgh. The Pittsburgh Vintage Grand Prix races and car displays benefit the Allegheny Valley School and the Autism Society of Pittsburgh. In addition to competing in the race, Team Carnegie Mellon contributed $500 to the cause.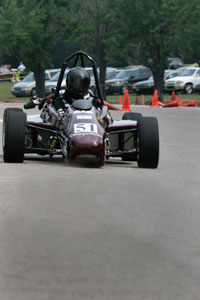 "Designing, building and operating a race car is a very demanding student activity," Wiss said. "Students must pay serious attention to their engineering fundamentals in addition to considering the fine points that put them ahead in competition. This stressful atmosphere brings out the best efforts of our students."
What lies ahead for Carnegie Mellon's SAE student chapter? It's back to the pits for more collaboration, hands-on design and engineering in preparation for next year's competition.
The experience is a " major exercise in teamwork," says Wiss. "Our students are well aware that it takes cohesive teamwork and dedication to be successful."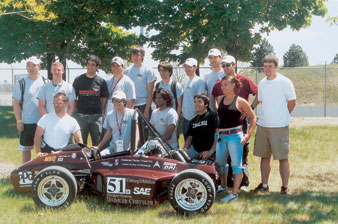 ---
Related Links:
College of Engineering
Mechanical Engineering Department
John Wiss
Carnegie Mellon SAE Racing
Society of Automotive Engineers