The first week of December on Carnegie Mellon's Pittsburgh campus starts the end-of-semester scramble for students. Courses wrap; study guides are distributed; and students write papers, finish projects, and study for upcoming finals. It's a race to winter break.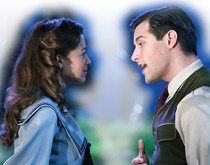 But the biannual chaos looks a little different for one student this time around. Michael Campayno (A'14) may not be on campus with his classmates in the School of Drama, but he is still working hard. Campayno was cast in NBC's production of The Sound of Music and has been rehearsing on a soundstage in Long Island, N.Y., for several weeks.
The Sound of Music follows Maria (a young nun-turned-nanny) and the von Trapp family through the beginnings of Nazi rule in Austria. Campayno plays Rolf, a messenger who romances the eldest von Trapp daughter, Liesl. The production was set to air live on December 5, and just like finals, the date approaches all too soon.
The broadcast begins at 8pm. Rolf appears a few scenes into the first act. He and Liesl sing together on an elaborate set, beautifully decorated to look like a copse of trees in the Alps. Later, Rolf gets wooed into the Nazi regime, and as part of a Nazi search party, he stumbles upon Liesl and her family as they attempt to flee the country. Liesl begs him not to betray their location to the Nazis. After a tense moment, Rolf calls the all clear to his superior, and the search party moves on, enabling the family to escape.
Campayno is in good company on the production. Christian Borle (A'95) plays von Trapp family friend Max Detweiler, and Christiane Noll (A'90) portrays Sister Margaretta. Alumni are pervasive behind the scenes as well, in positions ranging from Pamela Putch (A'81), senior vice president of production at NBC, to art director Kevin Rupnik (A'78), to lighting intern Charles Dabezies (A'14).
The broadcast ends with more than 18.5 million viewers, making it the most-watched Thursday programming for NBC (excluding sports) since the 2009 ER series finale. Campayno gets good reviews, including from AP's drama writer, Mark Kennedy, who calls Campayno "a natural though he's still in drama school."
Campayno returns to campus for the spring and will graduate on time, despite missing part of the fall semester to rehearse and perform the show. Peter Cooke, head of the School of Drama, views Campayno's experience as both a wonderful internship for him and a national showcase for the talent of CMU's students.
—Shannon Deep (CMU'10, HNZ'11)