Returning home to Pittsburgh after a weekend visiting friends in New York City, Elias Diamond is still buzzing from Manhattan's vibrancy. He's spent the past five years at Carnegie Mellon writing poetry, short fiction, and plays, all while pursuing a degree in dramaturgy. And his visit to perhaps the busiest artistic hub in the world has reminded him that his writing, currently tucked away in a binder, may soon reach this city and all of the potential collaborators and audiences within it.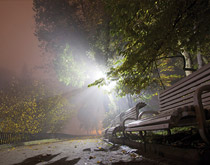 Of course, even with the future so tantalizing on the horizon, everyday routines still need tending to. And so, on Sunday night, Diamond finally settles in to sift through his email, neglected for the past several days. One message quickly catches his eye. It's from Tangent Theatre, a small company based in the Hudson Valley town of Tivoli, N.Y. He scans the email and sees that The Park Bench Hero, a one-act play he submitted to the company over the summer, has been selected for a reading at the company's 2013 NEWvember Festival of new plays. It seems serendipitously appropriate, a moment in which Diamond's future goals—of full-time writing and theater-making—suddenly materialize in the present.
But before he can celebrate, he notices another email from Tangent in his inbox, a follow-up to their congratulatory note to make sure Diamond would still like his play to be featured in the festival. It's been a few days, and they haven't heard back from him. Diamond can't type Yes! quickly enough.
A few weeks later, he arrives in Tivoli and stays with a local host. From her home, he can walk the 10 minutes to Tivoli's main street and Tangent's Carpenter Shop Theatre, where The Park Bench Hero will premiere. The town—or, as it's officially classified, village—is a far cry from the bustling density of New York City. There are lakes and trees, instead of marquees and tourists, and a 60-seat black box theater, instead of a 1000-seat Broadway house. But Diamond is enamored. Tivoli is peacefully picturesque, yes, but it's also a bustling artists' town, a place where local pubs host reading nights and where audiences linger after shows to chat with the company. As the lights go down on The Park Bench Hero and the applause grows. Diamond is elated to be a part of the community, even if only for a few days. His future has begun.
—Olivia O'Connor (A'13)