The seventh-grader waits for the tour to begin. Even though Vincent Siao has attended the Vancouver prep school since first grade, the upper school will be a brand new world: a separate campus and likely lots of new faces. Among those new faces is Victor Hung. During the tour, the two strike up a conversation. Siao is relieved to learn he is not the only one interested in computers.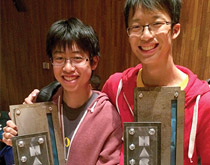 The two become friends and spend the next five years tinkering with technology, creating websites, and building games. Naturally, when it's time for college, both plan to study computer science. Siao chooses Carnegie Mellon, and Hung enrolls at MIT. But they stay in touch.
At CMU, Siao begins entering hackathons, which are known for being grueling, weekend-long programming competitions. During his junior year, he invites his MIT buddy to campus for CMU's hackathon, TartanHacks. They somehow manage to get a decent amount of sleep—a hackathon rarity—and place third in the competition.
In fall 2013, Siao is approached by some of his CMU classmates about attending MIT's hackathon. He'll go, of course, knowing he can crash on Hung's dorm-room floor.
When he arrives in Cambridge, he and Hung decide to team up. More than 1,000 students from all over the country have entered HackMIT. The two boyhood friends settle into the competition. Unlike their CMU hackathon, the college seniors, with takeout food nearby, are prepared for 24 hours of nonstop programming during the two-day event.
At the start, neither has much of a plan, but just like the old days, they soon find inspiration. What begins as an idea to use a smartphone's light to draw images on a computer screen becomes a Web site that enables people to create 3D drawings by waving their phones around in the air.
Sure enough, Siao and Hung only get an hour or so of sleep that Saturday night. But they agree that it is worth it because they think their creation, called Lightboard, will catch the attention of the judges.
Siao, who has competed in nine previous hackathons, knows the elite quality of these competitions, so he's far from overconfident. But their sleepless weekend pays off, literally. Lightboard wins first prize, and the duo split the $4,000 award. Their friends from high school celebrate their achievement on Facebook. News of their win gets 95 likes, including their high school buddies.
—Elizabeth Shestak (DC'03)