On October 26, 2012, the American Red Cross urged New Yorkers to download its free smartphone app. It was geared to issue storm updates and directions to shelters as well as provide safety features, such as a flashlight. Three days later, when Hurricane Sandy wreaked havoc throughout the Northeast, 8.5 million people lost power. Those who had planned ahead and installed the app were still out of luck because they had no way to charge their smartphones. That included the mother of Hahna Alexander (E'12).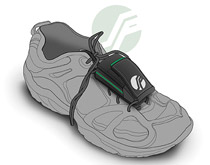 There was a sense of irony to the unnerving communication blackout. Alexander and her classmate Matthew Stanton (E'12) had teamed up for their senior design project to develop a simple, renewable way to keep mobile devices charged—one that wouldn't rely on sunshine, drain your car battery, or require an electrical outlet. The power would come from the energy created simply by walking.
The prototype consisted of a rubber shoe insert with a flat, thin generator under the heel area. A thin electrical cable attached the insert to a small battery charger strapped to the wearer's ankle or the top of the shoe. The device could be useful for anyone who doesn't have a wall plug nearby—from hikers scaling a mountain to police officers on foot patrol to farmers toiling in the fields.
And Hurricane Sandy demonstrated to Alexander and Stanton yet another use for their on-the-go generator. "People in the middle of a natural disaster need reliable power to seek help and to communicate that they're OK or not OK," says Alexander. When lives hang in the balance, search and rescue workers don't have time to stop and wait for a cell phone to charge, either.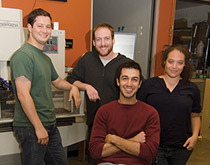 Fortunately, Alexander got the call she was waiting for a few days after Hurricane Sandy. Her mom was fine. The ordeal helped to convince her and Stanton of the potential market, and the two classmates have cofounded an energy-harvesting startup, SolePower, which has office space not too far from CMU's Pittsburgh campus.
Stanton, an avid hiker, stresses the comfortable design: In tests, "I didn't have a blister after 60 miles." Alexander adds that the device blends seamlessly with footwear and mobile devices.
So far, the company has garnered enthusiastic press coverage from the likes of Outside magazine, Mashable, and CNET. And through Kickstarter, a crowdfunding platform, SolePower exceeded its $50,000 goal, raising $60,184 in 45 days last summer.
Alexander, who is CTO, and Stanton, who is CEO, say they plan to sell their first model later this year. It will cost less than $150 and be geared toward hikers because it will take 8-10 miles of walking to fully charge a typical smartphone.
Future models under development are expected to generate the same amount of power with as little as 2.5 miles of walking, which is the average distance people are on their feet as they go about their normal daily activities.
The long-term vision, says Alexander, is to get SolePower "into everyone's shoe."
—Aaron Jentzen (DC'12)