It's 1981, and James Lally is part of a medical team in a tense emergency room.
He's in this position because of a career path that took a few turns. As the son of a veteran of WWII, the Korean War, and the Vietnam War, he too planned for a career in the military, hoping to become a Navy Seal. But after being rejected for poor eyesight, he joined the U.S. Army's Airborne Rangers in 1972. Just as he completed his training in reconnaissance, capture, and rescue missions, the Vietnam War came to an end. He and his classmates were Ranger-qualified Privates with zero on-the-ground experience. No one was sure what to do with them.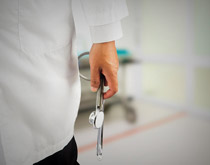 Proactive, Lally decided to pursue another branch of the military: the U.S. Army Special Forces. He began as an infantryman, but his testing aptitude quickly encouraged his commanding officers to push him toward a more academically challenging training path: combat medic. Statistics demonstrate the 58-week course's difficulty: Lally joined a class of 37, but only seven made it to graduation.
Years later, in 1981, the combat medic decided to push himself still further, taking on an additional round of training to become a PA, or physician's assistant, which enabled him to diagnose and treat illnesses, order and interpret lab tests, perform procedures, assist in surgery, provide patient education and counseling, and make rounds in hospitals.
As a PA, he ended up in Fort Bragg, N.C., home to one of the military's biggest trauma centers. There, he finds himself in the ER.
A roomful of people try to assess the trauma victim while staying out of each other's way. Suddenly, in walks a man with his hands in his pockets, looking very relaxed. It's Maj. Larry Bragg. He's from Texas, and a sense of the South oozes from him like aftershave. Lally half-expects to see cowboy boots protruding from the legs of his uniform.
"Hey, what's going on?" Bragg asks as he maneuvers to the head of the bed and takes charge. Suddenly, the apprehensive atmosphere vanishes. Everyone begins working with a sense of calm purpose, rather than a sense of panic. Lally, 27 years old, is in awe. "That's the way I want to be," he thinks.
In pursuit of this goal, he commits to his work as a PA, first in Fort Bragg and then in Grenada. He loves the work and the lifestyle: fulfilling the military passion he inherited from his father, just not through combat. But his supervisor, a flight surgeon, sees greater potential in Lally. He wants him to become a physician. Lally knows the commitment that takes and is relatively old to enter medical school, so he isn't interested.
That was in April 1987. Then comes a parachute accident that breaks his back. Because his injury prevents future deployment as a PA, he is forced to take a medical retirement from the military. Reevaluating his options, he decides to take his supervisor's advice and applies for medical school. Although he doesn't yet have a four-year degree, his military prerequisites and practical experience outweigh his lack of traditional schooling. He is admitted to California's Western University of Health Sciences and begins med school in the fall of 1987 at the age of 33.
When he turns 40, he completes his residency. "Forty," he repeats, for emphasis. "I had classmates who were 26, 28. I was 40." His age, he explains, added a sense of urgency to his career. He consistently worked long hours to establish a family practice office with another physician. When their practice began to prosper, he started looking for ways to continue his education and refine his expertise. He became a member of the American College of Physician Executives in 1998 and then moved on to Carnegie Mellon University's Heinz College, where he earned his master's in medical management in 2000.
Lally's advanced degrees have made him a hospital leader at both the administrative and clinical levels. He has purchased and sold two hospitals, a rare career move for a practicing physician. And he is now the president and chief medical officer of the Chino Valley Medical Center in California, where he oversees some 611 employees, including the 27 residents in his hospital's training program. The hospital has been listed on Truven Health Analytics' Top 100 Hospitals for two consecutive years.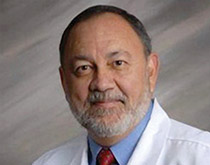 Just like Major Bragg, he leads by example—arriving at work at 4am each day, so dutifully punctual that even a 10-minute delay means he'll be greeted with "Are you okay?" And he works around the clock for a host of other projects and causes, among them: team physician and president of the USA Shooting Team, member of the International Olympic Medical Committee, medical director of indigent clinics in Chino and Montclair, and member of the board of trustees for the Chino Valley Medical Center, Montclair Hospital Medical Center, and Canyon Ridge Psychiatric Hospital.
His workload traces back to his dad. "He used to say all the time when we were growing up, 'You know, there's always going to be people bigger. There's always going to be people stronger and faster. There's probably going to be people smarter. But no one should be able to outwork you. Because that's volition; that's a choice."
For all he has accomplished in medicine, Carnegie Mellon has honored him with an Alumni Achievement Award.
—Olivia O'Connor (A'13)
Olivia O'Connor (A'13) has been a regular contributor to this magazine since her sophomore year.