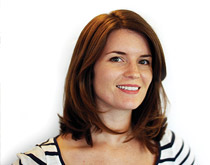 Amanda McCorquodale (DC'06) has been associate editor of Huffpost Miami, a city edition of The Huffington Post, since it launched in 2011. The online news site covers all of Miami—from culture and politics to celebrities and businesses.
How did you land the job?
A few years ago, while working as an editor at Miami's alternative weekly, I and a colleague launched a blog covering the arts and culture scene in the city. We did a series on "Miami's 100 Creatives," profiling amazing performance artists, independent filmmakers, playwrights, and poets who have gone on to enjoy fame at places like Sundance, the Guggenheim, and the Royal Shakespeare Company. Miamians are big on city pride and the list became this highly cited testimony that the city had come a long way from being merely the backdrop for "Miami Vice" and "The Golden Girls." Anyway, I had covered the local arts scene so closely that when Huffington wanted to launch a Miami site, the editors encouraged me to apply.
There has been debate about the value of higher education, particularly the humanities. What do you think? How does your degree—an MA in Literary and Cultural Studies from CMU's English department—help you professionally? 
It helped teach me to pull back the curtain to reveal the political, economic, and social powers at play in everything from romance novels to comic books. That approach now fuels my writing for The Huffington Post, where I'm constantly trying to pull back layers to get to the real issue. Beyond that, I think the humanities exposes students to the human experience and fosters empathy. Who could read The Grapes of Wrath and still argue that Tom Joad just needed to pull himself up by his bootstraps?
What's your daily routine?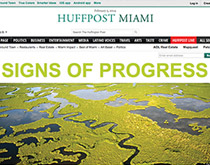 I get up around 6:30 AM, play with and feed my one-year-old, make coffee, and head into the office by 8 AM. I spend the next hour going through e-mails, social media, my RSS feeds, and news sites to pick out maybe four or five interesting stories to pitch. My editor and I then quickly brainstorm on the priority and approach to each.
What do you consider "interesting"?
When I find a story that I can't wait to tell my friends and family, I know I've found something worthwhile … like the time Florida lawmakers worded a bill so poorly, they accidentally outlawed all computers in the state!
How do social media and today's 24-hour news cycle affect your work?
It's equal parts thrilling and exhausting. I often research, write, and publish a story within an hour or two. It can be downright frantic. In terms of social media, "share-ability" is now a factor when considering which stories to pursue. And the headline must be compelling enough to lure the reader in beyond Twitter or Facebook news feeds.
 What advice do you have for aspiring journalists?
Be your own fact-checkers, adhere to style standards vehemently, source or shoot your own photography and video. Be a one-stop shop for publications.
—as told to Lisa Kay Davis (DC'09)
Learn more: www.huffingtonpost.com/miami