The mouthwatering aroma coming from the student home on Oakland Avenue is hard to ignore. So is the sign duct-taped to the porch railing: Free Pancake Friday. Passersby, mostly Pitt students hurrying to class, can't turn down the offer from the Carnegie Mellon housemates—Adam Britton, Jim Hart, Chad Miller, and Danny Santoro.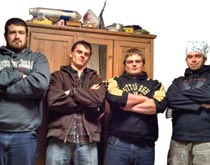 The four third-year electrical and computer engineering students have a neighborly weekly tradition that was born by a mistake when early in the fall semester Miller had mixed an entire box of pancake batter to feed his housemates breakfast. With too many pancakes to eat, the residents of 339 Oakland Avenue took to the street offering free pancakes to anyone within earshot. Despite some suspicious looks, they managed to give away all of the extra pancakes. Then, for reasons none of them can fully explain, other than it was just fun to do, they decided to christen Friday mornings: Free Pancake Friday. A Twitter account @CMUpancakes, with the tag line A house of men who believe in pancakes for all, helped spread the word. They now have several hundred Twitter followers who leave grateful messages like this one:
You guys definitely make my Fridays! And a really good pancake."
—Fadi Alchoufete (Pitt sophomore)
On this Friday morning just before the end of the fall semester, a hungry patron climbs the porch stairs. Santoro—who has become the unofficial head chef—takes the request for a buttermilk flapjack with Reese's Pieces. Out of appreciation, the young woman drops a weathered bill inside a tip jar. Every week, Free Pancake Friday collects around $50, money the housemates donate to various causes. This week, the money will be given to a relief fund for victims of an earthquake in Japan.
By morning's end, only Miller and Santoro man the griddle, because they don't have class until the afternoon. They take turns shouting: "Pancakes! Hot and free, like America in the summertime!"
One young man walks up to the porch and orders seven. Before leaving, he asks, "Will you guys be around next semester?"
"Definitely," says Santoro.
On a typical Friday, they serve about 90 people, but on this gray, rainy day, there aren't quite that many willing to brave the elements. The boys don't let the leftovers go to waste, though, as they toss the last few to the neighbor's appreciative puppy.
—Paul Carboni (DC'13)