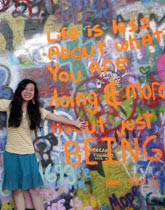 Fresh out of college, Josephine Tsay aims her career trajectory at online advertising, which she sees as present-day "uncharted territory." She lands a job at Google in emerging technology, a hot field in an even hotter company. She tackles advertising campaign initiatives during the day and at night finds herself preoccupied with a more prosaic problem: her puppy Max's upset stomach. There are many other dog owners at Google, and because Tsay and her coworkers take their "best friends" to meals with them, Tsay often finds herself unsure what food is safer for her Labrador retriever to nibble on.
"I kept copious notes on what I could or couldn't feed him," she says. "It didn't take long before I realized that I needed a mobile application that allows quick and easy access to food information that is relevant to dogs, especially while I'm out eating and wondering if I can feed Max the scraps from my plate."
Although she says she won't be retiring off the royalties of her creation, the iPhone app "iKibble," it still plays a major part in the course of her future. Creating the content, graphics, and art for the app rekindles in her a passion to not just work with technology, but to be a part of developing the next generation of interactive entertainment. After looking into graduate programs, she is intrigued by what Carnegie Mellon's Entertainment Technology Center (ETC) offers, what she calls an emphasis on both left-brain and right-brain tasks. It's appealing to her because she wants to explore how stories can guide the fusion between visual art and technology.
Now in her final year in the Master of Entertainment Technology program, Tsay is one of only two students nationwide to be awarded a scholarship from the Academy of Interactive Arts and Sciences, which supports students pursuing careers specializing in the business of interactive entertainment. In her final semester at Carnegie Mellon, she is working on a project at the ETC Silicon Valley campus, which focuses on, what else, games and education.
After graduation, she plans to forge a career that leads teams in creative and artistic output. "I want to develop something that hasn't even been thought of before," she says.
—Janet Jay (DC'07)
Related Links:
2012 AIAS Foundation Scholarship Winners Revealed
(Image above) Tsay stands in front of the John Lennon Wall in Prague, when she traveled there for her birthday while interning in Paris. She says the messages and artifacts people left behind embody her graduate school experience at CMU: "Sensory overload, vibrant, inspiring, an amalgamation of ideas that continues to build on each other over time."