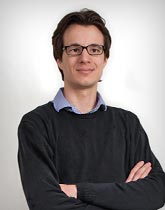 Last year, Severin Hacker went to Guatemala to attend the wedding of his friend, co-worker, and PhD thesis advisor: Carnegie Mellon professor Luis von Ahn. Hacker got off the plane in von Ahn's native country, navigated the city, and even got a haircut, speaking entirely in Spanish. Very impressive considering that Hacker had never before carried on a conversation in Spanish.
His proficiency came from spending time on an online site filled with exercises and games that required him to translate English to Spanish. The site is called Duolingo, and Hacker happens to be its chief technology officer.
When Hacker first came under von Ahn's tutelage, as an undergraduate computer science exchange student from Switzerland, von Ahn had been thinking a lot about translation. It's labor-intensive and time-consuming, there are few people qualified to do it, and there is a nearly infinite amount of material that needs to be translated. Von Ahn had already built quite a reputation by developing reCAPTCHA, the tool that asks millions of Internet users to rekey words in order to log in to Web sites. With people already rekeying words for log-in purposes, von Ahn wondered whether there was a way to get millions of people to translate anything and everything?
"The answer took us a long time to come up with, despite being the most obvious answer in the world," von Ahn explains. Namely, there are already a billion people trying to translate stuff; that's the number of people in the world trying to learn a foreign language. If you could capture that collective effort—which, in aggregate, is more accurate than any translation program ever created—you would suddenly have your answer.
So Hacker and von Ahn set about doing just that. First, they needed top-level programmers. They hired School of Computer Science students. Next, they needed a crash course on how to utilize software to help people learn. They made the short walk from Gates-Hillman to Newell-Simon on the university's Pittsburgh campus to find one of the world's experts, Ken Koedinger. And, once they were ready for beta testing, they needed a way to check their results, which is where the power of crowd-sourcing comes in.
Once the site opened for public beta testing last June, it became perhaps the largest data source ever for language-learning efficacy, with more than a million people using the free program, whose progress is captured and used to further refine the service. "For thousands of years, nobody really knew whether it's better to teach users adjectives before adverbs in Spanish," von Ahn says. "Now, I can find that out in a few hours."
Duolingo became developed enough to be spun off as a company. It has a staff of 22—about half of whom come from Carnegie Mellon. And, by the end of last year, the Pittsburgh-based company raised more than $15 million in financing. Companies in need of translation services are lining up to utilize the collective power of Duolingo users who, like Hacker, can learn a language for free.
—Bradley A. Porter (DC'08)
The goal of Carnegie Mellon University's Greenlighting Startups initiative is to increase the university's visibility and leadership in spurring economic growth and job creation, and to further establish CMU as the destination for entrepreneurs. Since 2004 CMU has doubled the number of startup companies created by its award winning faculty and students from across the university, and is now one of the fastest growing entrepreneurial institutions in the United States.
Related Links:
About Duolingo
Official Duolingo Blog