"I'll tell you what…," mulls William Gruse, head of research at Pittsburgh-based Gulf Oil. It's 1953, and he's sitting in his office in Mellon Institute (not yet acquired by Carnegie Mellon), which is owned by Gulf. He's talking to high school senior Jerry Holleran, who wants to start studying electrical engineering next fall at Carnegie Tech.
Holleran got in touch with Gruse through a series of friendships. Gruse was friends with Webster Jones, Carnegie Tech's Vice President of Administration, who was friends with Holleran's stepfather, who knew that the young man wanted to attend Tech. When Holleran first met with Jones, he learned that Gruse might be able to help with his financial "situation." Holleran can't afford to go away to school, and even a local institution like Carnegie Tech is beyond his family's limited means.
Gruse, after a pause during his interview with Holleran, makes him an offer. "I'll pay for your going to Carnegie Tech," he says, "if you meet three conditions."
"Wonderful!" Holleran replies. Then the obvious question: "What are the conditions?"
"First, you're going to have to maintain your grades," Gruse says.
Holleran doesn't flinch. Studying hard is second nature for him at Pittsburgh Central Catholic High School, where the Christian Brothers run a tight ship.
"Second, you'll need to have some money for books and things, too," Gruse continues, "so I want you to take care of my lawn."
Tuition and spending money for a little hard work! So far, so good.
When Gruse names the third condition, Holleran can't help but think it's a little strange. Nevertheless, he agrees, so he walks away with a full ride.
He earns his undergraduate degree in 1957 and years later returns to the university and earns his MBA in 1969. Although it wouldn't come into play until much later in his life, reflecting on it now, Holleran calls this third condition from his benefactor "transforming." Gruse had made the young man, whose life he was changing forever, promise: "Someday, return the favor." Holleran went on to do so more than 50 times.
And I witnessed it.
I was a CMU senior in fall 2009, more than half a century after Jerry Holleran's senior year. I had recently been named an Andrew Carnegie Society (ACS) Scholar, a monetary award that recognizes student service and leadership. The ACS comprises almost 3,000 alumni, parents, and staff who donate $1,000 or more to the university annually. From time to time, the Scholars were called together as a group to learn about the university's development efforts or discuss Andrew Carnegie's The Gospel of Wealth and—perhaps the most enticing aspect to a broke college student—dine on some free food.
I'd be lying if I didn't admit that when I received an invitation to the ACS Homecoming Breakfast, I groaned. Yes, there was free food, but there was also the dreaded word breakfast. The event started at 9 am on a Saturday. During Homecoming weekend, no less! Nevertheless, I dragged myself out of bed and joined ACS donors and my equally groggy fellow Scholars. As I recall, it was a nice event, and while I feasted on some bacon and eggs, an award for extraordinary service and generosity was given out to a couple who had given student scholarships.
I didn't give that breakfast another thought until I was doing research for this article. I had heard the name Jerry Holleran before, but I couldn't place just where. Imagine my surprise when I found out that the recipients of the ACS Award that morning in 2009 were Jerry Holleran and his wife, Carolyn.
"You know, I was there when you received the ACS Award," I told Holleran during our interview, throwing it out as an interesting piece of trivia.
"Well, I'm sorry!" he exclaimed, sincerely apologetic. "I don't remember your name."
I laughed; I had been one face in a hundred. He was the honoree that day! As far as I can tell, that type of modesty is typical of Holleran, who was kind and unassuming throughout our conversation, though he has much to brag about.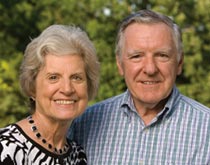 "If I could say the one thing he's taught me, I think it would be humility," reflects Katie Williams, his granddaughter. After three years with Teach for America, traveling to Spain and South America, she enrolled in graduate school at the Heinz College. In May, she'll graduate with her MS in Public Policy and Management. Although her grandfather has accomplished much and is considered a wealthy man, Williams says you would never know it from a casual conversation with him. When I spoke with her, she even asked, "Can you tell me everything he's done for the university? I don't even know!"
It's hard to know exactly where to start. Listen to Holleran tell you what he's done for CMU, and he makes it sound like an organic progression of his life and career. Perhaps because the idea of giving back was planted so early that it seemed like a natural step, paying his good fortune forward.
Holleran's career zigzagged from a short ROTC obligation; to jobs in sales, engineering, and marketing management at Westinghouse and RCA; to management consulting at Booz, Allen, and Hamilton; to director of business planning for the Textile Operations Division of Rockwell International, a textile machinery manufacturer. Then, in 1975, Holleran and three other local businessmen started Arrow International, his first entrepreneurial venture.
"Well," he reconsiders, "I guess the first one was my paper route."
Holleran and his partners bought out a dissolving portion of Rockwell and converted the verging-on-obsolete manufacturer of textile knitting elements into a company that built medical devices. After several incarnations and offshoots of the company, both public and private, Holleran was again at the helm, becoming chair of what is now known as Precision Medical Products. He's retired now but remains on the board of directors.
Throughout his career changes, he raised his three children, and then he worked to educate six college-aged kids at once (his three children and three stepchildren), Holleran always remembered Gruse's last condition to "return the favor." "I had that in the back of my mind," he says.
It was a moral obligation he didn't have the opportunity to fulfill until later in his life, but he didn't take it lightly. Both he and his second wife, Carolyn, have long histories of giving, some through Jerlyn Foundation, their family's private charity. Carolyn is a trustee emeritus at her alma mater of Connecticut College, where their granddaughter, Williams, earned her undergraduate degree. By the time he began to get involved with CMU again, Holleran was already very active in his community in Berks County, Pa., as chair of the local United Way chapter, and he served on various boards of directors for other community organizations such as the American Red Cross.
His renewed acquaintance with the university started simply. In the late '80s, Holleran returned to campus to attend a GSIA reunion. There, he was recruited to help with the business school's advancement and development efforts and eventually was invited to be a candidate for the Board of Trustees. Now a trustee emeritus, he was first appointed in 1994.
Holleran was a witness to and participant in the university's impressive growth and development over the past 20 years. From his first days on the board, he watched application rates double and then double again during the presidency of Jared Cohon. Cohon, who will step down June 30 after 16 years, is living proof that management style matters, says Holleran, whose career in the upper echelons of successful companies is evidence that he knows what he's talking about. A highlight of the Cohon presidency, says Holleran, has been the Inspire Innovation capital campaign, which will conclude on June 30, exceeding its $1B goal. A large thrust of the campaign sought to create endowed (sustainable) scholarships for qualified students—an area close to Holleran's heart. Scholarship creation will always be his foremost concern, he declares.
The hallmark of Holleran's involvement with Carnegie Mellon—and a large part of the reason he and his wife were honored by the ACS in 2009—was the establishment of the Holleran Scholarship Challenge, an initiative that aimed to generate 50 new endowed scholarships. It succeeded. This model of scholarship creation continues today, through the broader Trustees Challenge, which is shooting for 60 new scholarships this time around.
The Hollerans donated $1 million to the Challenge, which asked donors who had never before created an endowed scholarship to give $30,000 toward the $50,000 required for scholarship creation; the Hollerans provided the remaining $20,000. After the challenge was fully subscribed, the Hollerans in 2012 pledged another $1 million to further enhance the success of this scholarship initiative. The recipients of the named scholarships, known collectively as Holleran Scholars, are also given the opportunity to participate in group philanthropy. The Scholars assess a campus community need and allocate funds—also donated by the Hollerans—toward a solution.
Holleran tries to meet with the students every year to speak with them about the importance of giving back. He believes in perpetuating a culture of giving, supporting a university that he thinks offers something unique. "There's an academic work ethic at Carnegie Mellon that is unsurpassed," Holleran reflects.
As a scholarship recipient myself, I've sat, metaphorically, in that chair across from William Gruse. I've been given my chance—though perhaps the conditions attached to it weren't so explicitly stated. And now, I await my own opportunity to sit in the other chair, to lean forward, smiling, and tell some hopeful high school senior: "I'll tell you what…"
   
Shannon Deep (CMU'10, HNZ'11) of New York City has been a regular contributor to this magazine since her senior year at Carnegie Mellon.