In the drama school's main acting studio in the Purnell Center for the Arts sit nearly a hundred students and faculty members. Their chatter is quiet, but the air brims with excitement. It's the last voice lab of the year, a weekly class where musical theater students perform a song of their choice—one that relates to their lives. For today's performers, the seniors, this is the last voice lab of their Carnegie Mellon careers.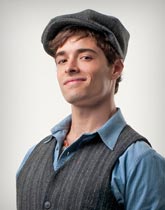 Graduating senior Corey Cott is about to become a school legend—and it has nothing to do with hitting a high A.
Cott's mother and father have made the trek from suburban Cleveland. His longtime girlfriend, Meghan Woollard, is here, too. One by one, the seniors stand, reminisce on the past four years, and then sing. It's weepy. It's touching. It's beautiful.
When Cott's turn approaches, he brings with him a notebook to read a passage he wrote about Woollard over a year ago. He looks up several times, meeting Woollard's eyes across the six rows of audience members that separate them. When he gets to the page's end, he drops the notebook and begins Josh Groban's "When You Say You Love Me." He sings the song directly to Woollard, his eye contact seldom wavering. If you know Cott—and after four years of some of the hardest acting training the world has to offer, his classmates do—then you know about his famously sweet heart.
Just as he hits the song's final note, Cott drops to one knee. His classmates gasp. Woollard's fingertips fly to her mouth. She makes her way through the crowd as if in a trance. Squeals pierce the air. Woollard, tears welling in her eyes, holds out her hand, as if to have a ring placed on her finger. "I have to say the words first," shouts Cott, fighting the crowd's noise and his own tears. "Will you marry me?" Only Woollard can hear him now, and barely so, as the entire room has gone berserk. This is—after all—drama school.
Three months after Cott's sensational marriage proposal, his name was on everyone's lips again when the 22-year-old made his Broadway debut. Even better, Corey Cott made his Broadway debut in the lead role of a smash Disney musical. You read that right. Just seven weeks after graduating last May, Cott auditioned for some of Broadway's most powerful players and walked away with the coveted lead in Newsies.
It was fast but definitely not easy. Producers rarely hand over the leading role of a multi-million-dollar franchise to an unknown. Some might chalk up Cott's instant success to his CMU training, others to his good looks and boyish charm. Plain old luck, still others might say.
But before Cott ever tapped across the Nederlander Theater stage on 41st Street in Manhattan, before he rallied a group of rough-and-tumble newsboys to go on strike, he was a closed-off boy who couldn't figure out how to open up.
Twelve-year-old Cott was bitten by the acting bug after a small role in a school production of Les Miserables. Soon his bookshelf was lined with scores from Broadway musicals, and his head full of lyrics. On a family weekend in New York, he saw one of Broadway's biggest productions: Wicked.
The role of Glinda was played at the time by Megan Hilty (A'04). Seeing "Carnegie Mellon" following Hilty's name in the playbill, Cott knew not only what he wanted to do with his life but also where he wanted it to start.
Four years later, he was one of fewer than 30 selected from the more than 1,300 who auditioned for CMU's acting and music theater program. Like his classmates, he had the makings of a successful actor: good looks, charming personality, stage presence. There was just one thing. "He was very raw. He hadn't yet learned to utilize his inner resources. His acting lacked depth," says acting professor Barbara Mackenzie-Wood. "He's so sweet and warm—but he hadn't lived very much. For an actor, he didn't have a lot to draw on."
The drama school's freshman-year curriculum focuses on deconstructing the craft of acting and the nature of theater. What is a scene? What is a character? What is theater? Cott jumped in headfirst. He showed up to class prepared, turned his assignments in on time, lent an eye or an opinion to a classmate no matter how late the hour. Rarely—if ever—did he display any flaws.
Which would be fine if Cott had been studying engineering or computer science. But acting is a messy craft. Polish, poise, and preparation are necessary, but acting is based in truth—and the truth isn't always pretty. Corey Cott was too focused on looking good.
By sophomore year, his teachers had caught on. "He worked hard, but whenever Corey was required to really get gritty, to dig into the depths of his songs, he held back," remembers singing professor Gary Kline.
As audience members, we can tell when an actor entrances us. The great ones make us forget they're performing at all. But we can also tell when there's something missing—the same way you know when someone says "I love you" without meaning it. Sometimes you can tell an actor is holding back by his body language. He'll unconsciously cross his arms or avoid making eye contact with his scene partner. More often, though, you can't pinpoint why. You just know it. And Cott's teachers, many with decades of experience, could see it. "There was a real voice there. He had soul," remembers Kline. "But he was definitely closed off."
Cott could've skipped training altogether if he would have settled for being a pretty boy with a nice voice. But that's not why he came to CMU. He wanted to become a character—flaws and all. He wanted to transform.
By the middle of sophomore year, Cott, by his own admission, still couldn't break through. And because of the school's small faculty-to-student ratio, there was no escaping the teacher's watchful eye. "You can't fake your way through," he says. His teachers tailored his training to tackle his specific issues. "We wanted to get a fire in his belly," says Mackenzie-Wood. "He was a golden child, full of warmth and purity. I went in the other direction. I cast him in a series of demanding roles. First in the tent scene in Julius Caesar, and then as a murderer in a scene from Richard III. It was a breakthrough in his acting work."
Then came "Acting a Song," a class taught by Kline. Loosely structured, it's less about technical ability and more about letting your guard down to access truth. Students perform any song they wish and then accept criticism from their peers. One day, after Cott finished his song, he was peppered with feedback. He accepted the critiques in stride—until this one: "Why are you always trying to be so good? You don't have to be perfect all the time." Silence. Cott's knees weakened. He couldn't breathe. Before he knew what was happening, he was on the floor, sobbing.
"It was like I'd been punched in the stomach," he says. "I was still trying to look good, still focused on sounding good, still trying to show myself singing this song in an honest way, rather than just singing it honestly."
By the time he got back on his feet, he could tell something had shifted. His teachers noticed the change. "That one class was definitely a milestone for Corey," says Kline. "He recognized that a good voice wasn't enough. He started to sing with so much more openness."
His acting gained an edge, a willingness to leave it all on stage as well as a confidence in stillness. That summer, he booked his first professional show with Pittsburgh CLO's Miss Saigon, where he performed in front of thousands of people. Over the next year, he gained more experience both on campus—Sondheim's Assassins and Shakespeare's A Midsummer Night's Dream—and with the CLO—Jekyll and Hyde and Jesus Christ Superstar. By his senior year, he was seasoned enough to begin auditioning seriously for his first post–Carnegie Mellon acting job.
Luckily, the industry has always paid attention to graduates of the nation's oldest acting school, says acting professor Don Wadsworth: "But it feels like, especially in the past 10 years, it's exploded." Agents, managers, and casting directors are drawn to campus by the success of the school's alumni. These are the people who can help land Cott and his fellow seniors that coveted first job. "Because our alumni are doing so well, we're getting more and more people to come and more interest about our kids who aren't even out of school yet," Wadsworth says. "I don't know many schools where there's been one year where 90 to 100% of their students land an agent or manager when they graduate—and we're having it regularly."
New York–based talent manager Geoffrey Soffer is one such manager. He offered to represent Cott after flying to Pittsburgh for an afternoon with the senior class. A flurry of Broadway auditions followed, including The Book of Mormon and Newsies. Cott made it far in both but came up empty-handed in the end. Still, he liked the lead role in Newsies—17-year-old Jack Kelly, a juvenile-detention alumnus who leads his fellow newsboys to wage a full-scale strike against newspaper barons Joseph Pulitzer and William Randolph Hearst. Cott asked Soffer to let him know if the production held auditions for the role again.
Graduation rolled around. Cott was still looking. Newly engaged and with his savings starting to dry up, he was willing to take just about any job. But when it rains, it pours. He received not one, not two, but three different job offers: the lead in an off-Broadway workshop, an understudy role in the national tour of Wicked, and a supporting role in the CLO's Fiddler on the Roof. If that wasn't enough, he also made it to the final round of auditions for a recurring role on TV's Glee. Talk about going from zero to hero.
Then, while trying to decide which job to accept, he got the call of his dreams. The lead for Newsies was open. Soon he was auditioning—belting out songs and tearing into scenes for Newsies' Tony-nominated director Jeff Calhoun, Disney's Tom Schumacher, and the show's producers. Within hours, his manager called him with good news. Very good news.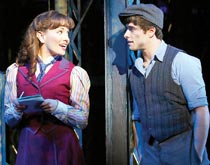 Taking over the lead in a musical nominated for eight Tony Awards is a tall order. But Kara Lindsay, the actress playing Jack Kelly's love interest Katherine Plumber, welcomed the Broadway newbie with open arms. The two share more in common than just the stage eight times a week. Not only did Lindsay make her own Broadway debut with the show, she also happens to be a CMU musical theater alumna. Lindsay (A'07) had been performing as Katherine Plumber since the show' s early iteration back in northern New Jersey. Before joining the Newsies cast, she'd performed nearly six years in off-Broadway and regional productions.
Today, Cott has performed in Newsies more than 150 times, and the show's strong ticket sales show no signs of letting up. Although the adoring teenage girls who wait for him after the show may fawn over his good looks and boyish charm, Cott says his training played no small part in his journey. "I think about that moment in 'Acting a Song' a lot," he says. "I wouldn't have been able to find the depth or the true turmoil in Jack Kelly without that moment."
By the way, Cott's big year of firsts—getting engaged, moving to New York City, and making his Broadway debut—didn't end with the Broadway applause. It ended in wedding bells. He and Woollard tied the knot in early January. They spent their honeymoon on a Disney cruise and at Disney World—a fairytale ending to that fabulous, now legendary, first act

Nicholas Ducassi (A'10), an actor, writer, and filmaker, has been a regular contributor to this magazine since his senior year.
Related Links:
Cott Takes the Lead
Corey Cott Makes Broadway Debut in Newsies
Corey Cott Will Suceed Jeremy Jordan in Broadway's Newsies
The World Will Know! Newsies Star Corey Cott and New Bride Meghan Woollard Show Off Their Wedding Bling