Cott Takes the Lead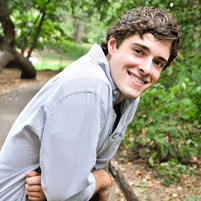 Corey Cott
Corey Cott (A'12) peers up at the New York sky and can barely contain the unyielding grin on his face. 

The recent Carnegie Mellon University grad just landed the lead in one of Broadway's biggest hits, the Disney musical Newsies.

His predecessor, Jeremy Jordan, has moved on to the TV show SMASH which features CMU alumni Megan Hilty (A'04), Leslie Odom, Jr. (A'03) and Christian Borle (A'95). 

In Newsies, Cott shares the stage with Ben Fankhauser, a childhood friend from Ohio who plays the role of Davey and fellow CMU alumna Kara Lindsay (A'06), who plays the female lead.

"Carnegie Mellon is the heart and soul of my training," he said. "The faculty became like family to us. Every single one of them brings something different to the table, and they find a way to make it all work together for the students' benefit."

From the very start of his education, Cott says, he began learning how to take the right steps toward a successful and grounded future. 

In his first class, the instructor asked a question that changed Cott's preconceived definition of success. 

"He asked each of us, 'How are you going to use your talent to change the world?" Cott remembers, "and I thought, 'Wow, I need to use my talent in a way that does something meaningful for the world. I can't just do this for the wrong reasons — just to gain fame and fortune.'" 

According to Don Wadsworth, a CMU professor of voice speech and dialects in the School of Drama, Cott didn't just think the words, he lived them. 

"Throughout his four years in the CMU conservatory, Corey's only desire was to grow as an artist and to serve the industry he loves so much. It was never hard to believe that he would do well early in his career."

Cott has seen a sudden spike in the number of followers he has on Twitter since the news about his new role in Newsies, and he marvels at the fact that people on the street in Manhattan are calling his name. 

He says being recognized more often takes some getting used to, as media outlets like Entertainment Weekly and the New York Daily News recently featured stories on him. 

Gary Kline, an associate professor of musical theater at CMU, also remembers Cott's early dedication to his craft. 

During a recent visit to New York City, Kline got the last ticket to a standing-room-only performance of Newsies. He witnessed Cott sing one of the show's signature numbers and relished the audience reaction. 

"The audience began to roar their approval before that last glorious note was finished. Corey had arrived indeed," Kline said.
Related Links: School of Drama | Speaking of Dialect | Broadwayworld.com Photo Coverage | Get Newsies Tickets
---