Afnan Fahim is deep in thought as he walks along windy streets in Montevideo. It's summer break for him, but it's pretty chilly in this part of the world. He wishes he could have spent time on the beach since arriving. The terrace apartment that the Carnegie Mellon Qatar student is sharing with three Carnegie Mellon Pittsburgh students overlooks one of the beaches on the Rio de la Plata. Local tradition refers to this salt-wedge estuary as the sea because it empties into the Atlantic right in town.
But the beach is his only regret, and a minor one at that. Nearly 8,000 miles from the Qatar campus, Fahim (CS'13) isn't here for vacation. Right now, he's on his way to Liceo 39, a school in an impoverished neighborhood in this Uruguayan capital city. Today is an important day, the culmination of his internship with iSTEP (innovative Student Technology ExPerience), a program created by TechBridgeWorld, a Carnegie Mellon Robotics Institute research group. The program gives students the chance to "bridge worlds" by turning what they learn in the classroom into technology that solves problems in underserved communities.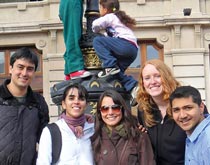 After two months of work, Fahim, Elise Gonzales (CS'13), Roberto Ponce Lopez (HNZ'12), and Vanessa Vázquez (HNZ'12) are going to test the Facebook app they've been developing—a collaborative game using virtual soccer to teach English literacy. Once the app is tested and refined, it will be distributed to all public schools in Uruguay.
Fahim arrived in Montevideo knowing that Uruguayans—old and young—share a passion for soccer. His plan was to use that interest to teach English via a cell phone app. But the flaw in the idea became apparent early. Students at Liceo 39 had many different types of cell phones. Finding a working solution wasn't going to be feasible in just a few months.
On the other hand, thanks to the nonprofit One Laptop per Child, each of the 395,000 children in the nation's primary schools is given a $100 laptop. Fahim noticed kids carrying their laptops around with them—even outside on the streets. And he noticed something else: Mention Facebook, and the kids at Liceo 39 lit up. It would make a great platform for an educational app.
Fahim was technical lead programmer for the app. Although he had experience designing computer games, he wasn't familiar with Web-based applications. He gave himself a crash course in the basics of Web development and social networking. Then he followed tutorials for Django, an open-source Web-application framework, to build the app. As intense as this was, he made time to learn some Spanish, go to a 105-year-old tango bar, and even experiment cooking Uruguayan foods—hamburguesas, chorizos, and asados—with his roommates.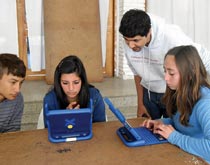 Now, walking into the school, he finds that the hall is abuzz with energy. As the twelve-to fifteen-year-old students get situated, the teacher tells them to log onto Facebook—usually not allowed during school. With gasps of disbelief, they open their bright blue laptops. Soon they are playing the game in teams.
Fahim watches as students who barely speak English interact with the app that he's traveled across the world to create. He's spent a lot of time thinking about the differences between Uruguayan culture and others he's experienced. But what about the similarities? What is truly global? This is the question he'd been mulling over on the way to the school. Now he is struck by a powerful realization.
No matter where we come from, what language we speak, or what culture we live in, he thinks to himself, we still use the same technologies to power our everyday lives. Technology is truly global. It has the power to eclipse differences that divide us.
Until now, Fahim had been trying to determine what direction he wanted to take professionally. He imagined he would get a job doing what he loves to do—programming software—but his expectations stopped there. Leaving Liceo 39, he realizes he can create technology, particularly Web applications, that have a real-world impact and that can bring the peoples of the world closer together. It's a revelation that will begin to shape the course of his life.
In one way or another, Fahim has always bridged worlds. Growing up, he moved between China and his home country of Pakistan while his father pursued a PhD. In Beijing, he learned to speak Mandarin to make friends and understand the culture. "I was always the kind of person who wanted to be talking to other people, discussing larger ideas, and doing something practical," he says.
Like many students at Carnegie Mellon Qatar, Fahim wanted to get a world-class education without straying too far from his parents' home in Pakistan. But he was also looking for somewhere where he could make connections around the world.
A friend told him about Education City in Doha, a "multiversity" established by the Qatar Foundation with the goal of transforming Qatar into a knowledge-based society. In Doha, old meets new—traditional souqs co-exist with a modern mall. The city's eclectic skyscrapers personify Qatar's energy and ambition.
In the past decade, President Jared Cohon has transformed Carnegie Mellon into an international university, initiating research, education, and technology-transfer throughout the world. The global thrust has led to the establishment of a dozen degree-granting locations and more than 20 research partnerships worldwide. For example, graduate students can study human-computer interaction in Portugal, information technology in Rwanda, and sustainable energy sources in China.
But the Qatar initiative offers the only undergraduate program outside of the United States for Carnegie Mellon, with degrees in computer science, information systems, business administration, biology, and computational biology. The opportunity to get an American education while experiencing Middle Eastern culture, and just a three-hour plane ride away from his parents in Pakistan, clinched the deal for Fahim.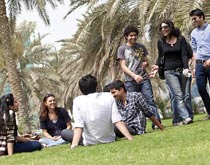 Arriving on the palm-tree-lined campus in 2009, he discovered a tightly knit community of 400 students from 39 countries. Hala, the roboceptionist, greets students with hello or the Arabic marhaba as they enter the building, determining through cameras and pattern-recognition software whether they are wearing traditional Gulf dress or Western clothing.
"Our students are good at getting the best out of both worlds," says English professor Silvia Pessoa, who came to Carnegie Mellon Qatar from Uruguay. "They are able to blend a Western education taught in English with their own cultural and religious identity, leading to a very dynamic and social campus culture."
There is never a moment of silence in her classes, she says. Students are eager to share their unique perspectives and backgrounds. Fahim says it's the norm for students to strike up conversations in common areas.
His close friends are from India, Azerbaijan, Syria, North Africa, and the United States. Many of them are "third-culture kids" like himself who grew up in several countries and speak several languages.
As he got involved in campus student organizations, Fahim discovered that building relationships was as important to him as studying. As part of the Development Solutions Organization, he organized the first student-led TEDx event in Qatar, focused on increasing awareness about issues in developing countries, such as the conditions of migrant workers in Qatar. Through Scotty for Service, the student organization he created, he arranged service trips to Indian orphanages.
Fahim often meets his friends at cafés on Doha's Corniche, the waterfront promenade along Doha Bay, where they drink tea and discuss "larger ideas about life." His Google calendar is always full, says his friend Shivani Arora (CS'13). Some of his friends are convinced he doesn't sleep, but Fahim says it's all about time management and a positive attitude.
Last January, a semester after returning from Uruguay, Fahim was again across the Atlantic. This time it's the North American winter. And he's somewhere a lot colder than Uruguay—Pittsburgh. After almost three years living in a desert climate, he's awed by the winter wonderland he finds on the Pittsburgh campus.
He's come for a study-abroad semester to experience what it's like to be a computer science student "on the other side." Although the core curriculum is the same on both campuses, there are some unique application courses he is interested in taking. He is also interested in opportunities outside the classroom, like networking sessions and internships. (One of the first things he does when he arrives is reconnect in person with the fellow interns/roommates he developed close bonds with during the iSTEP project in Uruguay.)
He's intrigued by the Gates/Hillman building clusters. There are clusters in Qatar for everyone to use, but none like these that are exclusively for computer science students, complete with special software, coffee, and beanbag chairs. There he sees students hacking, just like he did back at Doha. This is not the malicious activity. Rather, computer science students have subverted the term "hacking" to mean creating applications that build on libraries of publicly available code.
But he sees something else happening. Students share information and collaborate with one another. If someone gets stuck or doesn't know how to plan their codes, they ask nearby students for help. Often others chime in with advice. It's a kind of skill-transfer culture that he'd like to strengthen in Doha.
Fahim frequently sees posters for "hackathons" on campus—events, sometimes lasting 24 hours, where programmers work in teams to create practical, innovative applications. It's a chance for students to connect with the tech industry. Engineers from all the big firms—Google, Twitter, Facebook, Microsoft, Yahoo!—are there as industry sponsors. Professional developers conduct workshops about emerging technologies and mentor students as they build their apps.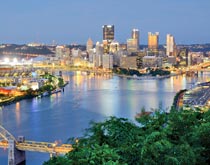 Hackathons are common at the Pittsburgh campus, but they're a newer concept in the Gulf region where the tech industry and development opportunities are just emerging. Before coming to Pittsburgh, Fahim had participated in an Arab-region hackathon where he created a Twitter app to gather and sort Arab Spring photos. But what strikes him now is the number of companies involved—from giants to startups.
By the end of the semester, Fahim receives multiple internship offers—notably from Amazon.com and several Wall Street firms. He decides instead to intern with Al Jazeera, the major Middle East media company.
The clusters, the hackathon, and a career fair all get Fahim thinking. Maybe he could replicate this level of collaboration and bring more professional development opportunities to computer science students in Qatar.
Upon returning to Qatar for his senior year, Fahim doesn't waste time. Working with student affairs, he and other students create a cluster specifically for computer science students, complete with specific software—not to mention the all-important coffee station and beanbag chairs.
He also organizes the first Carnegie Mellon Qatar–based hackathon, getting professionals from Al Jazeera and other local tech firms to conduct workshops and teach students about the latest innovations in app development. Students and faculty from Pittsburgh advise him and even plan to come to Doha to take part in the upcoming event.
Fahim's efforts building vital bridges within Carnegie Mellon's global community have not gone unnoticed. Recently, he was named a Carnegie Mellon Fifth Year Scholar. After finishing his senior year this May, he will get the chance to return to Pittsburgh to study for a fifth year, free of tuition and with a $7,000 fellowship. He'll even get to take courses that didn't fit into his major, like Chinese, literature, and electronic music.
Fahim hopes to facilitate opportunities for computer science students on both campuses to work together and learn from each other. His very presence in Pittsburgh provides a chance for students here to find out more about the culture on the Qatar campus. He'd like to see students from Pittsburgh be able to go to Doha to experience the Qatar computer science department. He believes that experience will enable Pittsburgh students to gain a more global perspective of how computer-science knowledge applies in the context of other regions of the world like the Middle East.
So, for the next year, Fahim's plan is not just to bring peoples of the world closer together, but to bring Carnegie Mellon people closer together, too

Danielle Commisso (DC'06) is a Pittsburgh-based freelance writer and a regular contributor to this magazine.

Related Links:
Carnegie Mellon Qatar students build culture of innovation through 24-hour "Hackathon"
CMU Team Finishes Fourth at Facebook Global Hackathon Finals