From the Mojave Desert to Mars, Carnegie Mellon is leading a robotics revolution.
Though they were worlds apart, for one day in March, Spirit and Sandstorm were racing into the future together.
Odds are the race on Mars wasn't nearly as exciting as the one near Las Vegas.
Spirit is the NASA rover now exploring Mars at little more than a snail's pace. Sandstorm was the Carnegie Mellon Red Team's entry in the DARPA Grand Challenge, the first unmanned, off-road race for autonomous robots. What they share is a lineage that goes back to Carnegie Mellon.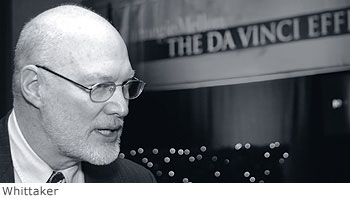 On March 13th, when the flag dropped for the Barstow, Calif., to Primm, Nev., Grand Challenge, Sandstorm and Spirit were finding their way across forsaken deserts with systems inspired by Carnegie Mellon expertise.
Sandstorm was built by a team of students, researchers and corporate sponsors, led by famed roboticist William "Red" Whittaker, the Fredkin Research Professor at Carnegie Mellon. Spirit's onboard hazard detection and obstacle avoidance software was devised by Mark Maimone (S'87, CS'96), who leads a team of NASA specialists that includes fellow alumni Andrew Johnson (CS'95, '97), Reg Wilson (E'94), Chris Leger (E'94, CS'97) and Ashitey Trebi-Ollennu, a visiting research scholar at the university.
The Grand Challenge, sponsored by the Defense Advanced Research Projects Agency, was the climax of a year-long race among leading research universities and companies of all types to build a revolutionary mobile robot capable of finding its way across 142 miles of desert terrain without human intervention. DARPA offered $1 million to the team whose robot could complete the course in 10 hours or less. To make it more difficult, the actual course through the Mojave Desert—a series of waypoints or checkpoints—was revealed just two hours before race time.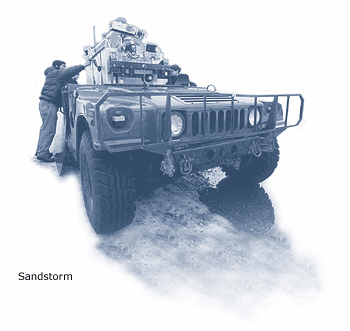 Sandstorm was equipped with the fastest computers and best electronics in the world, including onboard sensors, scanning radar, mapping technology, satellite receivers and laser rangefinders. Its "eyes" consisted of a laser rangefinder for mapping terrain combined with a stereovision system for recognizing moving objects. Radar helped Sandstorm to scan the horizon and a differential global positioning system (GPS) was employed to help it stay on course. The GPS was tied to a high-fidelity map that the team created and downloaded when DARPA revealed the course.
Days before the race, Sandstorm earned the first starting position in qualification rounds at the California Speedway. It was the only robotic vehicle to complete the 1.36-mile obstacle course twice, reaching a top speed of 39 MPH during its second run.
Sandstorm lived up to its pre-race billing by traveling farther than any of the other 13 robots in the field. It traveled 7.5 miles before suffering severe damage when it hit a berm in the rugged desert terrain. Coming off of a switchback, Sandstorm high-centered on the berm of a road. The collision broke the vehicle's front pair of half shafts and shredded both front tires as it straddled the berm. Fuel began leaking from the vehicle as well.
"We were wounded from the start," Whittaker said, noting that Sandstorm's navigation system had never fully recovered from a spill the vehicle took the previous week during a practice run at the Nevada Automotive Test Center (NATC).
"Sandstorm rolled a week ago. We rebuilt it electromechanically, but it's not possible in a few hours of testing and tuning to come back 100 percent," he said.
During the race, Whittaker said he was especially pleased with the performance of the mapping system, which gave Sandstorm the information it needed to find its way through the desert. "We had that one special moment when we achieved the perfect drive," he said.
After the race, the Red Team replaced the half-shafts and tires, and the vehicle was up and running. "Sandstorm will ride again," Whittaker said.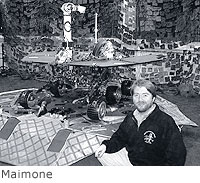 Spirit is still racing, at a pace of inches per hour, to find evidence that water exists or did once exist on Mars. Maimone "is the man of the hour when Rover goes to work," according to Steven W. Squyres, NASA's principal investigator for the $800 million Mars mission. Maimone's programs help Spirit make quick decisions when obstacles are observed through its stereovision and sensors.
Since 2000, Maimone, a computer scientist and robotics specialist at NASA's Jet Propulsion Laboratory in Pasadena, Calif., has been working 18-20 hours a day on Spirit.
The rover follows a daily schedule prepared by scientists and sent to its onboard computer by Maimone and his team of computer scientists and engineers. However, it must make quick decisions on its own when obstacles arise during a drive. When Spirit "sees" hazards in its way through its four cameras—two in front and two in the back—it communicates what it sees to its onboard computing system, which has been programmed by Maimone with instructions to detect and avoid any potentially dangerous areas.
At the Jet Propulsion Lab, Maimone specializes in planetary rover navigation, stereovision algorithms, stereo camera head calibration, robot vision and robot field-testing.
As a student and post-doc at Carnegie Mellon, Maimone contributed to the creation and development of several robots, including Nomad, a prototype lunar rover that autonomously explored the Atacama Desert in northern Chile. The topic of his Ph.D. thesis was "Characterizing Stereo Matching Problems using Local Spatial Frequency."
For more on the Red Team and the Grand Challenge, visit:
www.redteamracing.org
www.darpa.mil/grandchallenge
For more on NASA's rover project, visit:
marsrovers.jpl.nasa.gov/
marsrovers.jpl.nasa.gov/gallery/video/animation.html