The lights at this year's Sundance Film Festival will be especially bright for Carnegie Mellon University.
Of the 16 feature films competing in the U.S. Dramatic category — selected from over 2,000 submissions — four of them star young School of Drama alumni and a fifth features a CMU faculty member as an executive producer.
CMU's strong showing at this year's festival is "a testament to the high caliber of their training," said Peter Cooke, head of the School of Drama.
Nearly 50,000 industry members and cinephiles are expected to descend upon the snow-capped mountains of Utah Jan. 19-29 to have an opportunity to watch the world premieres with CMU ties.
Roxanne Roxanne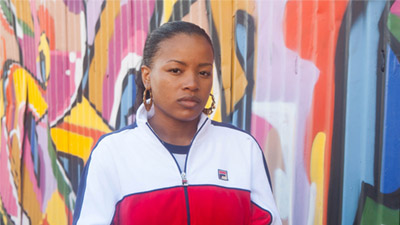 Chante Adams, a 2016 CMU alumna, stars as young rap phenom Roxanne Shante in "Roxanne Roxanne," based on the true story of Lolita "Roxanne Shante" Gooden. Cast as the lead character less than two months after graduating, Adams was given just two weeks to prepare for her first-ever professional film role, one that required her to not only rap, but do so while wearing prosthetic braces.
Adams said she "just hopped out of the classroom" when she learned she would be acting opposite the highly acclaimed Mahershala Ali — a Golden Globe nominee and likely Oscar contender for "Moonlight" — who plays the father of Roxanne's child. But the high-profile role and condensed preparation time was not a problem for her.
"Because of the training I had at CMU, I knew exactly how I needed to prepare," Adams said.
Serendipitously, Adams saw a friendly face on set. Mitchell Edwards, a 2015 alumnus who appears in the 2017 Sundance feature film "Burning Sands," was cast as Roxanne's childhood friend and shares several scenes with Adams.
The Yellow Birds
Labeled one of "Four Films to Know" at Sundance this year by The New York Times, "The Yellow Birds" follows two young soldiers deployed to fight in the Iraq War. Carter Redwood, a 2014 CMU graduate, plays soldier Lenny Crockett.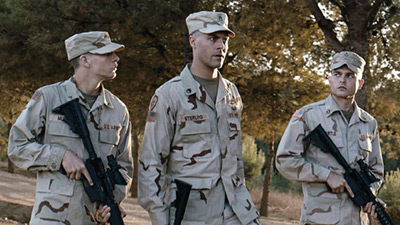 Since graduating, Redwood has worked steadily in television and film. His credits include "The Transfiguration," which debuted at the prestigious Cannes International Film Festival in 2016.
But his work in "The Yellow Birds" was unlike anything he ever experienced. A two-month film shoot in the Moroccan desert began with a week-long boot camp in which Redwood received military training from Dale Dye, a military veteran turned movie technical adviser whose credits include "Platoon," "Born on the Fourth of July" and "Saving Private Ryan."
"From firing blanks, to performing tactical drills at 3 a.m. in the middle of the desert, to jumping out of Humvees, it required everything I had to give," Redwood recalled. "But the 12-hour days of classes and rehearsals at Carnegie Mellon translated perfectly to the 12-hour days of training and filming. I had to be on my A-game at all times…and thankfully, my acting training instilled in me the values of focus, preparation and resilience, which were vital for me on set."
Burning Sands
"Burning Sands," which stars 2015 CMU alumnus Mitchell Edwards, has already secured global distribution from Netflix.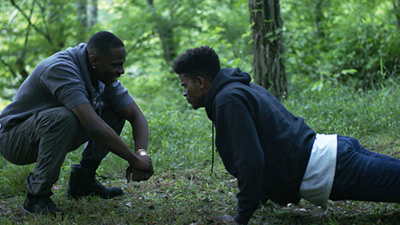 "Deep into a fraternity's Hell Week," reads the film's synopsis, "a favored pledge is torn between honoring a code of silence or standing up against the intensifying violence of underground hazing."
Edwards had little downtime between shooting "Burning Sands" and "Roxanne Roxanne," and he said CMU's training "allowed me to develop my characters quickly and perform with confidence."
Landline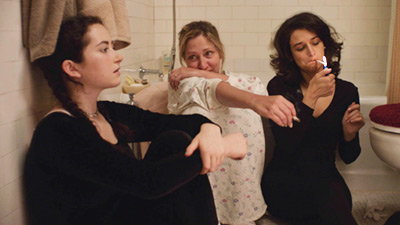 Two sisters come of age in "Landline" when they discover their father's affair — and it turns out he is not the only cheater in the family. Set in the 1990s in New York City, the film is the recipient of early Sundance buzz from the likes of industry trade outlet Indiewire. "Landline" stars alumna Abby Quinn, who studied at CMU from 2014 to 2015.
Crown Heights
Jonathan Baker, an adjunct professor in CMU's Master of Entertainment Industry Management (MEIM) program, served as an executive producer on "Crown Heights." The film centers on the true story of Colin Warner, who was wrongfully convicted of murder, and his best friend who devotes his life to proving his innocence.
Cheering on Baker's film in Park City, Utah, will be second-year MEIM students, who attend special seminars and panels at the Sundance Film Festival each year to learn about distribution and film acquisition. The MEIM program is a joint offering of CMU's Heinz College and College of Fine Arts.
CMU is no stranger to the nation's premier independent film festival. Last year, Netflix purchased the streaming rights to "Talullah," written and directed by 1999 School of Drama alumna Sian Heder.
Throughout 2017, each of the above films are expected to appear in cinemas nationwide and/or be available through online streaming.
###
Story Update:
"Crown Heights" won the festival's Audience Award. In addition, Variety reports that Amazon Studios picked up the rights to the film for more than $2 million!
Chante Adams won the festival's Special Jury Award for Breakthrough Performance!
"Yellow Birds" won the festival's Special Jury Award for Cinematography!
Roxanne Benjamin (MEIM 2009) directed "Don't Fall" which delivers some beautifully-choreographed action as one of four short films in the "XX" horror anthology.