Carnegie Mellon University alumna Brittani Grant has helped build a future for the past.
Grant, who has a bachelor's and master's degree from CMU's College of Engineering, was a project manager for the new Smithsonian National Museum of African American History & Culture in Washington D.C., which opened in September.
Grant, who graduated in 2012, joined Clark Construction Group — one of three general contractors constructing the museum — after college, and has since helped manage the project.
"It's been really awesome to get to work on something so monumental and something that is going to last hundreds of years — that I'll be bringing my family to for generations," she said.
The museum — likely the last one to be built on the National Mall — houses more than 36,000 artifacts including photography, clothing and literature from various eras that document African-American life, history and culture. Grant was instrumental in creating one of its most iconic features: the $48 million facade surrounding the museum.
Designed by David Adjaye and Philip Freelon, together with their architectural team Freelon Adjaye Bond/SmithGroup, the curtain wall consists of three main components: steel that forms its frame, glass that completely encases the building and more than 3,600 aluminum panels on the outside of the structure that cover the upper floors like a three-tiered crown. The panels alone weigh 230 tons.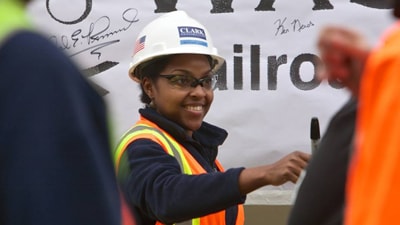 While at CMU, Grant took several core courses that helped prepare her for her work including "Project Management for Construction," in which she learned fundamentals for managing building projects. She also took elective courses including "International Collaborative Construction Management," through which she worked with fellow engineers from schools in Brazil, Israel and Turkey.
"The most important thing I learned [at CMU] was learning how to learn," she said. "We're not always going to be walking into situations knowing everything, but CMU teaches you to know and identify your resources … by putting you in so many different apparatuses, and different circumstances and organizations."
Getting the aluminum panels fabricated and delivered to the National Mall was nearly a three-year project for Grant, beginning in the summer of 2012, when she participated in initial design meetings as a Clark intern.
After starting at the company full-time in 2013, Grant and the team went through a number of steps to ensure the panels were exactly what they wanted for the building. With different groups contracted to make the panels outside of D.C., Grant traveled to Washington state and Oregon to ensure the team was getting high-quality materials and that the panels were produced on schedule.
The biggest endeavor, though, was determining their final color. Because the museum is on iconic grounds, a number of organizations needed to approve the color, including the Smithsonian, four architects and multiple national agencies.
Grant and her team went through more than 25 colors and 12 full-scale mock-up panels before the bronze finish was approved. When the completed panels finally began to arrive at the construction site, they were a present for Grant — literally. She received the first one on her 25th birthday last April.
"That was a really strong moment for me," she said. "Everybody loved it. It was very rewarding to see all that sweat and tears pay off."
Grant has worked to establish strong ties between Clark and Carnegie Mellon. Clark has attended several of CMU's Technical Opportunities Conferences, at which the company recruits students for full-time and internship positions. The company employs at least a dozen CMU alumni in the Mid-Atlantic region, and even more alumni at regional offices.
Grant has moved on and now works at The Tower Companies as an assistant project manager where she is helping to complete a 284-unit apartment building called The Pearl, in Silver Spring, Md.
"The lessons I learned while working on the museum are immeasurable," Grant said. "As it was my first full-time job out of school, I learned countless lessons about the construction industry from seasoned professionals, learned more of the technical acumen of putting together such an architecturally and structurally complex building, and learned more about myself as a manager and a leader on the team."