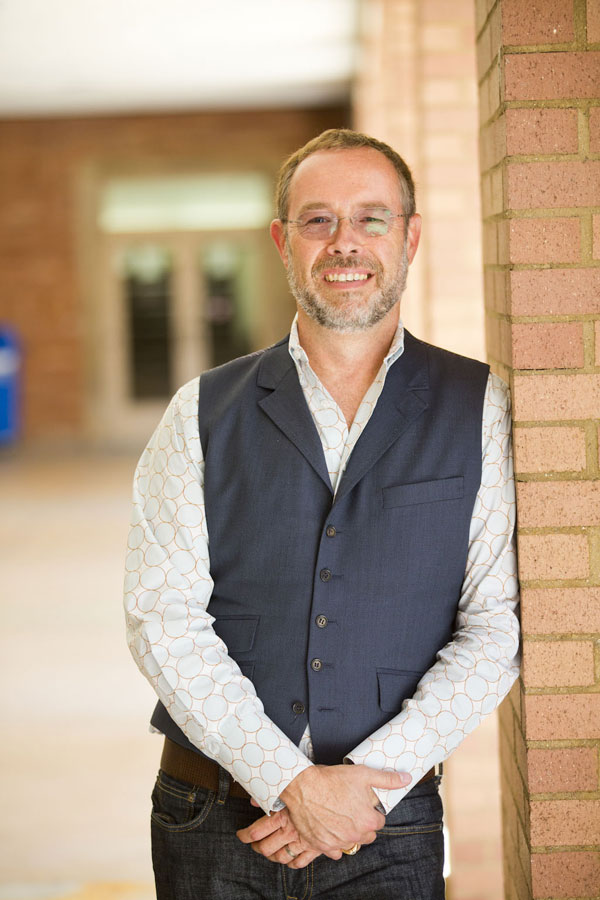 Among the airline passengers on a flight from Washington, D.C., to Toronto, Canada, were Gary Gates and his fiancé. Accompanying them were a few of their closest friends who were tagging along to witness the couple exchange wedding vows. Afterwards, when the newlyweds embarked on the trip home, something happened the moment they crossed the border. Their 2004 marriage vanished, at least in the eyes of the U.S. government, where at the time no state acknowledged a marriage between spouses of the same sex.
In 2015, that has since changed, in part, because of Gates. The U.S. Supreme Court ruled that Americans have the right to marry whomever they wished. Justice Anthony Kennedy, author of the majority opinion, cited Gates, who has become a leading researcher in LGBTQ demographics after earning his PhD in Public Policy and Management at Carnegie Mellon University.
Like the civil rights and women's suffrage movements, the fight for greater LGBTQ rights wasn't led by Gates or any particular individual. In fact, decades from now, when students riffle through their history textbooks, they may not read much about Gates or the research he began at CMU. But there is little doubt that his work analyzing LGBTQ demographics data has played an instrumental role in securing LGBTQ rights.
Community Unrest
Most historians point to one night as the birth of the gay rights movement. In the early morning hours of June 28, 1969, police raided New York City's Stonewall Inn. Raids on bars and establishments frequented by the LGBTQ community were common then. On this night, as officers cleared out the bar, nearly 200 people spilled onto the street. Inside, officers allegedly made several men dressed as women prove their sex. When they couldn't, they were arrested (like several other laws on the books at the time that were aimed at LGBTQ individuals, cross-dressing was illegal).
The crowd outside grew restless, and as people were being arrested, skirmishes broke out between police and the bystanders, which led to unrest between gays and police that lasted for nearly a week. It marked the first time that people, en masse, weren't afraid to reveal in public that they weren't heterosexual. More importantly, Stonewall prompted the gay community to begin to organize. Within a few years, gay rights organizations and gay newspapers became well established.
It wasn't until the AIDS crisis in the '80s, though, that homosexuality truly became front-page news. "I tend to see the AIDS crisis as a tremendous accelerant," says Tim Haggerty, Director of the Humanities Scholars Program, whose research examines the changing roles of masculinity and male identity in the 19th and 20th centuries.
The disease robbed parents of their sons, businesses of their employees, and the public of some of its stars, men like Freddie Mercury, lead singer for the rock band Queen, and Rock Hudson, one of Hollywood's most popular actors. "AIDS, within six months, could turn a healthy, vibrant man into what looked like an Auschwitz victim," says Haggerty. By 1989, it was estimated that AIDS claimed the lives of more than 100,000 Americans.
"The terror of the disease forced people to confront the humans who were suffering. You could readily imagine these people as your brother, or partner, or son," says Haggerty. The crisis prompted the gay community to organize, and organizations were founded to fundraise and provide medical services. In the 1990s, once the crisis became more of a chronic disease than a death sentence, those organizations began to turn their political firepower—and their money—toward broadening LGBTQ rights. "All of that momentum was still there," says Haggerty. "I think a lot of the thinking was—we can provide health services—but maybe we can also redirect that momentum."
But was the LGBTQ community itself large enough to get the attention of national policy makers? Were there gay populations outside of typical gay-friendly mainstays like New York City and San Francisco? What about their socio-economic status? Education? No one really knew.
Groundbreaking Data
For most of America's existence, same-sex relationships and activities ranged from taboo to illegal, and divulging one's sexual orientation meant risking one's life—sometimes literally. The little data that did exist largely reflected a subset of the whole community—those who could either afford the risk of coming out to researchers, or those with nothing to lose.
"LGBTQ people now know that there are others out there just like them."
That is, until Lowell Taylor, H. John Heinz III professor of economics at Carnegie Mellon, along with colleagues Dan Black, Seth Sanders, and then-PhD candidate Gary Gates, noticed a curious change in the 1990 census. For the first time, respondents could check a box to describe a relationship to an individual living with them: "unmarried partner."
Although the census creators almost certainly didn't anticipate it, says Gates, researchers like him were given a wealth of information about same-sex couples. Because of this new option, if the head of a household reported living with an "unmarried partner" of the same sex—Taylor and Gates could reasonably assume that they were looking at data from a same-sex, unmarried couple.
"This was groundbreaking," says Gates. "We could look at same-sex couples across sex, age, education, income level, and more." They could also determine where those couples were living, how many were raising children, and whether they were veterans. "It was massively larger than any other data set previously available. … We were able to go to town," says Taylor.
In 2000, via the journal Demography, they published their findings: "Demographics of the Gay and Lesbian Population in the United States."
By the time the 2000 census data were released, Gates—who had earned his PhD from CMU that year—was conducting policy research at the Urban Institute, a liberal think tank in Washington, D.C. Every week, the census would release data from a new batch of states, and soon after, Gates and his team would put out a press release of how many same-sex couples were represented in the data. "People were fascinated by the numbers, because there just wasn't any other data out there. Major media was clamoring for it."
Gates capitalized on that fascination and published a report estimating that there were about 65,000 gay men and women on active duty, in the National Guard, or in the reserves, as well as more than 1 million gay veterans living in the United States. The 65,000 number was cited by news organizations all over the country. "You would never know that number, 65,000, came from me," remembers Gates. "It was bizarre to watch—it just became this number that people just started saying over and over and over again—and people lost track of where it came from."
Proponents of repealing "Don't Ask Don't Tell"—the policy passed during the Clinton administration that allowed homosexuals to serve in the U.S. military as long as they kept their sexual orientation a secret—now had numerical weapons at their disposal. Not only were gays and lesbians currently serving in the military—they had always been there.
"All of these gay service people—with medals and accomplishments—were being kicked out because of whom they loved. And for every one of them, there were 64,999 more." In September 2011, "Don't Ask Don't Tell" was officially repealed. But Gates' biggest contribution to the gay rights movement was just over the horizon.
In 2012, a Michigan lesbian couple raising three adopted children—one an adopted son and the other two adopted daughters—filed a lawsuit in Federal District court challenging the state's ban of same-sex couples jointly adopting children. The lawsuit ended up challenging the state's ban on same-sex couples getting married since state law limited joint adoptions to married couples. The couple testified that because they couldn't adopt each other's children, they were unfairly disadvantaged. If tragedy befell one of the mothers, her children could essentially be parentless—the other mother could be a legal stranger in the eyes of the law.
Gates had already been submitting amicus briefs to several of the largest same-sex marriage cases waged in the United States since 2005. In the Michigan case, which was one of only two cases that included a trial, he served as an expert witness and testified that nearly 14,000 other same-sex couples called Michigan home, many of whom faced similar predicaments. Additionally, his data suggested that same-sex couples were twice as likely to raise a foster child as opposite-sex couples.
The case eventually wound its way through the legal system and was one of the four marriage cases that went to the U.S. Supreme Court in 2015 that were collectively known as Obergefell v. Hodges. When the Supreme Court took up these landmark cases for marriage equality, Gates again submitted an amicus brief, one of more than 100 submitted. His data showed that nearly 27,000 same-sex couples in the United States were already raising about 60,000 adopted or foster children.
In Justice Kennedy's decision, released June 26, 2015, he cited Gates' brief:
… Many same-sex couples provide loving and nurturing homes to their children, whether biological or adopted. And hundreds of thousands of children are presently being raised by such couples. See Brief for Gary J. Gates as Amicus Curiae 4. Most States have allowed gays and lesbians to adopt, either as individuals or as couples, and many adopted and foster children have same-sex parents, see id., at 5. This provides powerful confirmation from the law itself that gays and lesbians can create loving, supportive families.
"It informed the way Kennedy thought about the issue," says Gates. "It's not going to make the big headlines … but I think it makes a difference."
As news of the decision spread instantly through social media, the hashtag #LoveWins exploded within minutes on Instagram and Twitter, and Facebook debuted a tool that allowed users to instantly put a rainbow over their profile pictures—more than 26 million users participated at last count.
"We're all different; that's not a bad thing, it's a good thing."
But for many, the most significant image came the evening of June 26—two days shy of Stonewall's 56th anniversary—the White House draped in gay rights rainbow light.
"That just completely blew me away," says Gates. "It just goes to show the dramatic change."
Although it's undeniably the most monumental accomplishment in the fight for broader LGBTQ rights to date, there are still battles on the horizon.
Equality Fight Continues
Currently, many LGBTQ advocates are seeking broader and explicit protections for LGBTQ individuals from housing and workplace discrimination. Adults living in many states can still be fired for who they are or whom they love. A federal law explicitly banning discrimination based on sexual orientation or gender identity in private workplaces or in regards to housing nationwide is still waiting in the wings.
And as the marriage equality fight moves further away in the nation's review mirror, transgender issues have now stepped fully into the spotlight:
In May, Orange Is the New Black star Laverne Cox, a transgender female, was featured on the cover of Entertainment Weekly. But it was former Olympic Gold medalist Caitlyn Jenner's interviews this summer with Vanity Fair and Diane Sawyer, and Jenner's speech at this year's ESPY Awards (hosted by sports channel ESPN) that opened the most eyes to the issues facing transgender individuals today.
"It's not just about one person," Jenner declared from the ESPY stage, as the recipient of the 2015 Arthur Ashe Courage Award. "It's about thousands of people. It's not just about me. It's about all of us accepting one another. We're all different; that's not a bad thing, it's a good thing."
Interest in LGBTQ as a whole is only increasing. Nowhere is that truer than on Carnegie Mellon's campus, says English professor Kristina Straub, who also heads up the gender studies minor. Over the past year and a half, she's witnessed a spike in interest in gender studies classes. "We cannot get enough on the books. … We've gone from a half-full class once a year to offering it twice a year—and going to a waitlist every time."
Also, the university now offers gender-neutral housing and a health-insurance option that covers transition-related care for transgender employees.
It's clear that we're living in a new era from Gates having to fly to Toronto to get married. He takes pride in knowing that his numbers helped make the changes happen:
"LGBTQ people now know that there are others out there just like them."