Carnegie Mellon University alumnus and artist John Riegert has had more portraits created of him than most kings, queens and U.S. Presidents.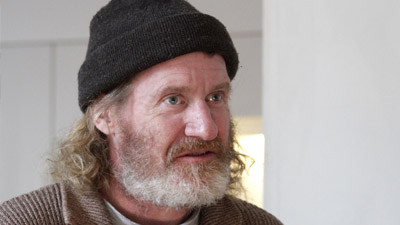 All 252 portraits — paintings, photographs, digital media, sculpture, video and sound — were on display in an exhibit, appropriately titled "John Riegert," at Pittsburgh's SPACE Gallery through Sept. 4. The nearly two-year project was curated by Brett Yasko, a graphic designer and adjunct faculty member in CMU's School of Design.
"I decided I wanted to do an experiment where I'd ask a bunch of different artists — known and unknown, — to each do a portrait of the same person," Yasko said. "But who could that person be? I immediately thought of John."
Yasko was looking for an opportunity to re-engage his friend of nearly 20 years with the artistic community after a prolonged battle with mental illness.
Riegert, a conceptual artist, earned his bachelor's degree from CMU in 1992. His works range from photography, photo illustration, performance, installation and writing.
"John has always been one of the most engaging and thoughtful people I know and I wanted others to see this," Yasko said. "Throughout the process, he's reconnected with old friends and made new ones. And he's given himself completely to the project — enthusiastically embracing any idea an artist has had for him."
Yasko calls the artwork beautiful, funny, sad and powerful. "I'm still blown away by that every time I go into the gallery," he said.
Riegert was a docent at the exhibit. He staffed the space and told the stories of each work's making, surrounded by the hundreds of portraits of himself.
"Being the subject of this has been enlightening and engaging. It's fed my creative fire and let me both meet and reconnect with people from the CMU community," Riegert said.
The SPACE Gallery is at 812 Liberty Ave. in Pittsburgh's Cultural District.