As the Four Seasons Hotel in Beverly Hills faded away in her rearview mirror, Sian Heder burst into tears. "I should've taken that baby," she thought.
A decade later, she's turned those tears into one of the most anticipated feature films of this year's Sundance Film Festival, "Tallulah," written and directed by Heder, Carnegie Mellon University alumna who earned her degree in Drama in 1999.
Starring Ellen Page ("Juno," "Inception") and Allison Janney ("The West Wing," CBS's "Mom"), along with Heder's CMU classmate Zachary Quinto (A 1999) ("Star Trek"), "Tallulah" was so highly anticipated that a week before its world premiere at the festival, Netflix purchased the worldwide streaming rights. According to "Variety," industry insiders pegged the sale around mid-seven figures. The movie premiered on Netflix last month.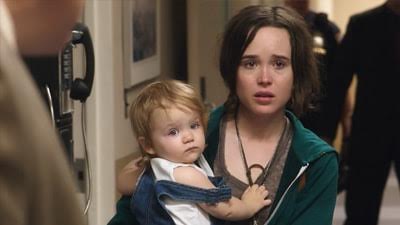 "Tallulah" follows the story of a young rootless woman (Page) who kidnaps a baby from a neglectful mother. Janney plays a woman who mistakenly believes she's the child's grandmother. Though the subject matter seems dark, Heder said it's a dramatic comedy — though she wasn't aware of its comedic overtones when she started writing it in 2005.
"There's a band of Carnegie Mellon people, in LA particularly, that are still very close knit."
In the early days of her acting career in Los Angeles, Heder supported herself by working for a company that provided babysitters to guests of prominent Hollywood hotels. One day, she was enlisted to care for a toddler at the penthouse of the Four Seasons Hotel. Heder quickly ascertained that the toddler's mother had come to the hotel to have an affair, was intoxicated, and didn't know how to change her child's diaper. Heder alerted the concierge, who said they couldn't intervene since the child wasn't being physically abused. When the gig was finished, Heder hopped in her car and cried all the way home.
She wrote a scene inspired by that experience "almost verbatim," thinking she had written a tragedy. When she first heard the scene read aloud, though, those listening burst into laughter — not tears.
"I knew there was something to that," Heder said. "It felt so tragic and could also be so funny at the same time ... the tone of that moment really influenced the film — that's how it was born."
Ingrid Sonnichsen, one of Heder's CMU acting professors from the School of Drama, remembers Heder threading that dramatic-comedic needle beautifully her sophomore year.
"She was working on a scene from 'Quartermaine's Terms' — a comedic play with serious undertones. "She had to cry," Sonnichsen said, "and she was so intent on playing it truthfully that I finally whispered to her 'it's a comedy, dear — fake the crying, it'll work.'"
Heder gave it a shot, and her new approach cracked her classmates up immediately.
The babysitting scene became the basis of a script for the short film "Mother," which Heder went on to produce with support from the American Film Institute's Directing Workshop for Women. "Mother" went on to screen at film festivals in London, Los Angeles, and at the esteemed Cannes Film Festival, and launched Heder's writing and directing career.
Building on the success of "Mother," Heder shifted gears from acting into primarily writing and producing. She became a writer for TNT's sitcom "Men of a Certain Age," starring Ray Romano, and then a writer and producer for Netflix's television hit "Orange is the New Black."
Heder said one of the best parts of her success is that it "put me in a position to hire some of my closest friends — a lot of whom are people I met at CMU."
During the first season of "Orange is the New Black," she came across the role of a prison guard named "Pornstache." Heder immediately thought Pablo Schreiber (A 2000) ("13 Hours") would be a genius choice for it.
Not only did Schreiber book the role, his work as "Pornstache" earned him an Emmy nomination for Outstanding Guest Actor.
"There's a band of Carnegie Mellon people, in LA particularly, that are still very close knit," Heder said. "Those are the artistic connections that I keep building on, even many years out of school."
Sonnichsen said it's no surprise that Sian likes working with friends from CMU.
"In a program as intense as ours, you get to know each other very, very well," she said.
And not just classmates. Sonnichsen got the call when Heder and best friend Quinto needed an older actress's voice for a telephone call in a short film called "Dog Eat Dog."
"I was honored that they thought of me," Sonnichsen said.
When it came time to cast "Tallulah" — the feature film inspired by "Mother" — she turned to several classmates, including Quinto, Tommar Wilson (A 1999) and Rachel Hardin (A 1999).
In addition to providing her with strong personal and professional networks, Heder says her acting training proved invaluable in her journey as a director and producer.
"My CMU training as an actor helped my communication with actors, period," she said. "Having been an actor and understanding how vulnerable it is to be on that side of the camera, how unsafe it feels a lot of the time, and how important it is to have a director who understands how to talk to actors is huge."
So, what's up next for her now that "Tallulah" is streaming to Netflix's 70 million subscribers worldwide? A lot of reading — Heder is on the hunt for her next project, and said she has a long list of scripts to sift through.
Photo caption: Writer, director and CMU alumna Sian Heder talks to Allison Janney and Ellen Page on the set of "Tallulah."