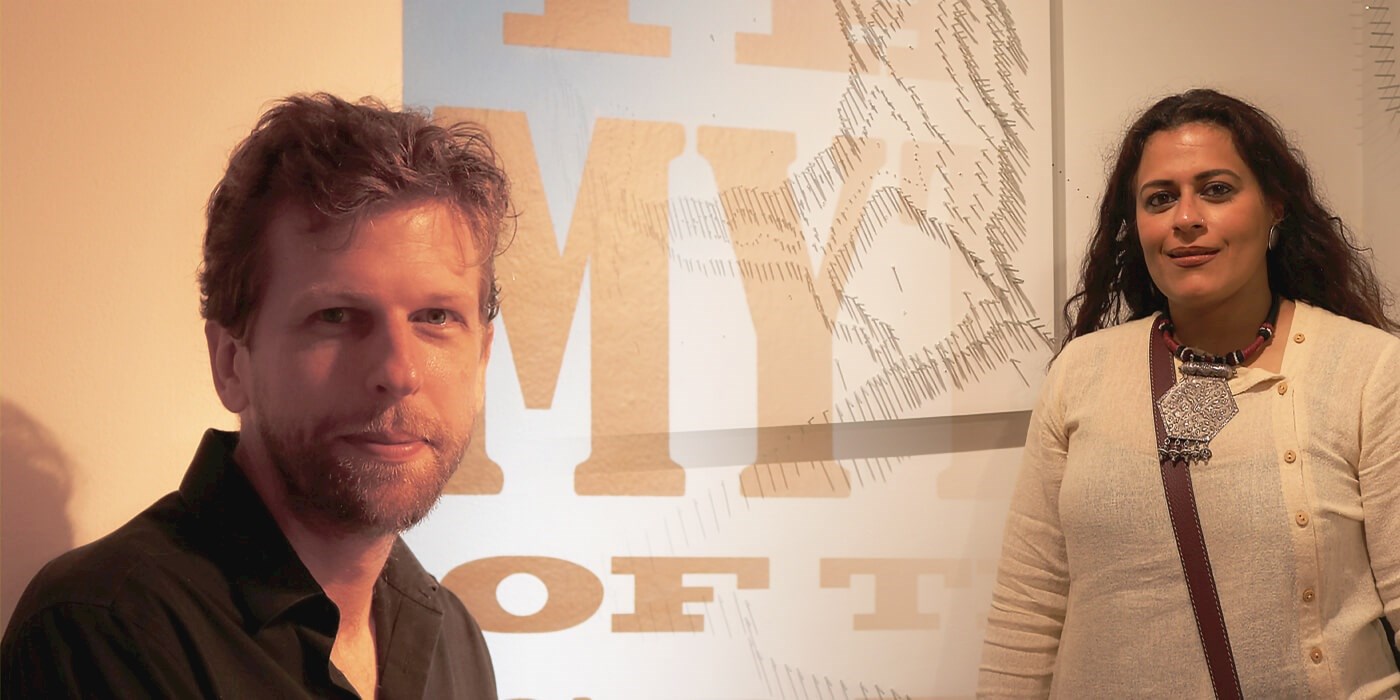 Though united as graduates of the Carnegie Mellon University School of Art, Richard Pell and Sarika Goulatia had never met until they were honored by the Pittsburgh Center for the Arts.
Pell, an associate professor of art at CMU's School of Art and a 1999 graduate of the school, is the center's 2016 Artist of the Year.
Goulatia, a 2006 graduate, is the center's 2016 Emerging Artist of the Year.
A selection committee chooses the honorees from nominations by peer groups of artists, guilds and curators.
"The honors reflect a collective recognition of outstanding artists and celebrate those who make significant creative contributions to Pittsburgh and beyond. It is truly an honor to be nominated," said Laura Domencic, director of the center, which is considered to be the region's foremost visual arts organization. Regional and national artists are featured regularly in the center's Pittsburgh galleries.
As for the 2016 honorees, very different driving forces were behind their exhibitions.
Goulatia is a contemporary sculptor/installation artist born in Gorakhpur, India, who now lives in Pittsburgh. Her exhibition, Dressed with D.R.E.S.S., stems from her reaction to a medication that, in her words, resulted in a "personal, physical, social and emotional journey."
One work depicts piles of ice cubes made from resin, lit from underneath and cascading onto the gallery floor. Other pieces use nails on and off canvases in flowing, sometimes erratic, patterns. Those works, she said, are representative of two primary drug side effects.
"Needles of pain covered my body, and burning heat required me to sleep on ice in order to gain some relief," she said. The exhibition, she said, is a reflection of the human experience that led her to express her "physical discomfort in various installations that engage the viewers on a visceral level."
Goulatia said CMU laid the foundation for her work as an artist.
"I am indebted to the faculty at the School of Art," she said. "The discussions and critiques in the studio helped me grow conceptually. The expectations and standards that the faculty hold you to helped me navigate myself into the real world as a working artist."
The exhibition by Pell, a self-described artist "working at the intersection of science and culture," also engages visitors. He said he focused on showing pieces from a vast personal collection of what he calls "artifacts … that truly affect the people who experience them."
His parents always encouraged him to record conversations with his friends, telling him that he would have "treasures" someday in the preserved words. He took the advice and even expanded his interviews beyond friends. Several of those conversations are featured in his exhibition, "The Myth of the Great Outright Extraordinary."
Pell said he realizes his works are not traditional in the way many people view art.
"I tried so hard to conform, but it just never worked out for me," he said. He focused his energies on things he believed added value to his life and, ultimately, to others who would experience them.
He said his CMU education taught him "not to think of myself as a sculptor or photographer or computer programmer, but as a creative problem-solver. As artists we have the freedom to choose the right approach for the problem we are interested in, rather than seeking out problems that relate to the tools we already happen to be familiar with."
His advice to today's artists, particularly his students: "Keep stuff. And pay attention to what others are ignoring. That's really the central concept of the show and is foundational to virtually every project I have undertaken since graduating from CMU. I can't stress it enough. It's in the job description for 'artist.'"
The exhibitions of Pell and Goulatia are on display at the center through Oct. 30.