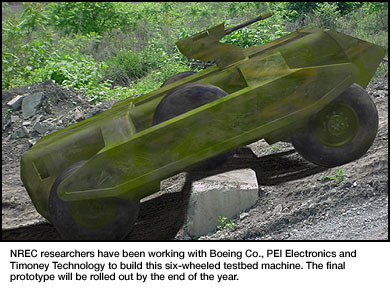 Carnegie Mellon Gets $5.5 Million Award from DARPA To Build, Test a Robotic Unmanned Ground Combat Vehicle
Carnegie Mellon's National Robotics Engineering Consortium (NREC), part of the Robotics Institute in the School of Computer Science, has been awarded $5.5 million from the Defense Advanced Research Projects Agency (DARPA) to build and test a prototype robotic unmanned ground combat vehicle (UGCV) that can operate successfully on all types of terrain.

A team of NREC researchers has been working with subcontractors Boeing Co. (Chicago), PEI Electronics (Huntsville, Ala.) and Timoney Technology of Meath, Ireland, for the past 18 months to develop the concept and final design of the vehicle. They have also built a six-wheeled testbed machine, similar in scale to the final prototype.
"We are very excited to be designing a new vehicle from the ground up that can take full advantage of the fact that it will not accommodate a human crew," said John Bares, project manager and director of the NREC. "The hybrid-powered machine, which is called Spinner, will have extraordinary performance capabilities, including the ability to operate while it's inverted. Because of its wheel and suspension design, Spinner can negotiate major terrain obstacles. It also will be able to climb up on other machines of its kind and stack itself for easy transport."
In addition to its ability to move swiftly over varying types of terrain, Bares said Spinner combines fuel efficiency, survivability and payload flexibility to deliver the long-range capability required by UGCV missions. In addition to its durable, six-wheel drive, Spinner can be easily teleoperated. It can withstand a moderate crash and rapidly recover. Its unique hull configuration offers a large continuous payload bay that can rotate payloads in upright or downward positions.
The 18-month DARPA award calls for the Robotics Engineering Consortium and its subcontractors to build and roll out a prototype vehicle by the end of 2002. A rigorous, one-year period of field trials and evaluations will follow. Boeing will build the vehicle's frame, hull, nose and payload compartment at its Seattle, Wash., facility.
"We're taking advantage of the latest composite materials and fabrication processes together with a unique structural concept that will be extremely crash resistant," said Wayne Hammond, manager of Boeing's Unmanned Ground Combat Vehicle Program. "The hull suspension and wheels have been designed to withstand heavy frontal impacts from striking a tree, rock or unseen ditch at speeds in excess of 20kph."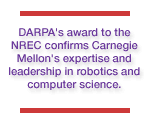 Timoney Technology will manufacture the vehicle's unique invertible suspension and wheel drive units.
"We at Timoney Technology are proud to be associated with this important UGCV development program," said company CEO Shane O'Neill. "Our expertise in mobility platforms is reinforced by our association with Carnegie Mellon, Boeing and PEI-IDT through this program. Furthermore, we welcome the opportunity to be of continuing service to DARPA.
PEI Electronics will supply the vehicle's battery and power management system as well as key vehicle control software and hardware. "This win is a tremendous achievement for the Carnegie Mellon-led team, which has worked diligently to develop an innovative, affordable systems solution that will enhance the effectiveness of tomorrow's warfighter," said Tom Keenan, PEI-IDT president and CEO. "We have partnered with the best that industry has to offer and stand ready to successfully meet the challenges associated with the future battlespace."
Anne Watzman
(09/06/02)